#CancelWWENetwork Trends After WWE 'Hell in a Cell' Disappoints Fans
WWE fans are not happy with the end of Sunday's Hell in a Cell pay-per-view event and they are making their feelings known on Twitter with #CancelWWENetwork.
The hashtag was trending in the U.S. on Monday morning as viewers expressed disappointment at the conclusion of the big show on Sunday, which emanated from the Golden 1 Center in Sacramento, California, and ended with a disqualification finish to the main event match between Universal Champion Seth Rollins and his recent rival, "The Fiend" Bray Wyatt.
The brutal bout was held inside the "Hell in a Cell" structure—a steel cage surrounding the wrestling ring—from which the show Sunday derives its name.
Fans were uproarious that the match, typically an anything-goes affair, ended in DQ after Rollins pummeled his opponent with all manner of weapons, including an apparent blow to the head with a sledgehammer.
Prior to the disqualifying sledgehammer blow, Rollins and Wyatt hit each other with everything ranging from steel chairs, a ladder, a toolbox and a mallet.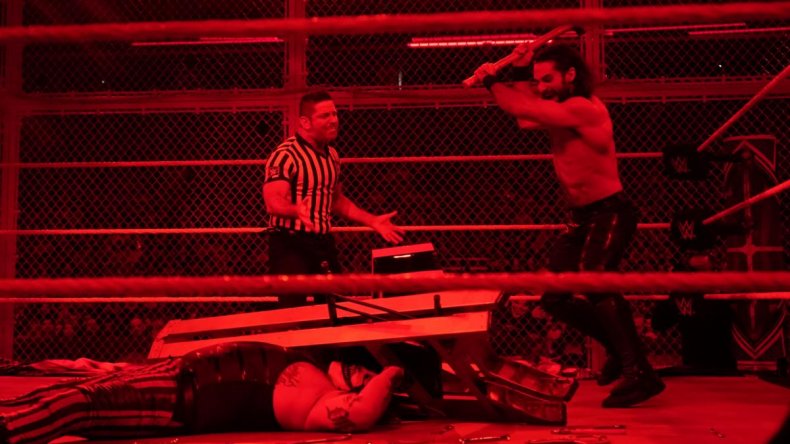 Fans in the arena Sunday night were vocal with their disappointment, chanting "refund" and "AEW"—referring to WWE's upstart rival wrestling league All Elite Wrestling.
WWE Hall of Famer X-Pac was critical of the disqualification finish on WWE's own Hell in a Cell watchalong show.
But the bulk of the fan furore came from fans on Twitter, many of whom decided to cancel their subscriptions to WWE's over-the-top streaming network, WWE Network, in response.
"And just like that I'm out #cancelwwenetwork," tweeted one fan.
Another tweet said: "was already considering doing this, but tonight's PPV made the decision a whole lot easier #cancelwwenetwork"

"I just canceled my subscription. Thanks for that main event. You guys have become WCW. #CancelWWENetwork," wrote a disappointed fan, who likened WWE to its now-defunct rival WCW, which, in its final years of operation, was ridiculed for over-the-top and nonsensical scripts.
See more tweets below:
WWE Network, which launched in 2014 as an extra portal for the wrestling league's vociferous fanbase, streams its monthly pay-per-view events for a $9.99 monthly subscription fee.
As of April, WWE said it had 1.58 million paid WWE Network subscribers.
WWE recently kicked in its new television deals with USA Network and Fox for its Raw and SmackDown programs respectively.
The new deals, which began last week, will keep Raw on USA for another five years. SmackDown moved to Fox last Friday in a deal reportedly worth $1 billion over five years.
WWE's television deals were worth $235 million a year in 2018. That number increases to $311 million this year and will be worth $462 million in 2021, according to figures the company released in June 2018.
WWE's actual income from its television deals now stand to be higher, with USA picking up the WWE Network series NXT for its Wednesday night lineup in August.