Canceling Standardized Testing Does a Disservice To Disadvantaged Students | Opinion
In a recent tweet, Randi Weingarten, president of the American Federation of Teachers, asserted: "Standardized testing doesn't help kids learn, and it doesn't help teachers teach." Instead, she argued, "we need to measure what matters." Her tweet was mocked because it was so obviously self-serving. Teachers' unions have long opposed tying teachers' compensation to testing results. But without an objective measure such as standardized testing, it is difficult to evaluate teachers' performance and hold bad teachers accountable for poor outcomes.
Weingarten's tweet also reignited the broader debate about the effectiveness of standardized testing—in particular, the debate over whether it has done more harm than good for students from poor or disadvantaged backgrounds.
Thomas Chatterton Williams, an author and contributor to The New York Times Magazine, responded to Weingarten's tweet with his own: "As a young black kid with no family connections or intergenerational wealth, I had a father who instilled the value of the study. I can look you in the eye and say that standardized testing changed the course of my life. Measuring how hard someone is willing to study *does matter.*" In a follow-up tweet, he added, "The SAT is a lifeline if you don't have a legacy to fall back on. The GRE made grad school possible for me (fully funded)."
I couldn't agree more because my own experience mirrors his.
About 25 years ago, I came to the United States all by myself. I had no money, no connections and no legacy to fall back on. I had no intergenerational wealth, either, because the Chinese Communist Party's disastrous economic policies wiped out most of the wealth the Chinese people had. I took the Graduate Management Admissions Test, or GMAT, a standardized test for business schools, which gave me a lifeline and allowed me to compete against others on a level playing field. I scored well enough that the University of Wyoming's business school accepted me and awarded me a scholarship. The MBA degree that I then earned helped launch me into a successful career in banking and finance.
I agree that standardized testing is far from perfect. For example, some teachers emphasize "teaching to the test" and do not pay enough attention to students' overall learning and development. It is also true that standardized tests are usually overly focused on evaluating cognitive skills; evidence suggests that other core competencies, such as emotional intelligence and creativity, are also essential for success in today's economy. It is not difficult to find examples of those who performed poorly on standardized testing but still became wildly successful later in life.
However, many progressives' criticisms of standardized testing are either exaggerated or simply misleading. For example, they often claim that the SAT is useless and doesn't predict a student's future academic or career success. But a 2007 study from the journal Science demonstrated that SAT scores do an excellent job of predicting grades and other important academic and social outcomes. Several other pieces of research (see here and here) published by Psychological Science also illustrate a clear correlation between SAT scores and career accomplishments.
The SAT's predictability shouldn't come as a surprise. To get a good score, a student must be willing to study hard and put effort into mastering cognitive skills, such as reading comprehension, quantitative reasoning, memorizing and maintaining attention—all of which are essential for success in both school and life.
Progressives also like to complain that standardized testing is racist and unfair to the poor and the disadvantaged because testing results correlate to family wealth. They insist that rich kids will always do better than poor kids because the rich can afford to send their children to costly testing preparation programs, or to hire private tutors.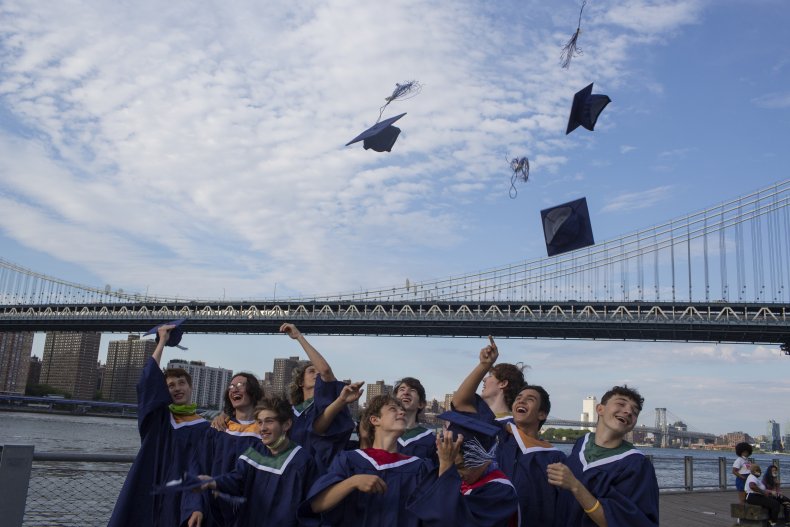 Being born rich certainly provides a leg up in many aspects of life. But if wealth necessarily guarantees a high testing score, then Lori Loughlin wouldn't have to participate in an elaborate college admissions scam. She could have just thrown money at her daughters until they excelled on the SAT and ACT. But some research shows that the putative benefits of SAT and ACT test prep are overstated, and that points gained from having taken a prep course are very modest.
On the other hand, there is much evidence that children from poor and disadvantaged backgrounds can excel in standardized testing despite lacking material means. For example, Success Academy, a free public charter school network in New York City, serves 20,000 students, all of whom are admitted on a lottery basis. About 53 percent of students are black and 30 percent are Latino; 78 percent are low-income households and 15 percent are current and former special-needs students. In 2019's state-run standardized tests, 99 percent of Success Academy's students passed the math exam and 90 percent passed the English exam—compared to only 46 percent in traditional public schools in the city. Success Academy's impressive results should debunk progressives' claims that there is "cultural bias" in standardized tests and that standardized testing is "racist."
Students from poor and disadvantaged backgrounds at Success Academy have excelled in standardized tests mainly because they are motivated and willing to study. Like me, they knew that they had nothing else to fall back on. Standardized tests provide these students with a level playing field on which to compete. They understand that good test scores will get them into good colleges, which will lead to good jobs.
Progressives such as Weingarten do not want to talk about how each student can improve his/her lot with discipline, grit, resilience and sound work ethics, regardless of material circumstances. Instead, they condemn these attributes as "white privilege," and Weingarten calls for the outright elimination of standardized testing. It's no wonder, though, that Chatterton Williams concludes: "It is peak white privilege to tell minorities they don't need grit or metrics."
It is also important to point out that those who advocate for eliminating standardized testing have not identified an effective alternative. GPA is not reliable, given widespread grade inflation and the metric's inherent subjectivity. Research also suggests that college admission essays and personal statements do not neatly correlate with how well a student will perform once on campus. Furthermore, the Stanford Center for Education Policy Analysis suggests that essays are actually highly correlated to family wealth. So a college admissions program that ignores SAT or ACT scores but emphasizes personal essays will disproportionately favor wealthy students.
Despite its flaws, standardized testing is still the best way to objectively evaluate and predict education outcomes. It levels the playing field for students from poor and disadvantaged backgrounds, and it helps them achieve upward economic mobility through their own effort and merit. Getting rid of standardized testing will do a disservice to these students who have nothing else to fall back on.
Helen Raleigh, CFA, is an American entrepreneur, writer and speaker. Helen is the author of Backlash: How China's Aggression Has Backfired and Confucius Never Said. Follow her on Twitter @HRaleighspeaks and visit her website: www.helenraleighspeaks.com.
The views expressed in this article are the writer's own.