#CancelNYT Trends as Americans Slam the New York Times for Outing Trump Whistleblower as CIA Officer
The hashtag #CancelNYT began trending on Twitter on Thursday afternoon as tens of thousands of Americans—outraged over the New York Times' decision to identify the Trump whistleblower as a CIA officer—called on people to cancel their subscriptions with the newspaper.
A whistleblower filed a formal nine-page complaint—released publicly on Thursday—that accused the White House of covering up a phone call made between Trump and Ukrainian President Volodymyr Zelensky in July, during which the U.S. president asked his foreign counterpart to investigate his 2020 rival former Vice President Joe Biden's son, Hunter Biden.
Reports about the whistleblower's concerns sparked public outrage and eventually led to the complaint and a summary of the phone conservation between Trump and Zelensky being released, as well as a formal impeachment inquiry into Trump, announced by House Speaker Nancy Pelosi on Tuesday.
The partial transcript, released by the White House on Wednesday, proved that the U.S. president did ask Ukraine for assistance in investigating his political opponent and that he even offered his own Attorney General to help in the probe.
In an article published earlier today, the Times identified the whistleblower as a male CIA officer who had previously been detailed to the White House. The report is based off the corroborated accounts of three unnamed sources and amounts to the most detailed description of the whistleblower to date. His name, however, remains unknown to the public.
Tens of thousands of Americans took to Twitter to urge people to cancel their subscriptions to the newspaper over the report. Some also reminded readers of the newspaper's other questionable editorial decisions made in recent months. As of Thursday evening, the hashtag #CancelNYT rose to the third most-trending topic on the social media platform in the United States.
Of the many politics-related hashtags that have trended on Twitter as of late, #CancelNYT is one of the few that has received support from both liberals and conservatives, albeit for different reasons. "I'll give the @nytimes and @deanbaquet this: they were able to unite Republicans and Democrats around a common cause. #CancelNYT," one user tweeted.
Amid the controversy, one Times writer urged subscribers to think twice before ending their accounts with the newspaper. "Before you #CancelNYT, please reconsider," NYT's Wajahat Ali tweeted. "It employs fantastic journalists & breaks important stories. It's also under direct assault from Trump & his supporters. I write for them but I also publicly disagree w/ some decisions, like today's. Yet, the good far outweighs the bad."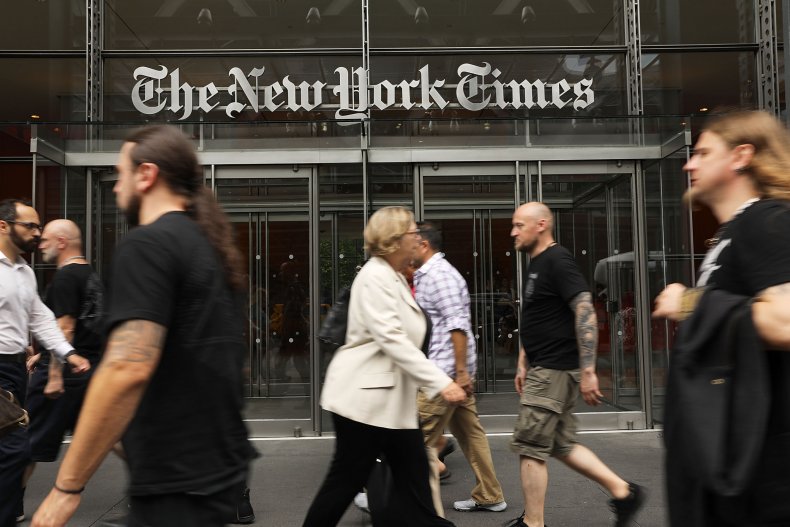 "Trump: I want to falsely accuse the Central Park 5 of rape and publicly call for their executions. NYT: Here's some full page advertising space. Trump: I want to execute all whistleblowers as treasonous spies. NYT: Here's the whistleblower. #CancelNYT," American surgeon Eugene Gu, one of Trump's most vocal critics on Twitter, wrote.
"Dean Baquet should absolutely lose his job over this. Quickly. The damage to the whistleblower's safety is already done, but @nytimes must condemn this decision to protect future sources & whistleblowers. This cannot be left as an acceptable precedent. #CancelNYT," Twitter user @KristinMinkDC wrote.
"I made the choice to #CancelNYT subscription because they happily carry water for bad actors. I'm continually reminded that ending NYTimes subscription was the right thing to do," singer Scarlett Rabe tweeted. "They are complicit & largely to blame for the dire situation we find ourselves and our democracy in."
"Mark Felt's identity as DEEPTHROAT was a secret for 30+ years. 11 years after Nixon died, Felt stepped forward at a ripe old age of 91. Exposing government corruption is dangerous. Whoever did is a hero. The NYT's has thrown the whistleblower under Trump's bus. #CancelNYT," Twitter user @XX7Atticus wrote.
"Reasons to #CancelNYT: - Lied about Iraq's WMD - Published an anti-Semite cartoon - Hires anti-Semite writer - Has corporate influence in politics - Publish whistleblowers name. So on," Twitter user @mynameisNegan wrote, alongside an image of a quote by Noam Chomsky.
"If @deanbaquet resigned, I bet that #CancelNYT would stop trending... because they'd make better decisions in the future," author Grant Stern tweeted.
"If you #CancelNYT, support independent journalists like myself either at your local newspaper, NPR, independent weekly or news site. Support journalists who put the country first.Some of us were reporting the truth in 2016 (and before) and not playing to a whites-only audience," Twitter user @VABVOX wrote.
"The excuse by @deanbaquet is why #CancelNYT is trending. Banquet falsely says we need to endanger an @CIA officer's life to understand WHETHER @realDonaldTrump abused his power. As if that was in question. It isn't. We have the President's OWN TRANSCRIPT. All we need," Twitter user @LouiseMensch wrote.
"You're right. We need to support serious, hard hitting journalism. The Washington Post is having a Digital Flash Sale for $30 for today only. #CancelNYT," Twitter user @BellaAugust4 wrote.