Diabetes Could Raise Cancer Risk Because of How High Blood Sugar Levels Affect DNA
People with diabetes could be more likely to develop cancer because of how high blood sugar levels affect DNA, researchers believe.
A higher level of blood glucose appears to spike how much damage DNA suffers, according to researchers at City of Hope National Medical Center. Too much glucose in the blood also made DNA strands more prone to breaking, and stood in the way of it being repaired. This, the team thinks, could lead to what is known as genomic instability: mutations that are characteristic of the majority of cancers.
The authors studied tissue in a lab and mice with diabetes. That means that the results may not be applicable to humans, but could give a clue to the processes in our bodies.
The research was presented at the American Chemical Society (ACS) Fall 2019 National Meeting & Exposition, and therefore hasn't been published in a peer-reviewed journal.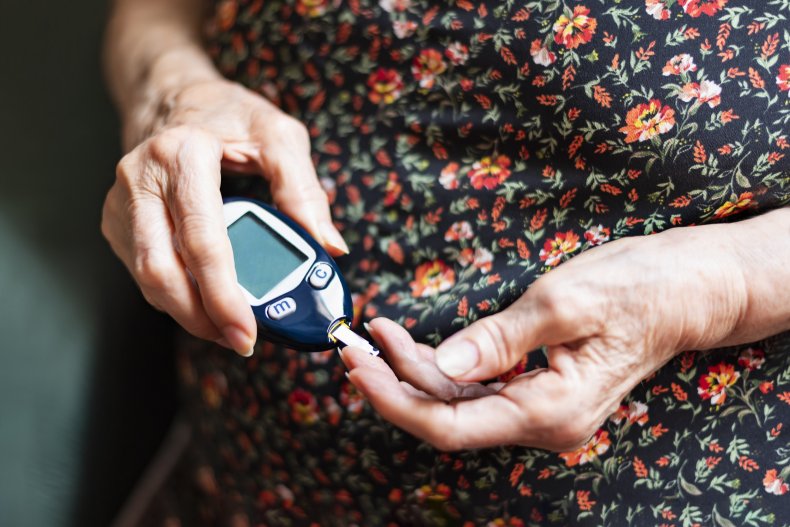 Co-author John Termini, professor in the Department of Molecular Medicine at City of Hope, commented in a statement: "As the incidence of diabetes continues to rise, the cancer rate will likely increase as well.
"In an ironic twist of fate, some cancer treatments increase the risk of diabetes, which in turn increases the risk of cancer. The destructive machine feeds itself."
Experts already know both type 1 and type 2 diabetes are "significantly' associated with an increase of cancer, but the link isn't well understood, the authors wrote in an abstract.
Understanding the link between cancer and diabetes is important for the more than 100 million Americans who have diabetes or prediabetes. Cancer is the second biggest killer in the U.S., causing 599,108 deaths in 2017.
The team hope the research could lead to the development of drugs that help with DNA repair, limit genomic instability and cut the risk of cancer in those with diabetes.
Medications that regulate blood sugar levels, like metformin, could reduce the risk of cancer.
Termini told Newsweek: "Metformin has been shown to stimulate DNA repair, and many patients with type 2 diabetes are taking metformin. By combining metformin with other drugs that can stimulate DNA repair via the pathways we have identified, we feel there is a good chance that we can substantially reduce the risk for cancer in patients with diabetes."
Last fall, a separate team of researchers published findings suggesting diabetes raises the risk of cancer, particularly in women. The authors of the Diabetologia paper looked at existing evidence on 121 cohorts, featuring over 19 million people.
Toshiaki Ohkuma, lead author of the study and a research fellow in the renal and metabolic division at the George Institute for Global Health in Australia, told Live Science at the time that women often spend more time than men in the prediabetic stage of the condition, where glucose levels are high when compared to men. Once they are diagnosed, "women are often undertreated or not getting the same level of treatment as men," Ohkuma said.
This article has been updated with comment from John Termini.