Dad With 'No Signs' of Cancer Given Weeks to Live on Baby's First Birthday
A dad diagnosed with terminal cancer on his daughter's first birthday plans to battle his disease to allow him to spend as much time as possible with his family.
Dean Whelan, from Golcar in northern England, received his cancer diagnosis this month having shown "no signs at all" until around two months ago, according to his fiancee Emily.
Around that time, Whelan, 35, started feeling a persistent pain in his back that prompted him to go to the hospital for a scan. The scan showed that Whelan had a blood clot on his lung, and further examinations also found a mass on his bowel.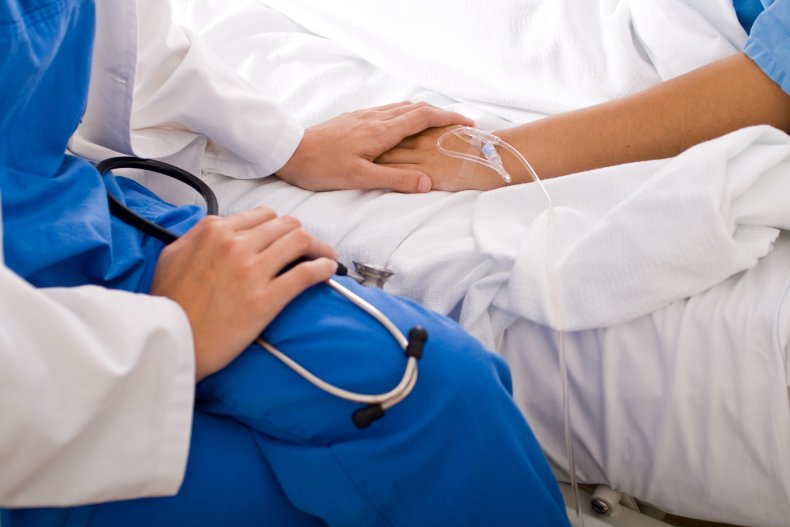 "They did more tests and it came back that it had spread and that they could not do anything," Emily told U.K. regional news outlet Yorkshire Live. Whelan's cancer diagnosis was delivered on August 6, the same day as his daughter Lorelai's first birthday.
Bowel cancer, also called colorectal cancer, is a common type of cancer that affects the colon and rectum. In the United States, it is the third most common type of cancer and the American Cancer Society estimates there will be around 150,000 new cases of colon cancer and rectal cancer diagnosed in 2022. It is also the third leading cause of cancer-related deaths in men and women in the country.
There are a number of treatments for this type of cancer, including surgeries to treat tumors or drugs such as chemotherapy. Finding the cancer early when it's small and hasn't spread often allows for more treatment options. However, not all cancers have signs or symptoms that can be noticed in early stages.
Given just weeks to live, Whelan immediately proposed to Emily and a fundraiser has since been launched to help fund the family through however much time they have left. Dean is also a stepdad to Emily's 15-year-old son Jayden and 11-year-old daughter Neve.
Emily said her husband-to-be plans to undergo chemotherapy to manage his cancer and spend as much time with his family as possible. "We want to have months and we are battling it head on," she told Yorkshire Live.
For the future, Disney-loving Dean and the family are planning a trip to Disney World in Florida or, failing that, Disneyland Paris. In the meantime, the dad wants to watch as many Disney films with his kids as possible.
Emily said she has been "floored" by the kindness of supporters who had donated more than £3,000 ($3,619) to the family's GoFundMe page, which is titled 'Please support Emily, Dean & their children'.
Newsweek has asked the family for comment.
In an update on August 15, fundraiser organizer Jodie Wood wrote: "Thank you everyone for your donations! This will go a long way to helping Dean, Emily and those beautiful babies make some precious memories."