HIV Patients Facing Cancer Lack Treatment Access and Have Lower Survival Rates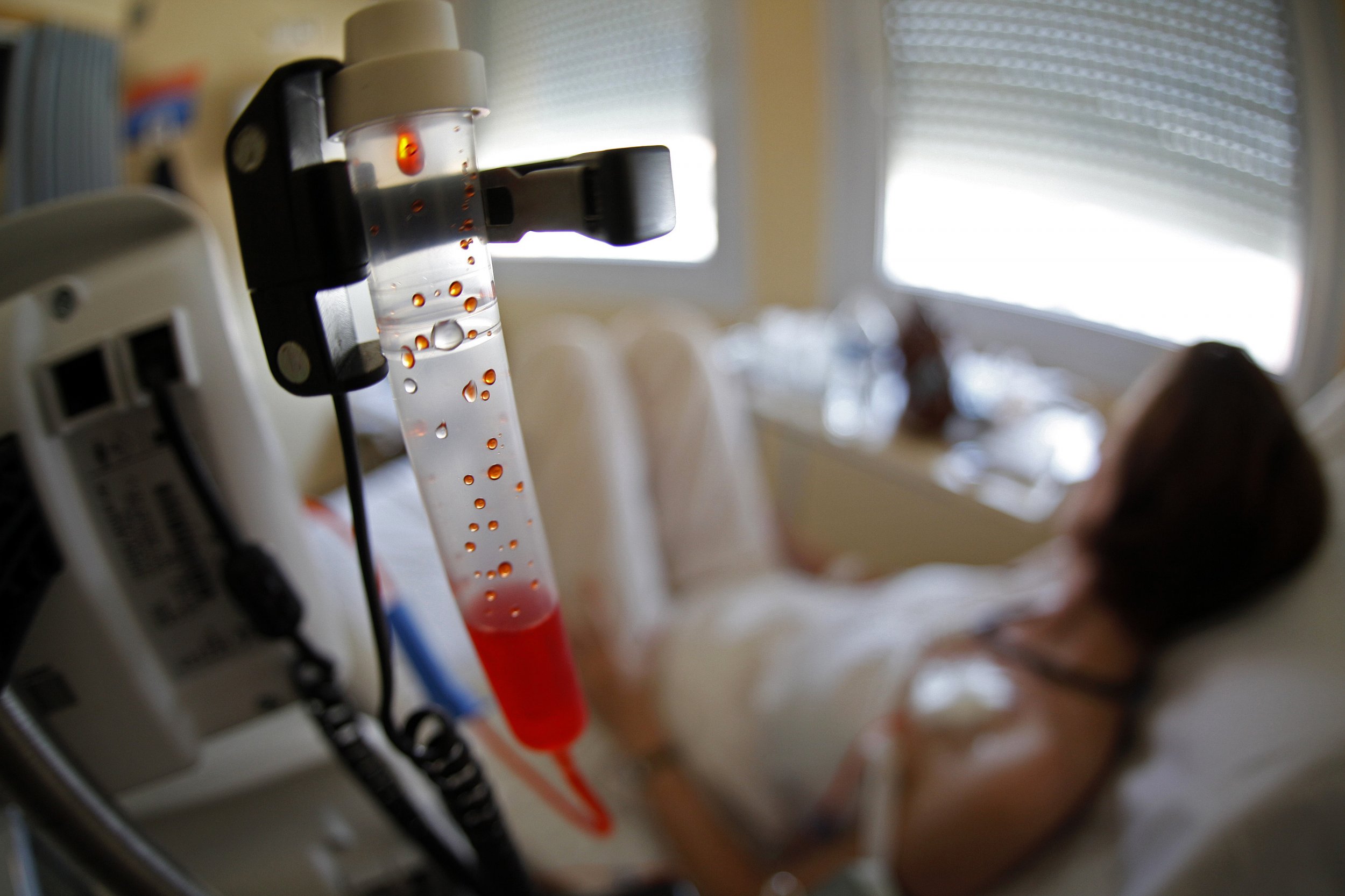 Breakthroughs in medicine made it so an HIV diagnosis is no longer a death sentence; staying well with the illness is way less complicated than it used to be. That is, unless you are HIV-positive and get cancer.
A study conducted by researchers at the University of Utah, the National Cancer Institute and the American Cancer Society and published earlier this week says HIV patients in the U.S. are much less likely than the general population to receive treatments for cancer, whether it has affected the gastrointestinal system, lungs, cervix, prostate, breast or blood.
Patients with HIV have a significantly higher risk for certain cancers, known clinically as AIDS-defining cancers. These include Kaposi sarcoma (a soft tissue cancer that causes lesions in the lymph nodes and mucous membranes), cervical cancer and non-Hodgkin lymphoma. The diagnosis of any of these cancers in an HIV patient is considered a clinical sign that the infection has progressed to AIDS.
According to the National Cancer Institute, people with HIV are several thousand times more likely than people without the disease to develop Kaposi sarcoma. They are 70 times more likely to develop non-Hodgkin lymphoma. HIV-positive women are five times more likely to be diagnosed with cervical cancer. In addition, HIV increases the risk for most common cancers, including those in the breast, prostate and lungs and colorectal cancer.
HIV is also often associated with other viruses that can cause or are related to certain cancers. For example, patients diagnosed with HIV may test positive for the human papillomavirus, which causes cervical cancer and some other types of cancers of both the male and female reproductive systems. HPV is also the cause of some head and neck cancers. Other viruses often diagnosed in people with HIV are Epstein-Barr and hepatitis B or C, all of which are linked to certain cancers.
To better understand how cancer specifically affects the HIV-positive community, researchers looked at data from the National Cancer Data Base on non-elderly adults diagnosed with several common cancers from 2003 to 2011, comparing 10,265 patients with an HIV diagnosis and 2,219,232 without. The researchers looked at rates of common types of cancer treatments across both populations, including chemotherapy, surgery, radiation or any combination. The result were published in the medical journal Cancer.
After adjusting for factors such as whether patients had health insurance, the researchers found that across the board, HIV-positive cancer patients were still significantly less likely to receive standard oncology treatments. For example, 32 percent of HIV-positive patients with lung cancer weren't receiving treatment, versus 13.6 percent of lung cancer patients without HIV. HIV-positive patients with cancer of the upper gastrointestinal tract were more than twice as likely to go without treatment than those who didn't have HIV. These disparities still existed for HIV patients who were privately insured, but those on Medicare or Medicaid, or uninsured, were even less likely to get cancer treatments.
However, the authors say the study shows health insurance isn't the only cause behind the cancer treatment disparities. One finding indicates race and ethnicity could contribute to limited medical care: HIV patients who were black tended to fare worse. The authors also suggest the disparities could be driven by the lack of research on the relationship between cancer and HIV—for example, whether certain chemotherapies and cancer drugs are safe to use on HIV-positive patients.
"HIV-infected patients with cancer have historically been excluded from cancer clinical trials, thereby limiting the applicability of clinical trial results for this population," the researchers write in the conclusion of their study. Oncologists often feel less confident when treating these patients, which results in poor survival outcomes.
Rates of cancer mortality among patients with HIV/AIDS have decreased significantly since the introduction of antiretroviral drugs. These drugs lower the amount of virus circulating in the blood, which boosts immune system function, preventing the HIV virus from progressing to AIDS. The introduction of these antiretrovirals in the marketplace in the 1990s also significantly reduced the rates for Kaposi sarcomas and non-Hodgkin lymphoma.
But antiretroviral drugs don't fully restore immune system function, and their efficacy slowly diminishes over time, leaving HIV patients susceptible to cancers later in life. Additionally, many of these drugs are still relatively new, and no one knows for sure what the long-term impact may be for patients who take them for the full duration of their life. Regardless of these factors, the older a person is, the higher his or her risk for cancer.