Candace Cameron Bure Reveals How Donald Trump Made Her Time on 'The View' Stressful
Candace Cameron Bure has opened up about the "stress and anxiety" she endured during her stint as a panelist on The View.
The Fuller House star, a Republican, was a co-host on the long-running ABC talk show in 2015 and 2016, appearing in seasons 19 and 20.
However, the star has admitted that she felt "pressure" to represent conservatives on national television, when she wasn't comfortable discussing politics—and things were only made worse as Donald Trump successfully raced toward presidency.
Speaking on this week's episode of The View's Behind the Table podcast, Cameron Bure recalled her time on the show: "The stress and the anxiety—I actually have a pit in my stomach right now.
"There was only one type of stress that I've ever felt in my life, that came from that show. And I [have] PTSD, like, I can feel it. It was so difficult, and to manage that emotional stress was very, very hard."
Discussing why she joined the show, she said: "I was pitched a completely different direction, because that was my hesitation. I said, 'Politics is not, it's not my bag. I've never spoken publicly about politics. I don't even come from a political family, meaning I didn't grow up speaking about politics.'
"So they had told me, 'We're going so much lighter,' a lot more would be evergreen. We want to talk more about family and sex and life, so I was, like, absolutely, 100 percent, I'm on board. And then it all changed when Trump entered the race."
Going on to address her struggle with the daily topics she was required to discuss, Cameron Bure told The View star Sara Haines: "[I was] just trying to understand and have a general grasp of topics that I didn't want to talk about or didn't care about."
Having to sit in the hot seat as she did, Cameron Bure—who frequently flew between her Los Angeles home and New York City to tape the show—admitted that the schedule deeply affected her "emotional health."
She said: "When I felt like I was going into a show that I didn't have a clear opinion about, or it was something that I was legitimately nervous to talk about because I did have an opinion about it, but I knew I was the only one at the table that had my opinion, I would just get sick to my stomach.
"I hated that feeling. And then I'm like, 'I don't know who's going to come at me.' ... And not in a mean way, because nobody came at me in a mean way. To me, I felt like everyone had their opinion but was respectful for the most part.
"But I was also told so many times, 'If someone comes at you with a different opinion, you have to go back a second time.' I want to share my opinion. I want to listen to yours. And then I wanna back off."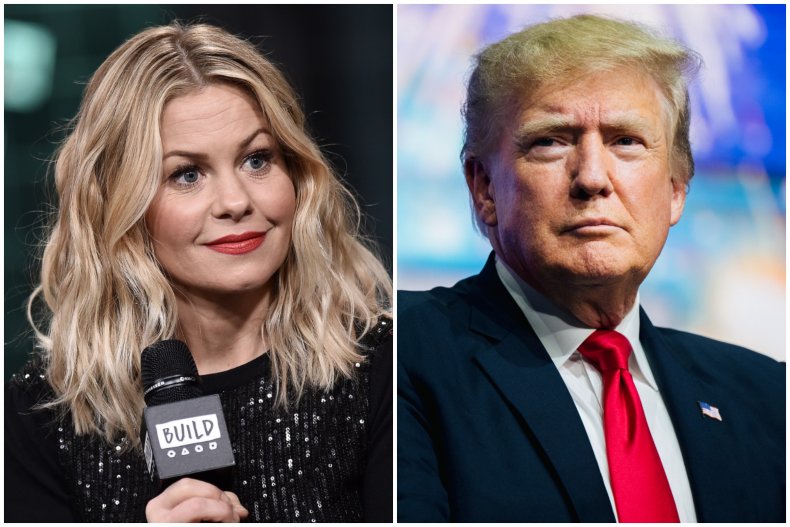 Having to face such dynamics proved to be increasingly difficult as former Donald Trump edged toward his victory in the 2016 election and she juggled her work on Fuller House and Hallmark movies.
"The View, by far, was the toughest job," Cameron Bure stated. "And as soon as Donald Trump won that election, I was like, this has got to go, because I could not, I did not want to be the punching bag for the next four years in that conservative seat.
"I just didn't want to. And it wasn't worth it to me. It wasn't worth my mental health, which was already suffering, so it was a very easy decision."
Despite admitting that the stress often left her "crying before the show," Cameron Bure insisted that she doesn't regret having appeared on The View.
"I don't know that I regret anything, honestly," she said on the podcast. "I feel like there were so many wonderful takeaways from the show. And as difficult as that job was, I'm very, very grateful for it."
Actress Raven-Symoné, who also co-hosted The View between 2015 and 2016, was another guest on the most recent episode of the Behind the Table podcast.
Like Cameron Bure, she said that she was also under the impression that the focus of the show would be less about politics when she signed up.
"I thought I was going on a show, like Candace, where it was pop culture and fun and exciting and I got catfished, and I learned a good lesson," the actress said.
"I really did want to be on that show and talk about topics that I'm good at and know about and really succeed in a positive way," she added. "I'm not used to flopping, I'm not used to failing. And I feel like a little bit of a fail because of it. But it wasn't my fault, which made it even worse."
The Raven's Home star, who felt that she was under pressure to be the LGBTQ+ voice on the panel, praised moderator Whoopi Goldberg "because it takes a very strong woman, very clearheaded, to be in that captain's seat, and I can see why she's been there for so long."