Candace Hill Sprints Into History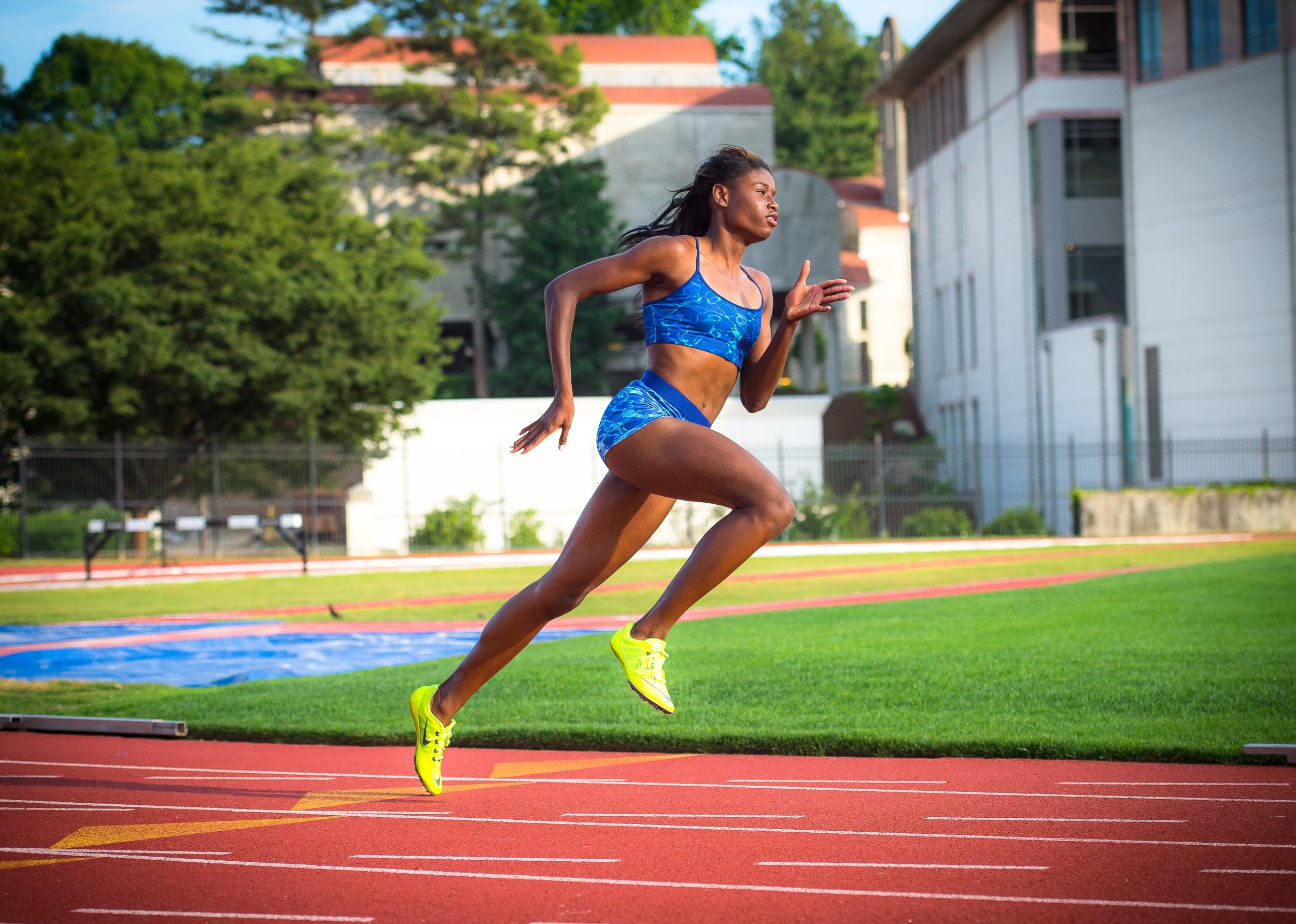 Candace Hill finished second in a race once. Once.
It happened on a Saturday in the spring of 2014 in Lilburn, Georgia. The event, the 200 meters, marked the high school track debut of Hill, then a freshman at Rockdale County (Georgia) High School. The diffident youngster stepped into the blocks amid a forest of more seasoned, more self-assured teens. "I think she talked herself out of it before the gun went off," says her mother, Lori.
Lining up next to her was Akua Obeng-Akrofi, a senior who would soon be off to the Ivy League on a track scholarship from Columbia University. Obeng-Akrofi burst out to an early lead and then held off the surging novice in the final 50 meters. "By the time I realized I could win, it was too late," says Candace.
After the race, her coach told her, "That's the last time you finish second."
To date, his statement has proved not only prophetic but modest. In Candace's two years of high school since that race, she is undefeated, sure, but she has also swept the 100- and 200-meter Georgia AAAAAA state championships in consecutive years while also setting state records at those distances (11.34 and 23.05 seconds, respectively). She is also a four-time national junior champion in the 100- and 200-meter distances in 2013 and 2014.
But those are mere "Faces in the Crowd" liner notes. On June 20, at an invitational meet in Seattle, Candace sprinted into history with a time of 10.98 in the 100. The time, run against a mild headwind, not only shaved .23 seconds off her previous best but also shattered a barrier: No female in the world under the age of 17 has ever run 100 meters in less than 11 seconds. Nor has any American female under the age of 19.
"I was shocked," says Lori, a former college cheerleader at Cheyney State (Pennsylvania) University. "That race destroyed her goals. I was hoping Candace would run an 11.1, and then for her to run a 10.98... I lost it. I stood up in the stands and started telling everyone, 'That's my daughter!'"
In 1964 Jim Ryun established a legacy that has lasted more than a half-century by becoming the first schoolboy to eclipse a four-minute mile. Ryun was a junior at Wichita (Kansas) East High School when he ran his epochal 3:59 at an invitational meet, not unlike Candace, in June and on the West Coast. Such were the times (and passion for track) that Sports Illustrated named Ryun its Sportsman of the Year.
While Candace's 10.98 has not garnered the fanfare beyond the oval that Ryun's did, it is a comparably momentous triumph. Consider that Candace's time would have won a gold medal at every Olympic Games prior to 1984. Use of performance-enhancing drugs became rampant in the sport in the 1980s and 1990s—the World Anti-Doping Agency (WADA) was not developed until 1999—and it is emblematic of that era's sullied imprint on track's world record book that her time would have been good for a gold at the Sydney Olympics (2000) and a silver in Beijing (2008), or after WADA began attempting to clean up the sport.
Ryun, like Candace, finished second in his first high school race and then never lost against high school competition again.
High school track is an endurance sport, at least for spectators. Meets routinely last between two and three hours, and when your event requires less than 12 seconds to complete, that leaves a lot of time to kill. Ask Candace if she does homework during meets and she answers with zeal, "All the time! I will literally bring my Apple laptop onto the infield with me and do whatever: chemistry, math, research."
While Candace is proud that she has finished second in a race only once, she is somewhat annoyed that she failed to earn an A once. Again, just once. That happened this past semester, when she received a B in AP chemistry. "It's a course that you usually take as a junior," she says, "but I wanted to see how I could compete with them and, well, I got a B."
Candace, now enrolled at Rockdale High School's Magnet School for Technology and Science, has a weighted GPA of 4.50. Last semester she also took AP courses in Spanish and world history. "My parents [her father, Gary, is a mechanic], especially my mom, always stressed academics on my sister [Rachel, one grade below] and I."
Lori, who is a behavioral therapist at a hospital, credits parental oversight and sibling rivalry for her daughters' outstanding grades. "A lot of times when you tell your children that they can do something, they start to believe that they can," she says. "And then when one of my daughters brought home a paper from school with a smiley face on it, the other wanted to do the same."
According to Candace, her younger sister not only is a straight-A student but "she's the second-fastest girl on our track team."
In the past four weekends since Memorial Day, Candace has competed at meets in Eugene, Oregon; Albuquerque, New Mexico; New York City; and Seattle. She has won every race entered against elite national junior competition, and in New York she even met and posed for a photo with the world's fastest human, Usain Bolt. On June 30 in Lisle, Illinois, she will compete in the USA Track & Field Youth Outdoor Championships. A first-place finish there would give Hill wins in all four time zones this month but, more important, qualify her for the IAAF World Youth Championships in Cali, Colombia, in mid-July.
"I'm having fun," says Candace. "Overall, it's been a pretty fantastic summer."
It has. And should she continue to improve at this pace, she could return to South America next summer...as an Olympian.