Candace Owens Accuses American Airlines of 'Theft' Over Cancelled Flight Refund
Candace Owens has slammed American Airlines, accusing the aviation giant of "theft" after she was offered credit, instead of a refund, for a canceled flight.
On Tuesday, the conservative commentator wrote on Twitter that she booked to travel with the airline from Nashville, Tennessee, to London later this month with her family.
But Owens—who shares a 9-month-old son with her British husband of two years, George Farmer—stated that her plans were scuppered one week later when she learned the route was canceled and was offered $5,000 credit, instead of a refund.
When contacted by Newsweek, a representative for the airline said the voucher "was issued in error" and that a refund has now been "processed."
That response came after Owens wrote: "Booked a flight from Nash to London for my family with @AmericanAir for 5000$. A week later they e-mail to say the flight route has been cancelled.
"Rather than refunding me, they tell me I can only be issued a credit to use with their airline. How is that not legally theft?"
"It's definitely legally theft," she went on in a follow-up tweet. "It would be like ordering a shoe from a store, being contacted and told 'actually we don't sell that shoe at all, but you we can only issue you back store credit'. @americanair advertised something that didn't exist."
When another Twitter user dismissed Owens' complaint as "first class problems," she countered: "No. This is how much it costs to fly multiple people round trip to London from Nashville. First class would probably have been about $24,000."
Responding to another tweet that stated "airlines have been abusing customers this way for years," Owens said: "Actually criminal. Would make sense if I had planned a trip for next year. The trip is this month.
"They knew they didn't have the flight route but let me buy it anyway—then converted my cash to money they could guarantee would be spent with them."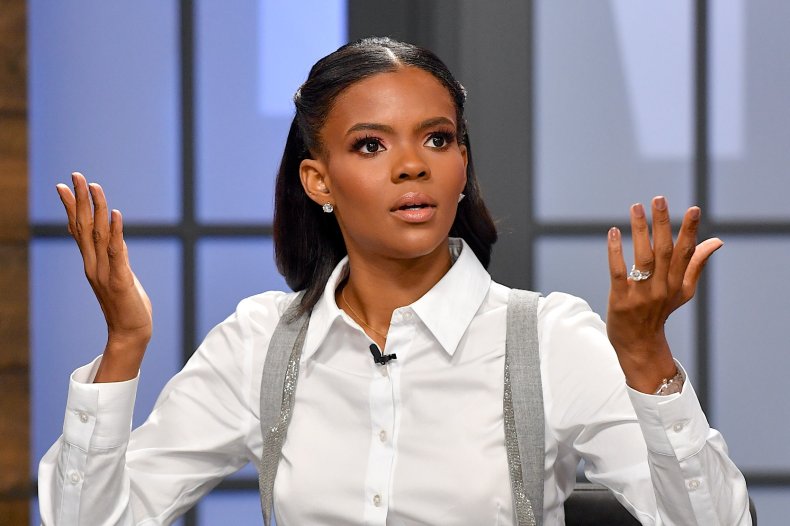 She continued: "It is legally theft. How could it possibly be legal to false advertise a flight? Mind you—the flight isn't for a trip that's a year away. It's THIS MONTH. They knew they did not have that flight route planned but took my money anyway."
Concluding her string of posts on the matter, Owens wrote: "What bothers me is I have a platform so they respond. But the average person does not. I have been on the phone asking for my money for two hours. Who can afford to have 5k tied up?"
In the midst of her tweetstorm, Owens received a message from the official American Airlines Twitter account that read: "Let's chat about this, Candace, but for privacy reasons, please move into DMs."
The airline also requested Owens' record locater, in order to "take a look at what's going on," stating in another tweet shortly afterward: "Our offer to help still stands. Please meet us in DMs for a closer look."
Owens, a vocal supporter of former President Donald Trump, is currently based in Nashville, where she shoots her show, Candace, for The Daily Wire.
In response to Owen's complaint, American said the credit had been issued in "error."
A representative said: "Our team looked into this matter after Ms. Owens reached out on social media and has processed a refund.
"A voucher was issued in error for the fare difference on a trip that was rebooked, but our understanding the matter has been resolved to her satisfaction. We apologize for any inconvenience this may have caused."
American Airlines' website states its policy on customers paying for products and services that they are unable to use.
"If the product or service you paid for was provided on an alternate flight, no refund will be provided," it says.
"However, these products and services are eligible for a refund if you're unable to use them: Bag fees (refund does not apply to bags bought online), Pet fees, Priority boarding, Same-day flight change or standby."
Update 10/06/21, 10:22 a.m. ET: This article was updated to include a response from American Airlines.