Candace Owens Says Americans 'Most Overprivileged People' amid Voting Line Complaints
Candace Owens called Americans "the most overprivileged people that have ever lived" as she reacted to complaints that long lines outside polling stations for early voting amounted to voter suppression.
The conservative commentator told Fox News on Wednesday that having to wait in line to vote was "not voter suppression" and argued that it was "plainly ridiculous" to make the claim.
She also drew a comparison between waiting in line to vote in the presidential election with queueing up for "20 hours" to buy a flat-screen TV in the Black Friday sales.
Speaking on The Ingraham Angle show last night, Owens said: "We are the most overprivileged people that have ever lived in the history of the world. The fact this is even a discussion or a debate. Mind you, the same people that will wait 20 hours in a line on Black Friday for a flat-screen TV, this is the people we're talking about.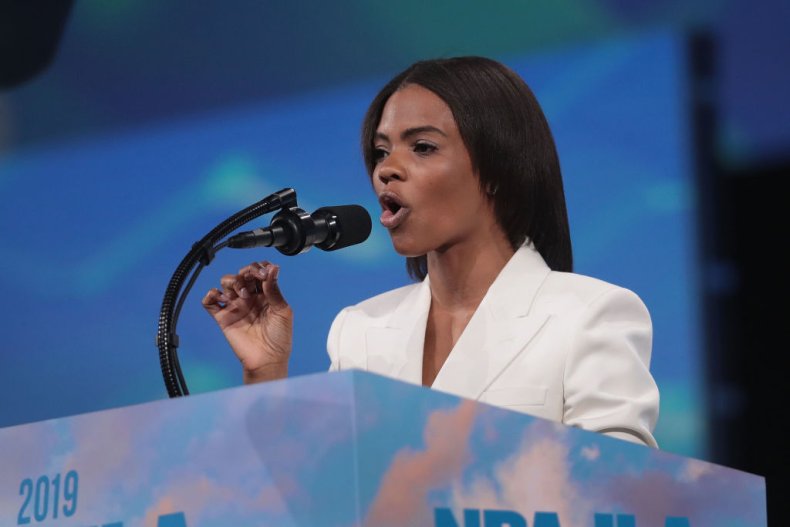 "And now all of a sudden it's the great injustice... is that we have to wait in line to vote. I mean, am I being oppressed on Sundays when I have to wait in Trader Joe's in the line that's wrapped all the way around? Have I been impressed my entire life at the DMV?"
After arguing that it was "not voter suppression" to have to wait in line for early voting, the commentator added: "It takes a little bit of patience and I think it's plainly ridiculous, but again, what are they trying to feed? It's this narrative that somehow we're trying to stop people from voting."
Owens also pointed out that COVID-19 restrictions and social distancing measures requiring people to stand 6-feet apart were contributing to early voting lines in Georgia and Texas being so long.
The commentator lashed out at complaints over polling station lines and voter suppression two days after early voting began in Georgia, where voters could be seen waiting in long lines stretching around buildings.
Footage posted on social media has also shown similarly long lines forming in Texas this week as thousands of voters have sought to cast their ballots early.
According to data from the U.S. Elections Project, more than 13.8 million Americans have already voted early with less than a month to go until election day on November 3. At the same point in the 2016 presidential election cycle, around 1.4 million voters had cast their ballots early.
Georgia and Texas were among four states to set early voting records within days of opening polling stations this week.