Right-wing media personality Candace Owens mocked 2018 photographs showing Alexandria Ocasio-Cortez crying outside a Tornillo, Texas migrant children detention center, staging her own "photoshoot" mimicking the recently unearthed pictures.
The Blexit activist joined injurious conservative critics of the New York congresswoman in ridiculing a series of pictures taken of Ocasio-Cortez last year as she broke down crying at a chain-link fence surrounding a migrant detention facility in Texas. On Monday, photographer Ivan Pierre Aguirre posted the previously unpublished pictures of Ocasio-Cortez, who at the time was a "fairly unknown House candidate" attending an immigration protest.
Owens took the opportunity Thursday to mock the emotional images and accused Ocasio-Cortez of staging a disingenuous "photo shoot" just days before she would upset 10-term incumbent Joe Crowley on June 26 of last year.
"I decided to stage a photoshoot just like @AOC! Except I'm outside of an inner-city school where the conditions are abhorrent and the majority of black AMERICAN boys can't pass a basic reading exam. Maybe the liberal media will give this epidemic some attention now? #BLEXIT," Owens tweeted Thursday.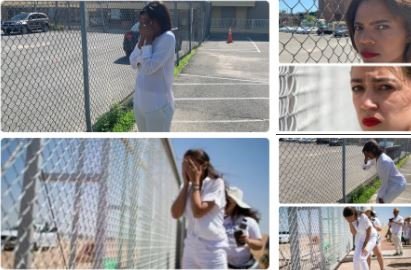 Right-wing provocateur Candace Owens mocked Alexandria Ocasio-Cortez, staging a "photoshoot" of herself fake-crying at chain-link fence.
Candace Owens/Screenshot: Instagram
Owens' pictures show her fake-crying and posing in a nearly identical all-white outfit worn by Ocasio-Cortez at the 2018 border protest.
"(Btw, I don't know about you guys but I always wear all-white and red lipstick plus thousands of dollars worth of jewelry when I go stage a *legitimate* protest)" Owens wrote on Instagram Thursday.
Legions of right-wing critics took to social media to edit the dramatic images of Ocasio-Cortez outside the Texas tent city after they were posted earlier this week. Scathing comments mocked Ocasio-Cortez's outfit, accused her of being too emotional and cynically said she took "acting lessons from Jussie Smollett."
Charlie Kirk, Owens' former coworker at Turning Point USA, commented on her Instagram picture, "You are actually upset over a real crisis. Unlike her."
Ocasio-Cortez stood by comments she made in an Instagram video last week describing the migrant detention centers at the border "concentration camps."
"Last week, we called the concentration camps at the border for what they are. In the week since: - Acting director of Customs & Border Patrol resigned, Bank of America announced they will stop financing for-profit immigrant detention & private prisons. Words matter," Ocasio-Cortez tweeted Wednesday.
Ocasio-Cortez has not yet responded to Owens' pernicious trolling Thursday, instead taking to social media criticizing President Donald Trump for trying to use potential additional funding from Congress to "build his little wall" instead of trying "to save these kids & get them help."
She continued advocating on the humanitarian side of the border crisis, pressing Republican Senate Majority Leader Mitch McConnell to stop rejecting House funding bills because they allocate funds to improve conditions for migrant children.
"This President will not lift a finger to save these kids. It is well within his power, but he & Mitch McConnell would rather cast blame than do anything. They need to get on board w/ a clean humanitarian bill. We can't write no-strings blank checks to abusive facilities," Ocasio-Cortez wrote Thursday.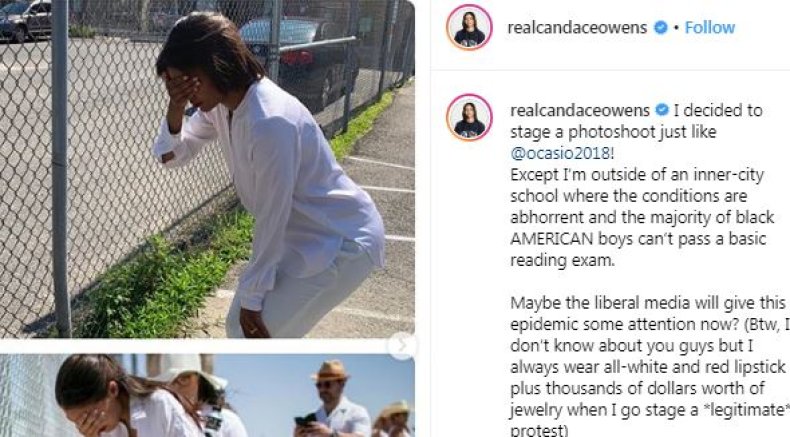 Owens, who was once a frequent figure on Alex Jones' far-right conspiracy theory website Infowars, advocates for black Americans to leave the Democratic Party through a movement dubbed "Blexit."