Candace Owens Offers Cardi B $250,000 to Debate Her or 'Any Black Conservative I Choose'
The Trump-supporting conservative activist Candace Owens offered rapper Cardi B $250,000 to debate her or "any black conservative I choose" after the latter woman appeared to endorse democratic socialist Bernie Sanders to be president.
Cardi B sat down for a conversation with Sanders, the independent U.S. senator for Vermont who is in the running for the Democratic party's 2020 nomination, to ask questions sourced from her fans. She posted a picture of their meeting to her Instagram. A video is expected soon.
A couple of weeks ago, Cardi B had tweeted that she was reading about Sanders and felt "really sad how we let him down in 2016" because of his long track record on campaigning for equality and people's rights.
Owens, founder of the "Blexit" movement and a former communications director at student conservative group Turning Point USA, picked up on Cardi B's apparent support for Sanders and laid down a challenge.
"I see that @iamcardib is politically advocating for Bernie Sanders with claims that Trump is bad," Owens tweeted Monday. "I would like [to] publicly offer 250k to a political campaign of her choosing if she will publicly debate her stance with either myself or ANY black conservative I choose."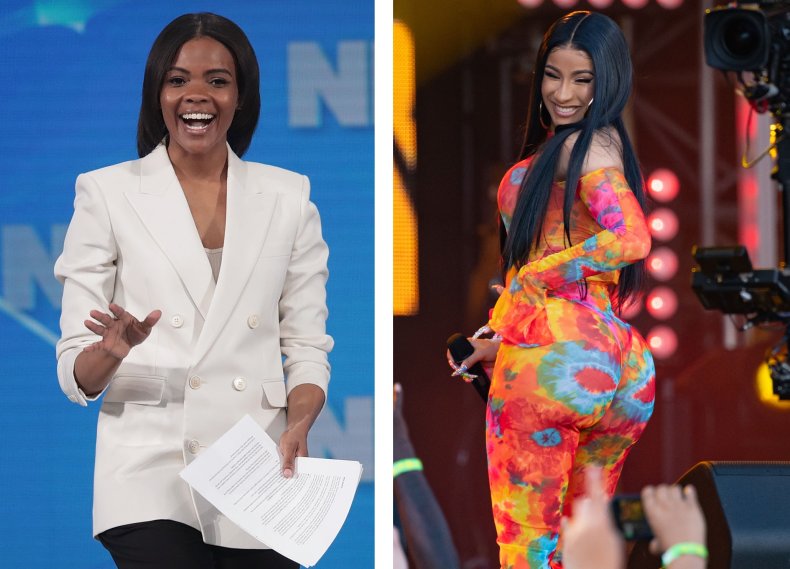 Cardi B replied on Twitter: "Why don't you use that 250k for a charity that will be more helpful. I like Bernie because since the 60s he's been fighting for equality. It looks like progression is really his passion. I still want to ask other candidates questions that my followers would like to know.
"My actual goal is to educate the Youth on our candidates. To advocate and spread the message on ANY candidate they chose to support. The same way you do for your favorite. That is all."
Owens subsequently clarified that the money would go to a charity of Cardi B's choosing and that she had made a mistake in her initial tweet. The source of the money put up for Owens' offer was not clear. Owens did not respond immediately to Newsweek's request for comment.
On Tuesday, Cardi B posted to Instagram: "Thank you Senator Bernie Sanders for sitting with me and sharing your plans on how you will change this country. A couple of weeks ago I asked my followers if you had the opportunity to have a question answered by a democratic candidate what would it be?
"I got a lot of submission and selected the most popular questions to get answered. Stay tuned to see how he will fight for economic, racial, and social justice for all. Together, let's build a movement of young people to transform this country. LET'S LEARN OUR CANDIDATES!"