Candace Owens at CPAC: Kamala Harris Thinks 'Black People Are Stupid,' Can Appeal to Them With Pot and Hip-Hop
Conservative commentator Candace Owens said Senator Kamala Harris will never become president and criticized her comment about smoking marijuana and listening to hip-hop music.
During a speech at the Conservative Political Action Committee (CPAC) on Friday, Owens discussed the black vote and said the right gave up its influence on culture. She added that conservative principles aren't welcome in Hollywood and claimed the left "invested, infected and infested" culture at every layer.
Then, she turned her attention to Harris and her comments about smoking marijuana in college. When asked if Harris ever smoked marijuana during a February interview on The Breakfast Club, a radio show, Harris responded that she had, adding that she inhaled. She shared that it was a "long time ago" in college and that she remembered the high. Harris further elaborated and said that during her experience with marijuana, she was listening to Snoop Dogg and Tupac.
"She thinks that black people are stupid and the way that she's going to appeal to us is just by saying, 'I smoke pot and I listen to hip-hop music,'" Owens said. "How insulting is that?"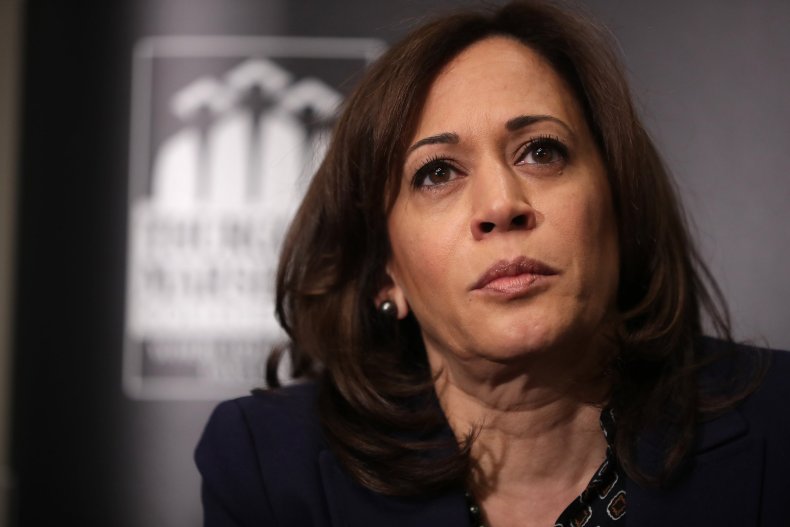 Owens wasn't the only one to criticize Harris's comment, with several people pointing out that Harris graduated from Howard University in 1986 and Tupac didn't release his first album until 1991. Her father, Donald Harris, who is a professor at Stanford University, told Jamaica Global that his daughter was "in the pursuit of identity politics," when she made the comment and said his parents and grandmothers must be "rolling in their graves."
Harris announced her bid for the White House in January, telling voters that she would fight for justice, decency, equality, freedom and democracy, which she identified as at-risk American values. The Democratic presidential arena is a crowded one, and Harris has been considered a top contender.
A University of New Hampshire poll released on Thursday found Senator Bernie Sanders to be the Democratic frontrunner, followed by former Vice President Joe Biden. Compared to their respective 26 and 22 percent support from those polled, 10 percent of people polled supported Harris, making her the third most popular choice and marking a 7 percent increase since August 2018, when support for the California senator was only at 3 percent.
Despite her popularity in polls, Owens doesn't foresee a future in which Harris occupies the Oval Office. She told CPAC attendees that Harris will "never, ever be president of the United States," a comment that was greeted with cheers and applause from the crowd.
Owens also used former Secretary of State Hillary Clinton as another example of how she felt Democratic candidates for president disrespectfully appealed to black voters. During an interview in April 2016, Clinton said that she always carries hot sauce in her bag, which the host said would be seen as the candidate pandering to black people.
"She offered us hot sauce, a Jay-Z and a Beyoncé concert," Owens said. "How insulting is that?"
Owens's speech largely centered on culture and policies affecting the black community. She pointed to abortion and the destruction of nuclear families as two issues that are hurting the black community.
​