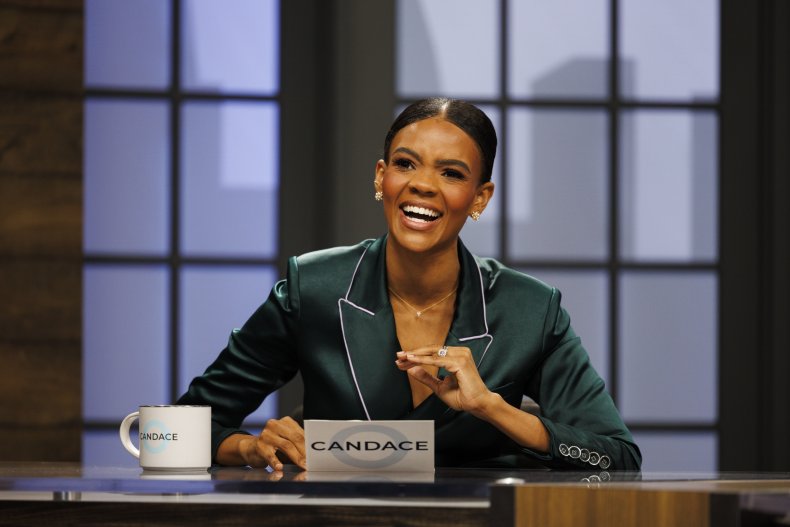 Best-selling conservative author and commentator Candace Owens opened the door to the prospect of running for public office during a Twitter Spaces discussion hosted by Newsweek on Friday, talking about the rising number of Black Republicans running for Congress and statewide positions. (Listen to the conversation here.)
"Years ago when I got into this I used to say absolutely not, never, but I think my entire life has taught me to never say never," said Owens, 32, at the end of the one-hour session in response to questions from audience members listening live. "If you had told me five years ago that I would be a Republican, I would have laughed in your face."
Owens, host of the weekly Daily Wire talk show Candace and author of the 2020 New York Times bestseller Blackout: How Black America Can Make Its Second Escape from the Democrat Plantation, burst onto the conservative media scene at the onset of Donald Trump's political career. She was critical of the future president in 2016 when he was a candidate but later became a full-throated supporter. In May 2018, Trump returned her admiration by tweeting that she "is having a big impact on politics in our country. She represents an ever-expanding group of very smart 'thinkers.'"
Owens was joined for the discussion by Republican National Committee communications director Paris Dennard, GOP candidate Tamika Hamilton seeking a U.S. House seat this year in the Sacramento, California, area, and Larry Elder, the radio talk host and top vote-getting Republican in the unsuccessful 2021 effort to recall California Governor Gavin Newsom. Elder and Owens were featured on a recent Newsweek cover that delved into the prospect that 2022 could be a record-breaking year for the number of Black Republicans elected to federal offices, with a notable number running for statewide office as well. Dennard was interviewed for the story as well.
While rumors have swirled about Owens' electoral prospects in recent years, she says she doesn't "have the want and the desire to run for office in the same way others do, but I think if I felt that my country really needed me and it called upon me to run, I would."
Still, she says, she's wary of "how vicious and how relentless the media can be when they don't want you to win something, so it would be a very conscious decision. The only answer I can give you is never say never but at the moment I'm very comfortable where I am supporting some of these great candidates all across the board, not just Black candidates."