Candace Owens Says Kanye West's 'Used' Tweet Was A Bullet Piercing Her Heart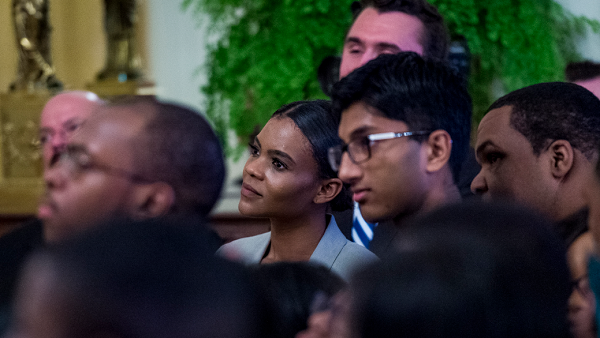 Candace Owens took full responsibility for Kanye West's claims of being "used" and decided to step out of the political limelight. The Fox News commentator issued an open letter after the rapper seemingly denounced his political ties in a tweet.
Comparing West's tweets of being "used" to "what it would feel like to have a bullet pierce my heart," Owens said the 41-year-old was "completely right to feel used" and apologized for the confusion caused by her recently-launched Blexit campaign.
"Kanye was completely right to feel used in that regard and as I have done personally, I would like to publicly apologize to him for any undue stress or pain the effort to correct that rumor has caused him, his business relationships, or his family," Owens, 29, wrote in a post on her personal blog released Wednesday.
She explained West's decision to distance himself from politics was due to her error regarding her Blexit campaign, an effort to convince black voters to leave the Democratic party. Owens announced Blexit over the weekend, including the debut of Blexit-themed T-shirts, which Owens claimed West helped her with.
However, some people on social media were under the impression West designed the shirts himself. West responded in a tweet on Tuesday night, writing, "My eyes are now wide open and now realize I've been used to spread messages I don't believe in. I am distancing myself from politics and completely focusing on being creative!!!"
In her blog, Owens claimed she never named West as the designer of the t-shirts. "I never once said that Kanye designed the T-shirts for BLEXIT. This is a lie that seems to have made its way around the world; a lie I would like to again correct for the record," she wrote. "He simply never designed them."
She additionally offered an apology to President Donald Trump after people online speculated West's break from politics meant he was ending his relationship with Trump's administration. "I would also like to publicly apologize to President Trump, as I know that Kanye's tweets were rapidly misinterpreted as a shot to this administration," she wrote.
She added: "His tweets were aimed at me and me only, rightfully, for my personal failings. I bare full responsibility."
Read Owen's full statement HERE.