Candace Owens Loved 'Excellent' Super Bowl Show. Her Fans, Not So Much
Conservative commentator Candace Owens was one of many people who praised the halftime show during Super Bowl LVI, but she soon found herself facing backlash from her fans who disagreed with the assessment.
For the first time, the big game focused on rap and hip-hop music for its halftime show. The concert included performances from a list of prominent rappers and R&B artists, including Snoop Dogg, Dr. Dre, 50 Cent, Mary J. Blige, Kendrick Lamar and Eminem.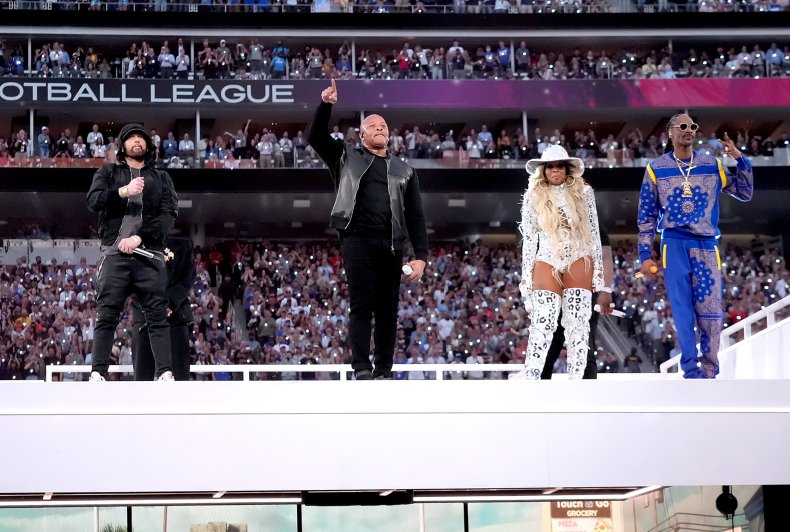 Following the game, social media was abuzz with people praising the show, with many calling it one of the best in Super Bowl history. A number of people, such as Los Angeles Lakers star LeBron James, noted the nearly all-Black performance at a game which occurred during Black History Month.
Among the names expressing admiration for the show was Owens. The commentator, who currently works for conservative outlet The Daily Wire, tweeted after the show, "This is an excellent Super Bowl halftime performance. Undeniable hip-hop and R&B excellence."
However, following the tweet, a number of Owens' fans confronted her on her praise for the halftime show, which her fans appeared to think was contrary to type for the often controversial conservative pundit.
"IT WAS ONE OF THE WORST HALF TIME SHOWS," one user angrily replied to Owens' tweet.
"Worst ever, and like usual the NFL has to push the diversity crap...maybe a rock musician and a hip hop artist each one doing a performance then let the crowd decide who gets the biggest cheer," another user tweeted.
A number of similar sentiments from what appeared to be right-leaning Twitter pages were seen in the replies to Owens' tweet.
However, in addition to conservative backlash, Owens also faced criticism for what some alleged was a hypocritical stance.
One user noted that Owens previously expressed her view that the U.S. did not have a problem with racism. They then attached a number of screenshots of replies to Owens' original tweet—including one from former White House press secretary Sean Spicer—which the user insinuated were racist stances toward the show.
"Candice says we don't have racism in this country," the tweet said in what appeared to be a mocking manner.
Another user pointed toward a tweet sent by Charlie Kirk, a conservative commentator and one of Owens' frequent collaborators. Kirk was mocked in a similar manner on social media after referring to the NFL as "the league of sexual anarchy" and stated that the halftime show "should not be allowed on television."
Some also noted that, despite Owens' own approval, many conservatives did not feel the same way. One user told Owens that "your fanbase doesn't really adhere to this music pal. This might be your most controversial take to them."
Indeed, music magazine Alternative Press published a report showing the fandoms of Democratic versus Republican music fans. Among artists that skewed "more often Republican," no rappers were listed, with the majority of musicians being country singers or rockers.
Democrats appeared to favor the genre, with two of the artists that performed at the halftime show, Mary J. Blige and Eminem, skewing left. A number of pop and soul singers were also listed among Democratic highlights.
"You're nitpicking comments to spin a false narrative. Plenty of conservatives enjoyed the halftime performance while plenty others didn't," Owens told Newsweek in a statement. "This is the kind of normal differing banter that follows virtually all big performances at award shows, sporting events and otherwise. This story is simply divisive, dishonest reporting regarding an overall well-liked performance."
Update (02/15/2022, 6 p.m. ET): This story has been updated with a statement from Candace Owens.