Candace Owens Calls Megan Rapinoe 'Anti-American' After USWNT Loss in Tokyo 2020 Semi-Final
Candace Owens, the conservative political commentator known for her pro-Donald Trump activism, has said the U.S. Women's National Soccer Team's (USWNT) loss in the semi-final match against Canada was "not heartbreaking at all" and called U.S. team captain Megan Rapinoe "an anti-American piece of trash."
The comment was made by Owens in a post on Twitter that shared a tweet from the USWNT describing the team's "heartbreaking but hard-fought" match against Canada.
Owens' full tweet read: "Not heartbreaking at all. @mPinoe is an anti-American piece of trash who does not represent our country, anywhere, ever.
"Any person who disrespects the flag that sons and daughters are sent home beneath while fighting for our freedoms overseas, deserves to lose. Repeatedly," tweeted Owens, who is also the founder of the Blexit Foundation, an advocacy group for African Americans.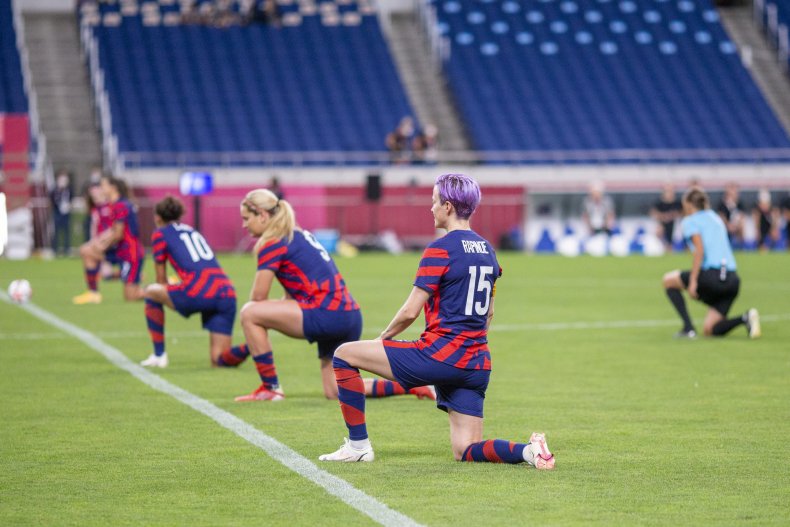 Rapinoe is among several soccer players from different countries who have kneeled before kickoff at Tokyo 2020 matches as a gesture of solidarity against racism and inequality.
Following USWNT's loss in their match against Sweden in late July, Rapinoe spoke about using the Olympics as a platform to raise awareness on social issues.
"It's an opportunity for us to continue to use our voices and use our platforms to talk about the things that affect all of us intimately in different ways," the three-time Olympian said, the Associated Press reported at the time.
"We have people from Team USA, from all over the country, from all backgrounds, and people literally from all over the world for every other team so I obviously encourage everyone to use that platform to the best of their ability to do the most good that they possibly can in the world, especially as all eyes are on Tokyo these next couple weeks," Rapinoe stated at the time.
Newsweek has contacted Owens, Rapinoe and the USWNT for comment.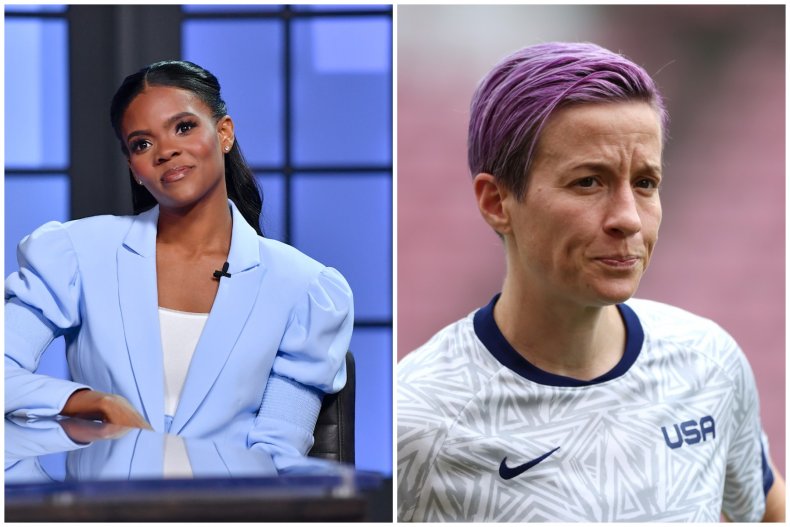 Olympic athletes have been able to protest before matches after the International Olympic Committee eased restrictions in July. The IOC's updated guidelines allowed protests before competitions begin, on the field, and at the starting line. But protests remain banned on medal podiums.
On Sunday, Team USA's Raven Saunders was seen making an X symbol with her arms during a medal ceremony at Tokyo 2020 after her silver medal win in the women's shot put final
Asked what her gesture meant, the 25-year-old two-time Olympian, who is gay, said: "It's the intersection of where all people who are oppressed meet."
"I really think that my generation really don't care," Saunders said following her gesture, the BBC reported.
"At the end of the day, we really don't care. Shout out to all my Black people. Shout out to all my LGBTQ community. Shout out to all my people dealing with mental health. At the end of the day, we understand it's bigger than us and it's bigger than the powers that be.
"We understand that there's so many people that are looking up to us, that are looking to see if we say something or if we speak up for them," the women's shot put athlete explained.
After competing, she wants to shed light on "people all around the world who are fighting and don't have the platform to speak up for themselves," the BBC reported.