Candace Owens Reacts to 'SNL' Spoof: 'I Am Much Better Looking'
Candace Owens has declared herself "much better looking" than Saturday Night Live (SNL) star Ego Nwodim, after the comedian spoofed her in a recent skit.
On the most recent installment of the long-running NBC show over the weekend, Nwodim parodied Owens in a sendup of Fox News' The Ingraham Angle, which featured Aidy Bryant as Senator Ted Cruz and Kate McKinnon as Laura Ingraham.
During the cold open skit, Nwodim's Owens made an appearance as a guest on the show, saying: "Martin Luther King would've voted for Trump."
"Liberals tried to make everything about race," Nwodim's Owens went on. "To quote the only words that Martin Luther King ever said: 'I have a dream.' That's it. End of quote. Nothing about money or jobs or schools, unless you count his tombstone, which says, 'Great job, gang racism over.'"
The real Owens was markedly unimpressed with Nwodim's portrayal of her, as she took to Twitter on Sunday to send a message to Saturday Night Live's official account on the micro-blogging platform.
Sharing a screenshot of Nwodim in character, the conservative commentator wrote: "Hey @nbcsnl—not sure who this woman is you have playing me but I am much better looking than this. Next time just reach out and I'll play myself. That way the skit will actually be funny and America might even tune in to the show again! #SaturdayNightLive."
Just over two hours later, Nwodim appeared to respond to Owens' assessment, tweeting from her own Twitter account: "The irony is that I'm actually a bad b**** :)."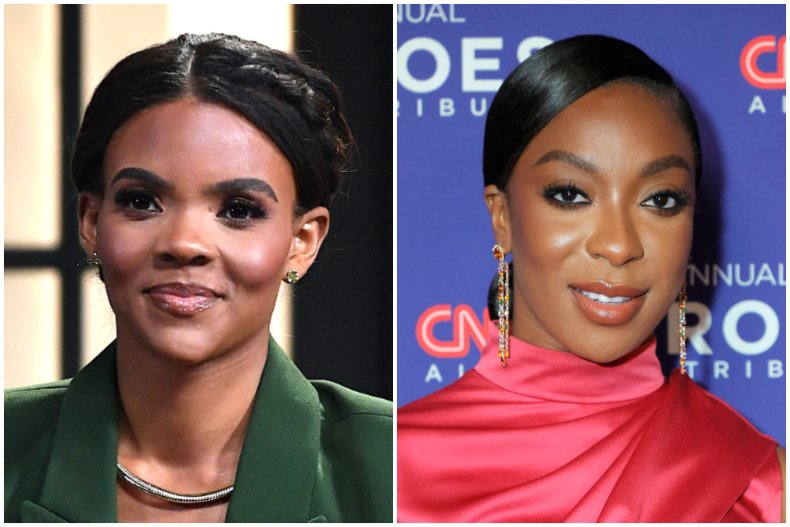 Nwodim's more direct feelings on the matter appeared in her liked tweets, where she favorited comedian Chris Redd's response to Owens' statement, as he opined that she was neither better looking nor funnier than the screen star.
Another of Redd's tweets liked by Nwodim read: "Say something that's actually true, Candace! Something like 'This can't be me! I have the energy of a person everybody ignores in group chats and family events.'"
Comedian Lil Rel Howery also chimed in with a reaction that was liked by Nwodim as he wrote: "She should be honored that anybody did anything let [alone] this extremely talented gorgeous woman."
For her part, Owens, host of The Daily Wire show Candace, liked a tweet from one of her followers, who stated that they "didn't laugh once during the skit. You playing yourself.....now that would be comic gold!"
Among the other well known figures parodied during the SNL skit were beleaguered tennis star Novak Djokovic, played by Pete Davidson, and former President Donald Trump, taken on by James Austin Johnson.
Trump was notably one of SNL's biggest critics, particularly during the time that he was parodied by Alec Baldwin throughout his presidency.