Candace Owens Slammed for 'Alex Jones Tells the Truth' Comment
Controversial political commentator Candace Owens faces backlash after tweeting that conspiracy theorist Alex Jones "tells the truth."
Owens compared Jones to MSNBC host Rachel Maddow in a tweet on Saturday. She said the two media hosts were "the same person" but "flipped."
"Rachel Maddow tells her audience conspiracy theories but makes them sound like the truth. Alex Jones tells the truth but makes it sound like a conspiracy theory," Owens' tweet read.
Barstool Sports podcaster Kirk Minihane brought up in a reply that Jones claimed the 2012 Sandy Hook shooting that killed 20 elementary school children and seven adults was staged. Jones is currently being sued for defamation by the families of some of the victims of the Sandy Hook shooting.
"Alex Jones claimed that the Sandy Hook babies were not actually slaughtered by a gun nut. He is a sick human being. And those defending him....." Huffington Post's White House correspondent S.V. Dáte tweeted in response to Owens.
David Weissman, a former Trump supporter, also called out Owens on Twitter. He said he could not tag her in the post because Owens had blocked him.
"Hey Candace Owens, if you believe that Alex Jones tells the truth, show us the proof," Weissman said.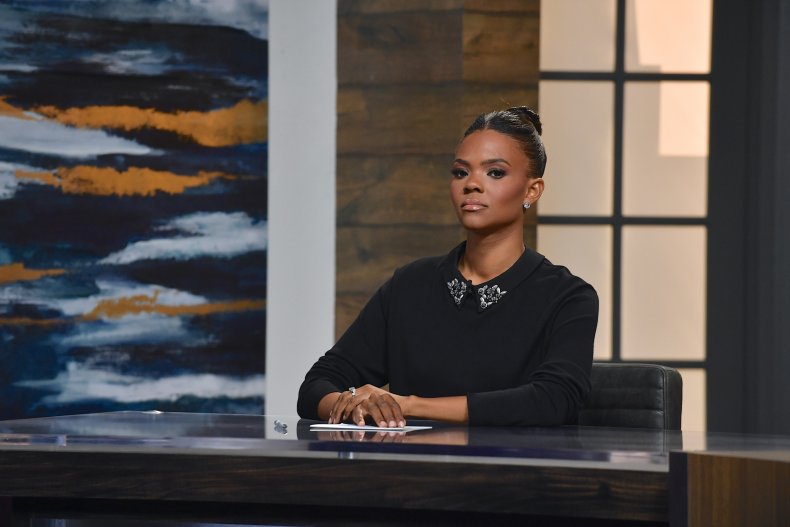 Actor Kirk Acevedo also replied to Owens' tweet, saying she was "selling what's left of her soul to another racist white man."
Several other Twitter users posted articles and quotes referencing Jones' lawsuit and other conspiracy theories in the comments of Owens' post.
Jones' divorce attorney, Randall Wilhite, said in 2017 that his client was "a performance artist" and he was"playing a character," NBC reported. Some comments referenced Jones' divorce and custody battle in order to discredit his statements.
Maddow has not commented publically on Owens' comparison, but commenters brought up differences in Maddow's defense. Maddow was sued for defamation by One America News Network (OAN), but the far-right news station lost the suit, and its parent company was ordered to pay her nearly $250,000, reported USA Today.
"Alex Jones was successfully sued by a Sandy Hook parent. OAN sued Rachel Maddow and they lost and were ordered to pay her legal fees. And Candace has another fact-free tweet," one commenter said.
The backlash on Owens' tweet comes just a day after rapper Azealia Banks blasted her on Instagram. Banks posted a screenshot of Owens' tweet from Thursday in which she called Juneteenth "soooo lame" and said she will be "celebrating July 4th and July 4th only."
Banks captioned the post with a detailed account of what it would have been like to be a slave in the now-deleted post.
Newsweek reached out to Owens and Maddow for comment, but did not hear back by publication time.