Candace Owens Slams Kris Jenner Over Ray J's Kim Kardashian Sex Tape Claims
Candace Owens has criticized Kris Jenner in reaction to Ray J's claims that the matriarch orchestrated the release of his sex tape with Kim Kardashian.
Back in 2007, a then lesser-known Kardashian became the focus of an avalanche of headlines as her sex tape with ex-boyfriend Ray J was officially released by adult film production company Vivid Entertainment, following its leak online.
While Kardashian had initially sued Vivid Entertainment for invasion of privacy and for the profits from and ownership of the tape, she eventually dropped her lawsuit, amid reports of a multi-million dollar settlement.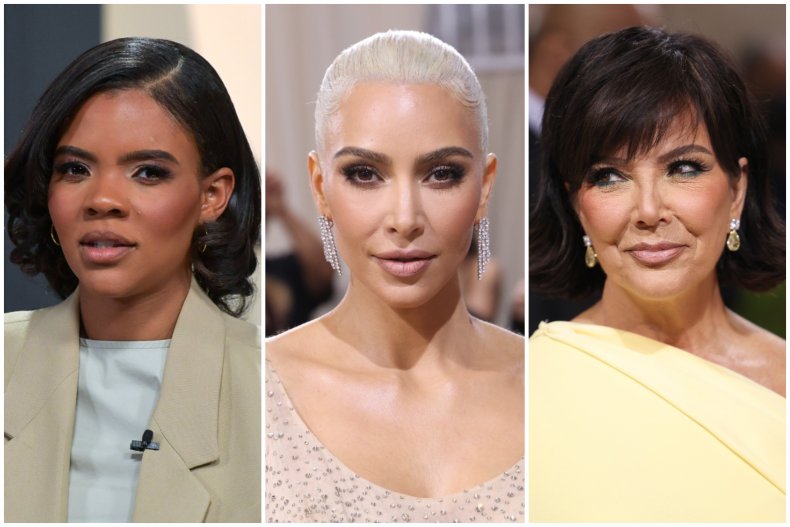 After rising through Hollywood's ranks and becoming a household name, the tape became a talking point for Kardashian once again in recent weeks, with coverage on Hulu show The Kardashians suggesting there was extra unreleased footage.
In turn, singer Ray J, real name Ray Norwood, has branded the events portrayed in the episode "a lie," further telling the Daily Mail in a new interview that the tape was released via a "partnership" between Kardashian and her mother Jenner.
Weighing in on the allegations, right-wing commentator Owens blasted Jenner, calling her reported actions "demonic" as she branded the situation a "sickening story all around."
"Ray J breaking his silence on the Kim Kardashian sex tape is insane," Owens tweeted on Wednesday. "For years I actually believed Kim was the victim.
"It is difficult to process how evil Hollywood is and what people will do for fame. A mother selling her daughter's body is demonic."
However, sources who spoke to entertainment website TMZ have said Jenner did not negotiate with Vivid Entertainment, and she had a hands-off approach to the tape coming to light and being released.
Owens also shared her thoughts on her Instagram Stories, where she accused Jenner of making Ray J "live a lie for a decade as a villain."
"There is a lot to be said for what Kris Jenner did to @RayJ," Owens wrote. "She out-foxed him. And forced him to live a lie for a decade as a villain so her daughter could climb Hollywood. Just a sickening story all around."
Concluding her thoughts on the matter, Owens also criticized Amber Heard, who is currently locked in a court battle with ex-husband Johnny Depp over a $50 million defamation lawsuit, claiming that the "stuff that women in Hollywood do to men in order to portray themselves as victims is just sickening."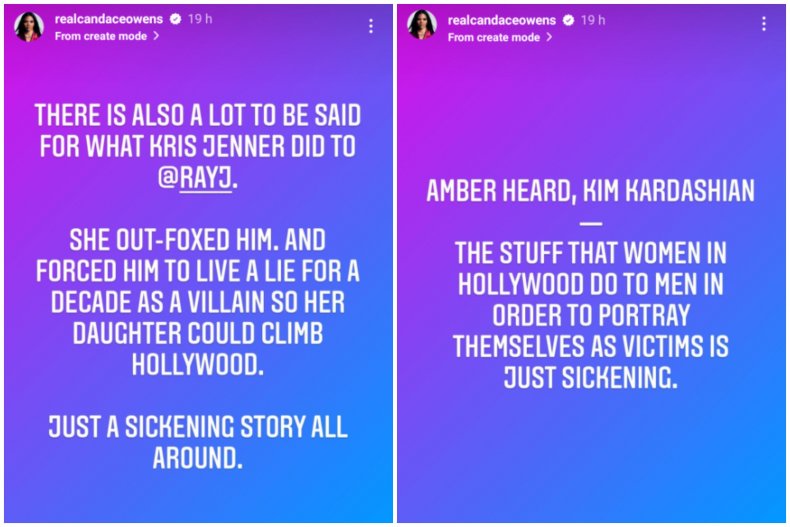 Newsweek has contacted a representative of Jenner for comment.
In his interview with the Daily Mail, Ray said of allegations he had leaked the tape: "I've never leaked anything. I have never leaked a sex tape in my life. It has never been a leak. It's always been a deal and a partnership between Kris Jenner and Kim and me and we've always been partners since the beginning of this thing."
He added: "I've sat in the shadows for over 14 years allowing the Kardashians to use my name, to abuse my name, make billions of dollars over a decade-and-a-half talking about a topic I've never really spoken about."
The musician and TV personality, younger brother of singer Brandy, also claimed that Kardashian sought her mother's help to plan its release via Vivid Entertainment. The footage was originally shot in 2004.
"Once I pitched the idea to her, just playing around a little bit, that's when she jumped on the idea, talked to her mom and it was out of my hands from there," said Ray J.
It has been argued that the tape, released by Vivid Entertainment under the title Kim Kardashian, Superstar directly led to Kardashian's success.
Kardashian's star was already on the rise at the time, thanks to her friendship with Paris Hilton.