Candace Owens Says Tomi Lahren is a 'Vile Human Being' in Twitter Spat About Kanye West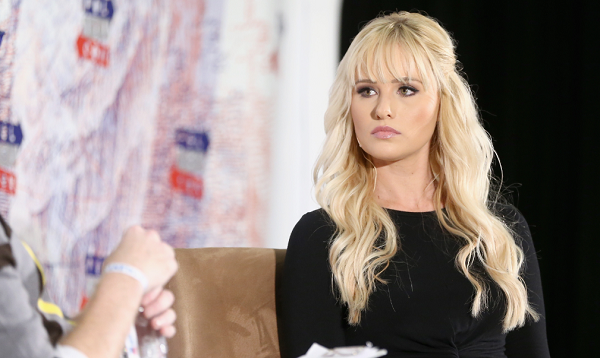 Candace Owens and Tomi Lahren reignited their age-old beef on Twitter on Thursday. The conservative commentators squared off on social media over Owen's support of Kanye West—a topic the women have argued about online in the past.
Their latest war of words came after West claimed he had been "used" and said he would be taking a break from politics to "focus on being creative." West's comments were sparked by Owens' Blexit campaign—a movement aimed at convincing black people to leave the Democratic party. When Owens first launched the crusade, she said West helped her with the design of Blexit T-shirts, which some people took for the rapper/designer creating them.
Lahren, who previously criticized the right and Owens' hasty support of West's involvement with President Donald Trump's administration, was quick to fire shots at Owens after the fallout, although she did not mention the Fox News contributor by name.
"Are you gonna turn on Kanye now? The ship was doomed to sink from the start but hunger for fame & money was placed over the movement," Lahren wrote. "Funny how he was a 'free thinker' before and now he's a 'traitor.' Sounds a lot like a tactic of the Left. You made your bed, now lie in it."
Owens retweeted Lahren's comment and offered her own sharp response. "Tomi, I think I can speak on behalf of the people on both sides of the political aisle and say we are sorry about your failed career," Owens wrote. "The desperation to be relevant again by constantly subbing me and/or attacking @kathygriffin weekly—doesn't bode well for any movement."
Owens concluded with one final punch: "Grow up."
Lahren responded shortly after and claimed Owens was taking her comments personally. "I'm talking about Leftist tactics, conservative ideas & failure of identity politics. YOU are talking about ME," she wrote, adding, "If you're trying to bait me into some Twitter war, it's not going to work. It's not about us. you can threaten me or lob low blows about my career but I'm not playing."
Owens retaliated by accusing Lahren, 26, of taking "about 30 swipes at myself, Charlie, and TPUSA over the course of the last 8 months."
"You're too much of a coward to @ anybody and now you play victim. You're a vile human being behind closed doors and an intellectually bankrupt one in front of the cameras," Owens wrote.
After a fan suggested for Owens to "chill," the 29-year-old offered a bit more clarification on her ill relationship with Lahren and suggested she's let the former The Blaze host get away with her snippy comments for far too long. "I've actually 'chilled' for a year straight by not releasing nasty messages she sent about me that would have ended her non-career long ago," Owens tweeted.
"Today I'm not in the chilling mood so unless she wants to get burned she will stop subbing me immediately," she continued.
Despite sharing similar sentiments on various right-wing topics, they differ in their views on West and his association with political agendas. Owens and Lahren's feud first started back during the spring after Lahren criticized West's comments about slavery being a "choice" for black Americans.
Candace Owens Says Tomi Lahren is a 'Vile Human Being' in Twitter Spat About Kanye West | Culture