Organization Candace Owens Represents Shares, Then Deletes, Photo Inadvertently Promoting White Genocide Conspiracy Days After Her Testimony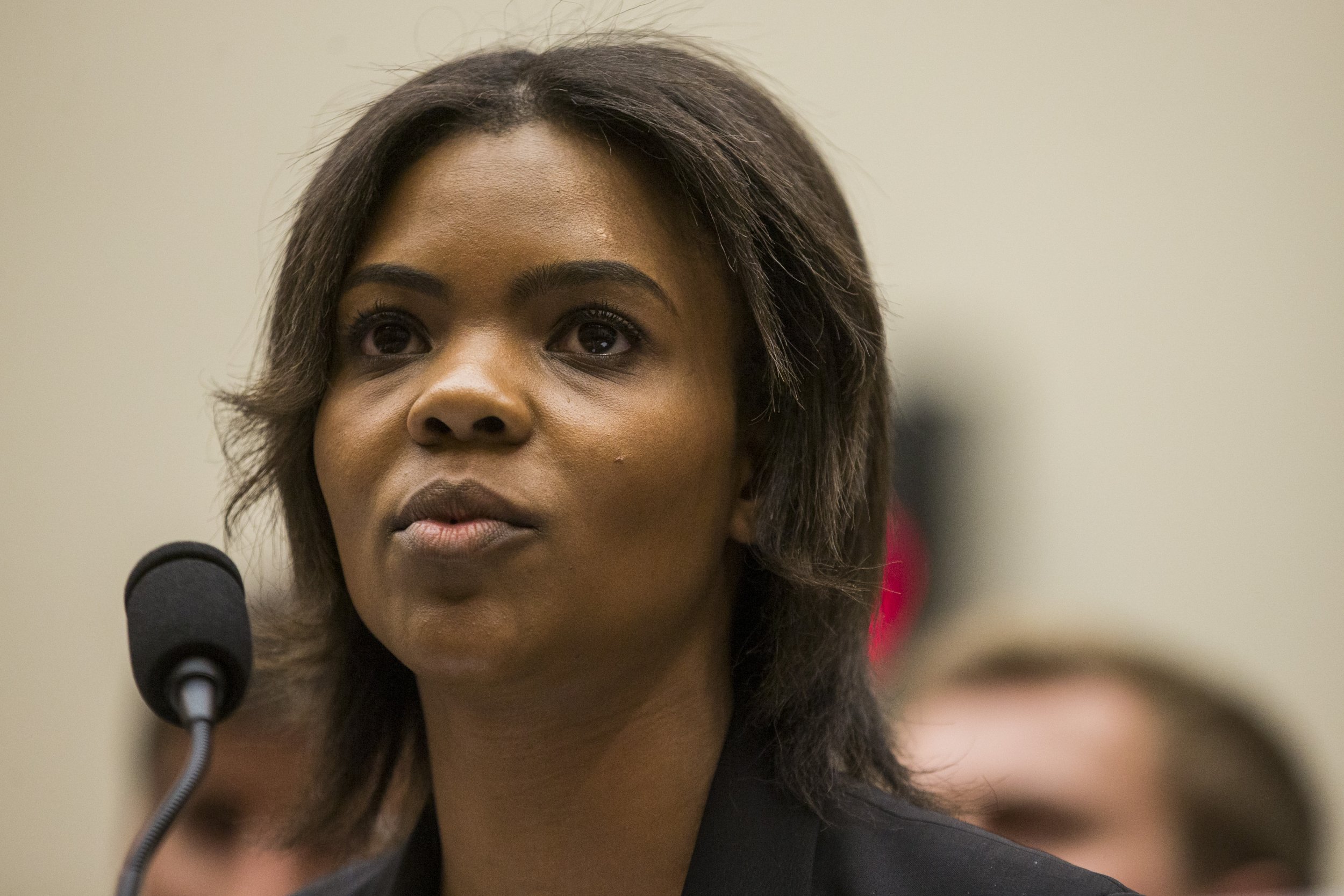 Conservative activist group Turning Point USA tweeted a picture featuring an individual promoting a white genocide conspiracy theory on Thursday.
The tweet was posted two days after the organization's communications director, Candace Owens, sparked controversy during her testimony at a Congressional hearing on hate crimes and white nationalism.
TPUSA tweeted an image with the caption "Patriots in Action!" A man in the picture is holding a beach ball with "Google 'Kalergi Plan"' written on it.
Believers in the Kalergi plan think that Richard von Coudenhove-Kalergi, an Austrian politician in the early 1900s, constructed a plan to destroy white people in Europe by encouraging immigration, according to Jared Holt from Right Wing Watch, who first reported on the TPUSA tweet.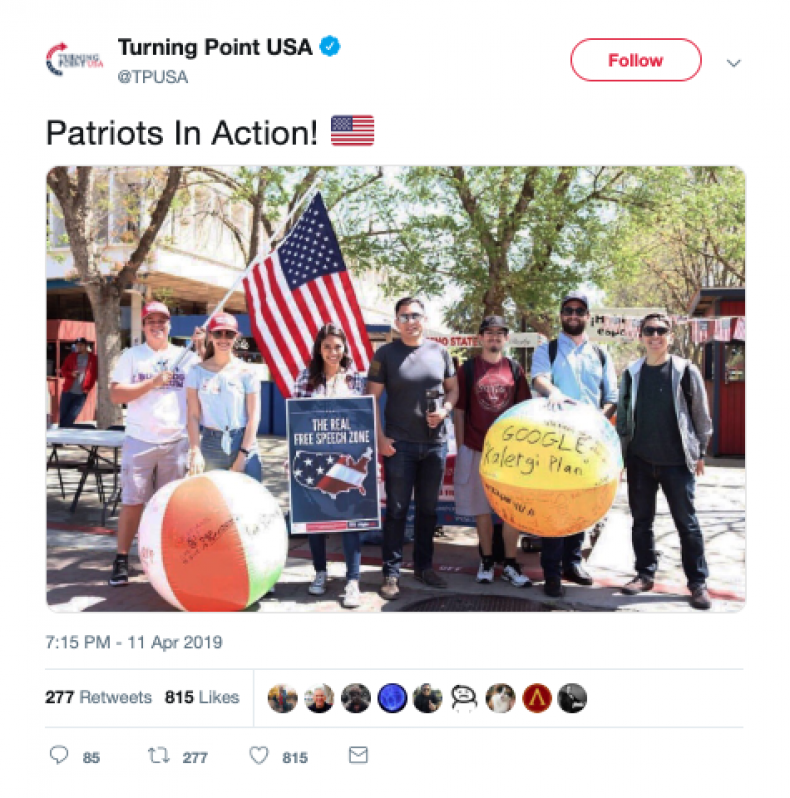 The photo "was of a free speech event and the ball containing the reference was a free speech ball where students are free to write any message they wish," a representative from TPUSA told Newsweek. "We've never heard of the item you referenced; however, the post has been removed out of an abundance of caution."
Kalergi predicted in his 1925 book that the future would entail racial and class integration. Believers of the Kalergi plan allege that he wanted Jewish elites to run society and desired the destruction of the white race. Right Wing Watch noted in its report that white nationalist conspiracy websites promote the theory.
This theory promotes fears of "replacement," which revolve around claims that white populations face "genocide." Adherents to such "great replacement conspiracies" focus on immigration and birth rates of white babies.
Fears about the "great replacement" have been cited by mass shooters who ascribe to far-right ideology.
The alleged Christchurch, New Zealand, shooter, who killed 50 people in mosque attacks last month, wrote a manifesto titled "The Great Replacement." He cited Anders Behring Breivik, who killed 77 people in Norway in 2011, as his inspiration.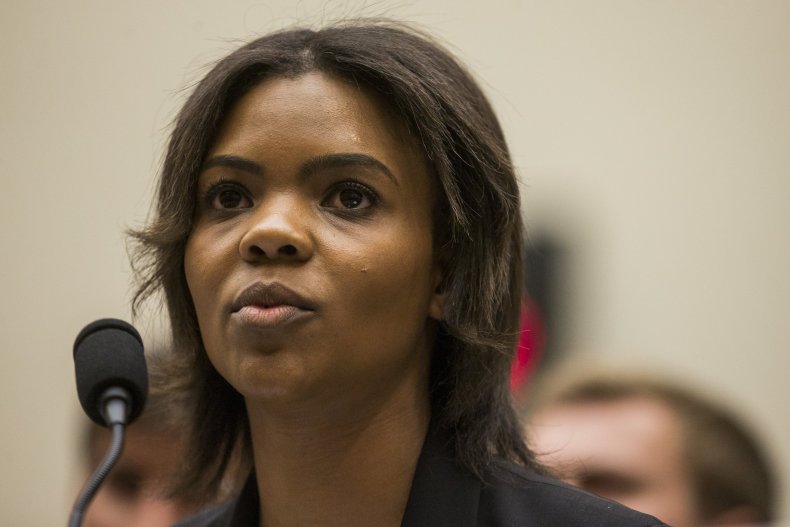 TPUSA describes itself as an organization intended to "identify, educate, train, and organize students to promote the principles of freedom, free markets, and limited government."
"TPUSA does not promote white supremacy or anti-Semitism in any way. It stands against it. It fights it. It goes out of its way to stamp it out when it sees it either on college campuses or in the culture in general — both from the ideological right and the left. To insinuate otherwise is disingenuous and false," the representative told Newsweek. "TPUSA has a long track record of encouraging minority communities to get engaged in politics, to think for themselves and to become leaders in this country. TPUSA also believes that regardless of skin color or background, the American Dream belongs to everyone."
The group and its founders, though, have previously faced allegations of racism and discrimination.
In 2017, The New Yorker reported that it had obtained text messages from the organization's former field director reading "I HATE BLACK PEOPLE. Like f**k them all… I hate blacks. End of story." The organization's founder, Charlie Kirk, has faced criticism for a range of discriminatory remarks and spoke in 2018 at the annual conference for anti-Muslim group ACT for America.
Owens drew extensive attention this week when she was called by Republicans to testify at a hearing on hate crimes and white nationalism. Her appearance proved polarizing and her testimony drew widespread media coverage.
During the hearing, Owens, who has faced controversy for comments about race and mocking sexual assault survivors, said that the threat of white nationalism was being exaggerated by Democrats to win votes during elections.
Democratic Representative Ted Lieu played comments Owens had previously made and said that she had previously sought to "legitimize Adolf Hitler." Owens responded by saying the remarks were taken out of context.
While attention focused on their exchange, analysts noted that the interactions involving Owens served to distract the public eye from the more substantive issues of the rise of white nationalism and governmental failures addressing it.
This article has been updated to include a comments from Turning Point USA. The title of this piece originally read "Organization Candace Owens Represents Shares Photo Promoting White Genocide Conspiracy Days After Her Testimony."