At White Supremacy Hearing, Candace Owens Says Black on Black Crime, Lack of Masculinity Are the Real Issues
Candace Owens, a black conservative commentator, activist and podcast host with political stances and defenses of President Donald Trump that often irritate Democrats, said at a congressional hearing on Friday that issues such as black on black crime and a lack of father figure are among the top issues facing black Americans—not white supremacy.
At a congressional hearing before a subpanel of the House Oversight Committee, where tensions ran high at times between Owens and the other testifying witnesses, she said white supremacy and white nationalism would not crack the list of the top 100 issues facing African American communities today.
"Based on the hierarchy of what's impacting minority Americans, if I had to make a list of 100 things, white nationalism would not make the list," Owens told lawmakers. "I would argue that right now, we have a social environment that is hostile toward men and does not inspire masculinity or being a man and what it means to be a father figure in a household. Black on black crime is a huge issue in America right now, but people don't like to talk about that."
Owens, founder of Blexit, the self-proclaimed "renaissance" to spur a black existence from the Democratic Party, went on to list the absence of a father, the education system, abortion rates and illegal immigration as the biggest problems facing black Americans.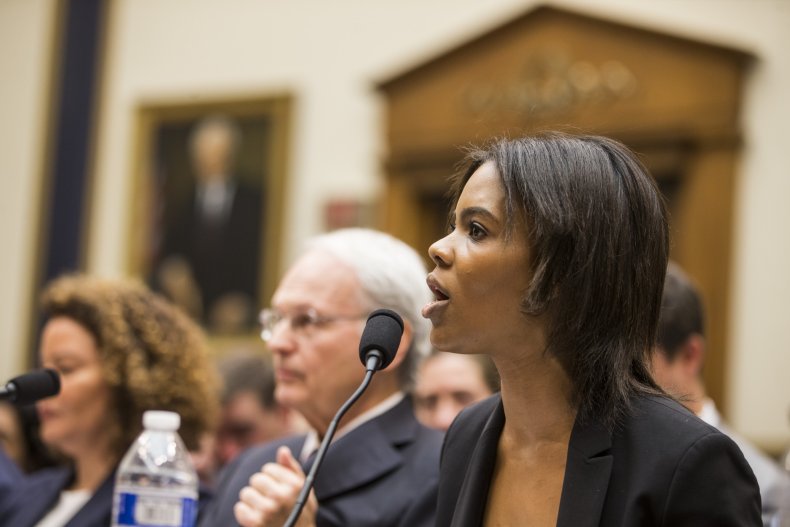 Hostilities peaked during the hearing, the title of which was "Confronting Violent White Supremacy (Part III): Addressing the Transnational Terrorist Threat White Supremacy," when Owens and another witness had a heated exchange involving the conservative commemorator's previous reaction to a mass shooting that was spurred by white nationalism.
Dr. Kathleen Belew, a research fellow at Stanford University's Center for Advanced Study in the Behavioral Sciences, referenced Owens' Twitter reaction, in which she appeared to be laughing at the news the man who gunned down 49 people at mosques in Christchurch, New Zealand, earlier this year considered Owens "the person that has influenced me above all."
"This feels a lot like your reaction to being named in one of those manifestos," Belew said. "You're, of course, not responsible for somebody writing that document. But I do think that laughing at it is a real problem because these are real families who are impacted by this violence. Our efforts toward talking about this have to start from a place of mutual respect."
Reps Mark Meadows (R-N.C.) and Jim Jordan (R-Ohio) condemned those remarks with Meadows labeling them as "not appropriate." Owens, who was invited by Republicans on the panel, said it was "absolutely despicable." Belew had also referenced remarks made by Owens at the hearing regarding the lack of priority that should be placed on addressing white supremacy.
"I was not referring to the subject matter that is hilarious. I said it's hilarious that we are sitting in this room today and we've got two doctors and a Mrs., and nobody can give us real numbers that we can respond to so we can assess how big of a threat this is," Owens said, visibly frustrated. "Because you know it's not as big of a threat as you are trying to make it out to be so you can manipulate."
Owens went on to accuse the Democratic-led subcommittee, chaired by Rep. Jamie Raskin (D-MD), of having ulterior political motives by having a hearing on white supremacy and attempting to "manipulate what I said to fit your narrative."
"You know that white supremacy and white nationalism is ranked nowhere near the top of the issues that are facing black America," she claimed. "The reason that you are bringing them up in this room is because it is an attempt to make the election all about race, as the Democrats do—"
Interrupted by Raskin, the Maryland Democrat responded: "Not in my case Ms. Owens. Please do not characterize my motives."
Raskin highlighted the escalation in racist violence and deadly tragedies that have occurred at the hands of white nationalism in recent years, such as the mass shootings at a Walmart in El Paso this summer, a black church in Charleston in 2017, a synagogue in Pittsburgh last year and a deadly car attack at the Unite the Right rally in Charlottesville in 2017, as evidence the topic should be addressed at the federal level.
"The Trump administration has completely failed to recognize the threat that violent white supremacism pose to our public safety and to national security, and it must realign our counterterrorism strategy to confront this reality," he said.