Ohio Republican Candice Keller Blasts Parkland Gun Control Activists As Dorito-Eating Video Gamers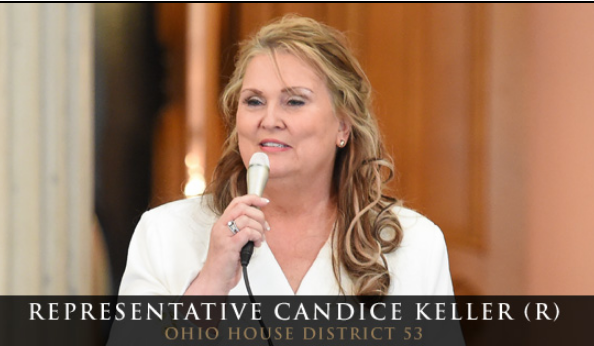 Ohio State Representative Candice Keller (R-Middletown) told a crowd of gun rights activists that the Marjory Stoneman Douglas High School survivors should be written off because they were "eating Doritos and playing video games" before the mass shooting.
A video from the speech showed Keller earlier this month outside the Ohio Statehouse in Columbus, where she and others were assembled to block a legislative "gun grab." The Ohio Republican railed against the outspoken student survivors of last month's Parkland, Florida, shooting, and defiantly declared to the crowd that she would not be letting teenagers block her Second Amendment rights, The Cincinnati Enquirer first reported. Several students who survived the February 14 shooting that left 17 dead have become high-profile advocates for gun control measures across the country.
"A month ago, we weren't really having this conversation, and all of a sudden a 15-year-old on television who would just as soon be eating Doritos and playing video games wants to tell me that my constitution needs to be changed. Really?" Keller told the gun rights activists at the March 10 rally.
"I was born with the right to carry," she told the gun enthusiasts as they applauded.
Keller is an outspoken supporter of the state's "stand your ground" proposal and reiterated that Dorito-eating teenagers would not impede her constitutional rights. This is far from the GOP state representative's first controversial comment. In April 2017, Keller issued a statement to a local news outlet confirming that she stood by her Facebook post comparing Planned Parenthood to Nazis.
"Just as the Nazis took the lives of millions of innocent people and sold their valuables for profit, Planned Parenthood has done likewise as we have seen in hidden camera videos," Keller wrote of the controversial 2015 videos.
Also in April 2017, Keller said she was unaware that the host of a podcast she appeared on was a white supremacist.
Another speaker at the Statehouse event, Paige Stemen, described herself as "an American patriot woman" before blasting Republican Governor John Kasich for saying he would veto any "stand your ground" proposal. House Bill 228, which has nearly 40 co-sponsors, ultimately stalled in the state legislature as the Ohio General Assembly weighs eight other gun bills pending approval.
"Maybe he needs to be reminded about a thing called self-defense. Our Second Amendment was never meant to be regulated," Stemen told the crowd. "We are out here trying to be law-abiding citizens, carrying by your laws, and trying to be respectful of those laws—and where does it get us?"
Keller's and Stemen's comments both preceded the March 14 meetings between Ohio legislators and teenagers who walked out of their respective schools in protest of gun control inaction. Last weekend, several cities across the state saw thousands of Ohioans protesting gun violence for the nationwide March for Our Lives event.
Keller also addressed female empowerment and what she described as the Democratic Party's attempt to feign a "war on women."
"I don't think there is a war on women in this country. That's just me. I think there's a war on men in this country," Keller told the audience. "Nothing empowers women more than carrying. So firearms protect me against offenders. My husband is not always with me."