Candidate Running To Primary Elise Stefanik Says People 'Should Be Able To Own a Nuke'
A Republican challenger hoping to succeed House GOP Conference Chair Elise Stefanik in the U.S. House of Representatives believes that Second Amendment rights should include the ability to "own a nuke."
Carthage, New York resident Lonny Koons argued against legal limits on the ownership of guns and other weapons in an interview published by The Watertown Daily Times on Friday. Koons admitted that allowing ordinary citizens to own nuclear weapons would be "obviously extreme craziness," but maintained that the Constitution demands that citizens have unfettered access to any arms available to the military.
"In all technicality, if you wanted to own a nuke, you should be able to own a nuke," Koons told the paper. "That's obviously extreme craziness, but at the same time, if the whole point of the Second Amendment is to stand up to the government, if the government has nukes how can you stand up to that with a musket?"
Koons insisted that no limits of any kind could be imposed on what weapons citizens could own unless a new amendment to the Constitution were to go into effect.
An Army veteran, Koons moved to the area because he and his wife wanted to be close to the nearby Fort Drum Army base—although he had never personally been stationed there.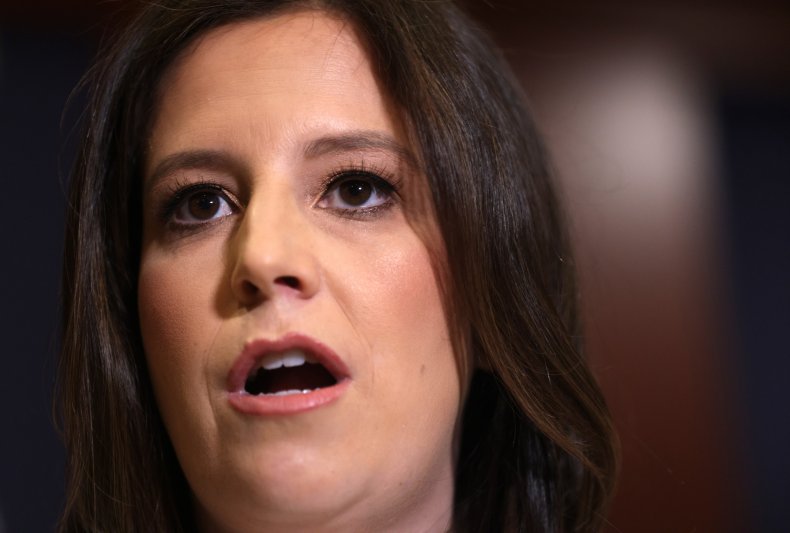 Stefanik said that she "will always stand up for the Second Amendment because our constitutional right to keep and bear arms is fundamental to preserving our liberty" in a statement after President Joe Biden issued a series of executive orders on gun control earlier this year.
Koons conceded that his chances of victory were slim due to Stefanik's popularity. He said he was hoping to "primary" Stefanik because her staff had ignored his repeated attempts to contact the congresswoman while allegedly telling him that his "issues weren't important."
"For four and a half years, I have been trying to get in touch with Representative Stefanik," Koons said. "All the calls I've made and the times I've shown up to their empty offices, I have spoken with one person, and was told my issues weren't important. I don't want anyone else to experience that."
Stefanik was easily reelected in 2020 and is a clear favorite to retain her seat in 2022. Her allegiance to former President Donald Trump paid Republican dividends this year when she became the House GOP Conference chair after the ouster of Trump critic Rep. Liz Cheney of Wyoming.
Koons, like Stefanik, agrees with at least some of Trump's false claims that massive voter fraud was a factor in the 2020 election.
Newsweek reached out to Stefanik's office for comment.