Candidate For Sheriff Under Fire for Texts About Shooting Gay Couple
Terry King—a candidate for sheriff of Alpena County, Michigan—has come under criticism and protest from the local LGBTQ community for homophobic text messages sent from his work cell phone in 2013.
The messages, which King allegedly sent to a family member in October 2013 while serving as Alpena County's undersheriff, included a photo of two men holding hands from a wedding he was attending in St. Joseph County.
"THESE guys are holding hands. Where is my fricken gun," King texted. After his relative, who shares his last name, wrote back, "They kiss and stuff Ew," King sent a second text shortly thereafter reading, "Bang bang."
The texts began circulating on social media around June 3 after local activist and county resident Bob Reid obtained them through the Michigan Freedom of Information Act.
Newsweek has contacted King for comment.
On June 20, about 50 county LGBTQ residents and allies protested in response to King's texts.
"A publicly elected official should not hate anybody. There's no place for hate in any community," the protest's organizer, Suzy Langeveld, told The Alpena News. "We're normal, just like everybody else. We have houses, we pay our bills, we have jobs."
King's texts reminded some activists of anti-LGBTQ violence in the United States.
In 2016, the FBI's Uniform Crime Reports (UCR) said that 17.9 percent of all hate crimes were attributed to anti-LGBTQ bias despite LGBTQ people only making up 4.5 percent of the U.S. population. While many anti-LGBTQ hate crimes involve weapons, the UCR didn't specify how many in 2016 involved a gun.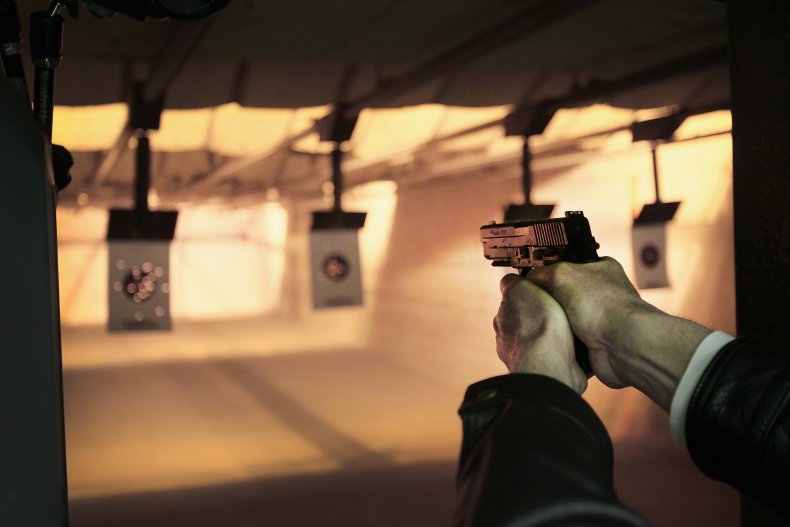 King's texts have become an issue in the Republican primary for county sheriff as King faces off against his former boss, county Sheriff Steve Kieliszewski.
King resigned from his position as undersheriff in June 2019 after an investigation into allegations of impropriety. Kieliszewski eventually issued an ultimatum stating that King should either resign or be fired. After resigning, King filed a whistleblower lawsuit claiming that he was forced out for pointing out wrongdoing in the police department, according to The Detroit Free Press.
The disagreement has played out publicly with Kieliszewski publishing his allegations of King's questionable conduct and King refuting the allegations in an open letter.
Kieliszewski has called King's texts "horrible" and added that a sheriff must represent the entire community, including LGBTQ people.
"It was just most concerning, most concerning and extremely disappointing," Kieliszewski said. "(I was) shocked when I looked at that. It's like–what the hell are you thinking? What are you doing? These are people, for God's sakes."