Candidate Vetting Under Scrutiny After Series of Scandals and Health Issues
Republicans and Democrats face problems vetting potential candidates ahead of crucial elections and potential failures in the process could have a serious impact, political scientists have told Newsweek.
Three newly-elected Republican members of the House of Representatives have been accused of embellishing their resumes since the midterm elections in November.
Representative George Santos has faced calls to resign following accusations that he lied about much of his personal history, including his education, his employment history and his claim to be the "grandson of Holocaust refugees." Santos has admitted to embellishing his resume but has insisted he will not be standing down.
Representative Anna Paulina Luna has strongly denied a report from The Washington Post that made a series of allegations that Luna had misrepresented her background, and she has also threatened to sue the newspaper.
Most recently, Representative Andy Ogles has been accused of embellishing his resume in the run up to midterms. Ogles' office dismissed the report, with a spokesperson telling Fox News Digital: "It's a simple case of condensing a resume for the sake of brevity on the campaign trail, and partisan hacks are trying to turn it into a headline for clicks."
On the Democratic side, there are concerns about the health of Senator John Fetterman, who has checked himself into hospital to receive treatment for clinical depression. Fetterman suffered a stroke last May during his campaign in Pennsylvania.
Political scientists who spoke to Newsweek said that questions about the Republicans' personal histories posed issues for the party and while Fetterman was a different case, it still raised difficulties for the Democrats.
A Whispering Campaign
Potential issues with candidates can be difficult to identify because they may begin as rumors during the campaign, according to David A. Bateman, an associate professor of government at Cornell University.
"Vetting is always tricky in U.S. parties, since there is no centralized committee, nationally or locally, that decides on the nomination," Bateman told Newsweek.
"Internal party vetting happens when background research finds something and that gets distributed among local party elites. But that can look a lot like a petty whispering campaign, and it's tough to distinguish whether it is founded or not," he said.
Bateman added that opposing candidates "have every incentive to spread the rumors."
"Official party actors have every reason to not associate themselves directly with the rumors, since they want to avoid appearing to intervene heavy-handedly in nomination contests," he said. "Ideally, this sort of information would be sent to local newspapers, which could then substantiate that research or not and provide an independent organ. But local media is being killed off in this country."
Bateman said that as a result "much of the 'vetting' happens in the inter-party campaign, in negative ads or the like."
Always Been a Problem
Difficulties with candidate vetting are not unique to the last election cycle, explained Robert Singh, a professor of politics at Birkbeck, University of London, U.K.
"There has always been a problem in U.S. politics with appropriate vetting of candidates for federal and state elections," Singh told Newsweek.
"Historically, most Americans were unaware of FDR's polio and JFK's chronic back pain and womanizing, after all," Singh said. "In some ways, the recent revelations on Republicans and on Fetterman are a positive. They show that it's now very tough to keep past indiscretions or health issues quiet."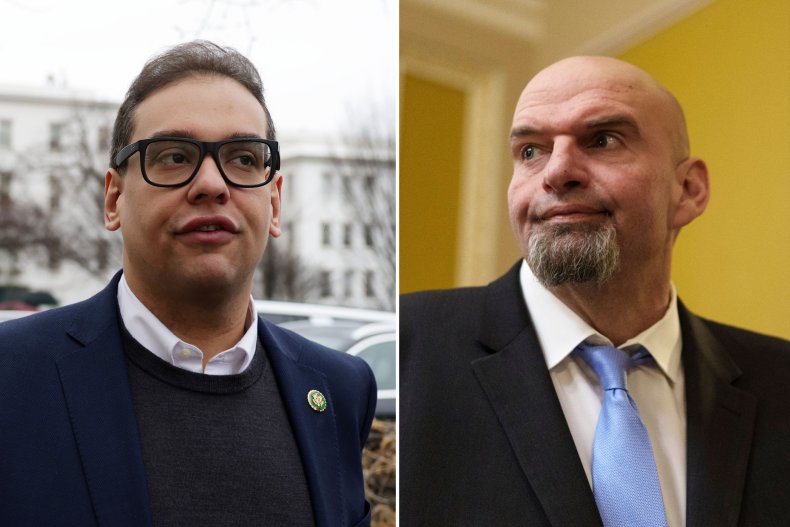 "At one level, that's good for the health of U.S. democracy," he went on.
"On the other hand, it clearly would have been better had the various concerns been properly, and fully, examined prior to the 2022 elections," Singh said.
Singh said that "that is a responsibility, arguably, that is shared among the press, the parties, and citizens alike. Questions of physical and mental health, especially, ought to occupy a more prominent place in assessing the viability of candidates for any office."
Thomas Gift, founding director of the Centre on U.S. Politics, University College London, U.K., told Newsweek that "recent revelations surrounding resume 'embellishments' of U.S. Congress members will certainly place more pressure on opposition researchers, political parties, journalists, and others to more thoroughly vet office-seekers.
"It's a resource challenge and a technical one," Gift said. "But the problem is broader, and more difficult to solve, than just the task of performing better background checks. It speaks to the dearth of values like honor, civility, and trust in public life—terms that have almost become anachronistic in today's politics, but are core to well-functioning institutions."
Fetterman's Case Is 'Fundamentally Different'
Concerns had been expressed about Senator John Fetterman's ability to serve following his stroke in May and some conservatives have repeatedly questioned whether he should be in the Senate.
Bateman told Newsweek that Fetterman's case was different from the Republicans who are facing accusations of dishonesty.
Bateman said that "health difficulties are fundamentally different than lying."
"I think this country has a much more profound and deeper respect for health problems and disabilities than people assume—even though there remains a lot of discrimination against persons with disabilities and persons with poor health, often by affluent elites with more reliable access to health care and more favorable social determinants of health," he said.
"In short, I don't think there was any vetting failure with Fetterman," Bateman said.
"And it if turns out that his stay in the hospital is prolonged, then it is a conversation with him and his constituents as with any member," he went on. "That's a not a question of vetting, but about whether he and they jointly believe that he is representing them."
Bateman said "there is no question that people with varying physical and mental health experiences should be in Congress."
"No one can make the case that liars have an equally strong claim to be represented," he said. "It is a society-wide obligation to secure equality for persons with disabilities; the Senate seems to be finding ways to accommodate the institution to Fetterman's needs, as it ought to."
"No one would argue that society or Congress ought to do more work [for] liars. These are just entirely different issues," he added.
Begüm Adalet, an assistant professor in the Department of Government at Cornell, told Newsweek: "Fetterman has actually been remarkably transparent about his health situation. Another way in which his case is less about vetting."