Democratic Primary Candidates Addressed the Opioid Crisis for the First Time Tuesday Night. Here's Why That Matters
Most of the Democratic candidates running for president addressed the opioid epidemic for the first time during Tuesday night's debate, calling for stiff punishment for pharmaceutical and drug manufacturing executives who flooded the market with the highly addictive drugs that led to more than 100,000 overdose deaths in the United States.
That's a big deal, civil rights attorney and pain patient advocate Kate Nicholson said. They had spent less than three minutes on the topic in all past debates combined.
"It matters because we do have a crisis," Nicholson told Newsweek. "Because the consequences are so dire of our failure to address it adequately. People are not able to function. People are dying. These are serious consequences," she continued.
Despite the progress, she said, the candidates have a long way to go. They didn't do much to advance the conversation past the same "tired narrative" we've seen in the past, she said.
More than 2 million people report an opioid use disorder in the U.S., according to the Centers for Disease Control and Prevention (CDC), yet government measures that limit opioid production and prescriptions can harm another 50 million Americans who report persistent pain. It's often the latter group—pain patients—who are left out of the conversation, and last night's debate was no exception, Nicholson said.
"Both [crises] need to be treated seriously if we're really going to get out of this mess and not see a similar problem in the future," Nicholson said, adding pharmaceutical companies also need to be held accountable for their role.
Marc Lacey of the New York Times opened the issue by asking Senator Amy Klobuchar of Minnesota what she would do to tackle the opioid epidemic in general and also in rural communities.
"As the evidence is coming out of those lawsuits, probably one of the most horrible things that I saw was the email from one of the pharma executives that actually said, 'Keep pumping them out. They're eating them like Doritos," she said.
Kobuchar added that those responsible for the crisis, presumably the pharmaceutical companies, should pay for people's treatment.
The rest of the candidates followed suit.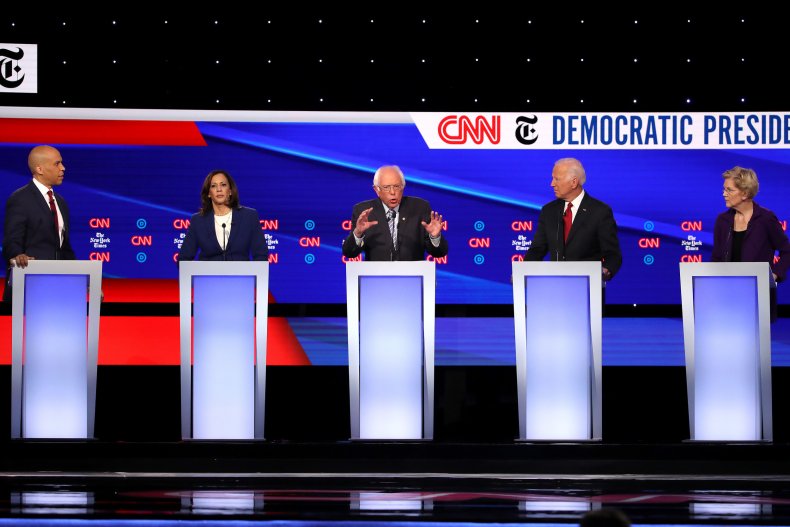 Andrew Yang said systemic government failures led to so many deaths in the first place, but decriminalization and harm-reducing programs could save lives in the future.
"We have to let the country know this is not a personal failing. This was a systemic government failing. And then we need to open up safe consumption and safe injection sites around the country, because they save lives," Yang concluded.
Former Rep. Beto O'Rourke agreed addiction shouldn't be a problem for the federal justice system. Sen. Kamala Harris of California said drug manufacturers that fueled the crisis should be sent to jail. Former Secretary of Housing and Urban Development Julian Castro agreed.
CNN's Erin Burnett tried to change the subject to Bernie Sanders's health, but Senator Sanders interjected. "I'm healthy. I'm feeling great, but I would like to respond to that question."
"Last year, the top 10 drug companies made $69 billion in profit," Sanders said. "This is what unfettered capitalism is doing to this country."
This week, Newsweek reported that recent federal efforts to slow opioid-related overdoses and addiction have cost chronic pain patients the medication they need. The Drug Enforcement Administration (DEA) is poised to cut opioid production for the fourth year in a row, while Donald Trump's administration recently told doctors to use more precaution when removing patients from their medication.