Candidates and Their Guns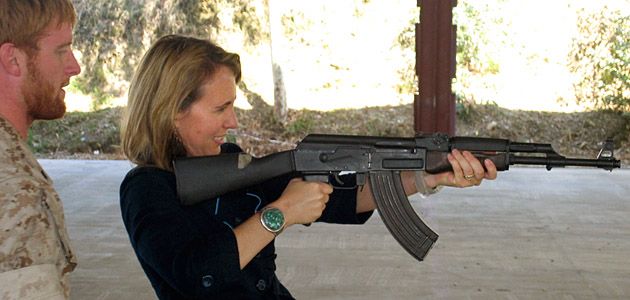 Guns have long been a favorite prop of campaigning politicians: "No, really! Look how in touch with Middle America we are!" (Republicans) or "No, really! Look how tough and unelite we are!" (Democrats). In 2010, with a reawakened conservative movement bent on returning to constitutional first principles—and with one candidate even talking offhandedly about armed insurrection (see Sharron Angle)—the campaign trail featured more weapons than ever. Authentic or not, the formula has had mixed results for candidates. In a political season that ended with the triumphant House takeover by the GOP, here are some, such as Arizona Democrat Gabrielle Giffords—critically injured by a gunman in Tucson on Jan. 8—who succeeded at least in part by stressing their NRA bona fides, and some who failed.
GOP House candidate, Arizona's Third District
When Pamela Gorman joined the crowded GOP primary to replace retiring long-term Congressman John Shadegg, she quickly found a way to stand out. "Meet Pamela Gorman, candidate for Congress in Arizona 3," the narrator of this ad intones. "Conservative Christian and a pretty fair shot." Then follows footage of Gorman, smiling in an olive-green baseball cap, firing four different weapons, including a Thompson submachine gun. "I approved this message," she concludes, before signing off with another volley of bullets. Gorman came in fifth in the primary, behind Ben Quayle, son of former vice president Dan Quayle.
Democratic Senate candidate, West Virginia
Gov. Joe Manchin wants to be the next senator from West Virginia. But Barack Obama's name is toxic here, and Republicans have mocked Manchin as the president's would-be "rubber stamp." Hence this ad, in which a mean-looking Manchin, wearing a khaki jacket and brandishing a rifle, attempts to rid himself of any damning scent of "hope and change." In just 30 seconds, he touts his NRA endorsement, critiques "Obamacare," and proclaims that he has sued the Environmental Protection Agency, before literally taking dead aim at the proposed cap-and-trade legislation. Take that, 1,200-page bill! Democratic National Committee chair Tim Kaine said he wasn't "wild about it." Polls show Manchin neck and neck with the GOP's John Raese.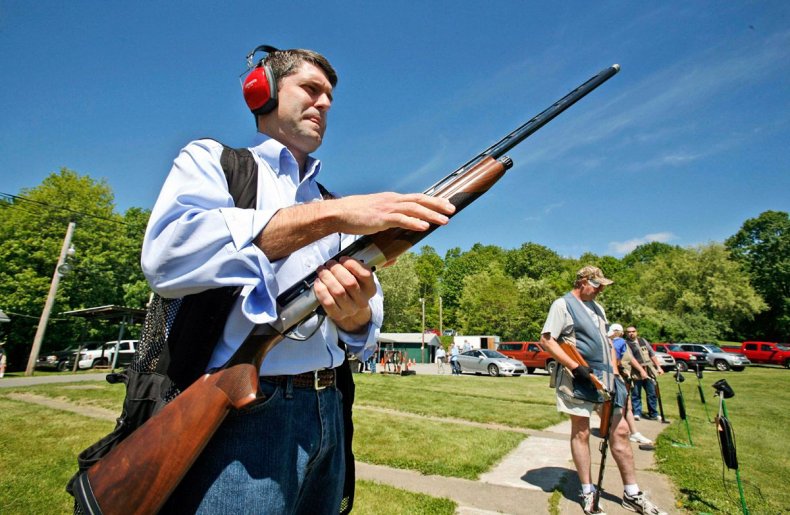 GOP House candidate, Pennsylvania's 12th District
After Rep. Jack Murtha died, leaving an open seat, Republicans were optimistic that they could win the district in May's special election. Businessman Tim Burns was their candidate. But he struggled to pull ahead, and in the end, not even a last-ditch photo op of him trapshooting at the Ford City Sportsman's Club in Kittanning, Pa., could save him. He went on to lose by 7 points. Now he's in a bitter rematch with Democrat Mark Critz, but he hasn't reached for his gun—yet.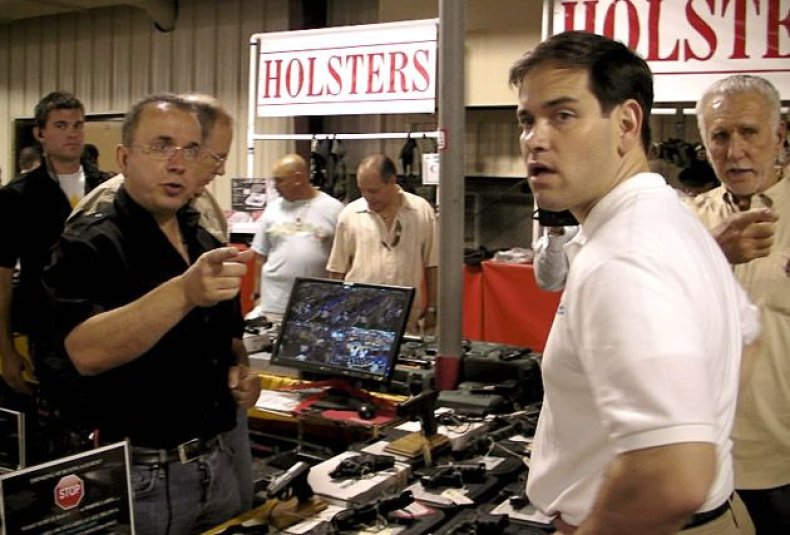 GOP Senate candidate, Florida
The GOP rising star holds a concealed-weapons license and is a devout supporter of the Second Amendment. "It's an important constitutional right. It separates us from the rest of the world," he has said. During the primary, he was photographed chatting up a gun supplier at the Central Florida Fairgrounds gun show. Not long thereafter, he defeated sitting Gov. Charlie Crist to win the Republican nomination. Crist is now running as an independent, but Rubio is still ahead.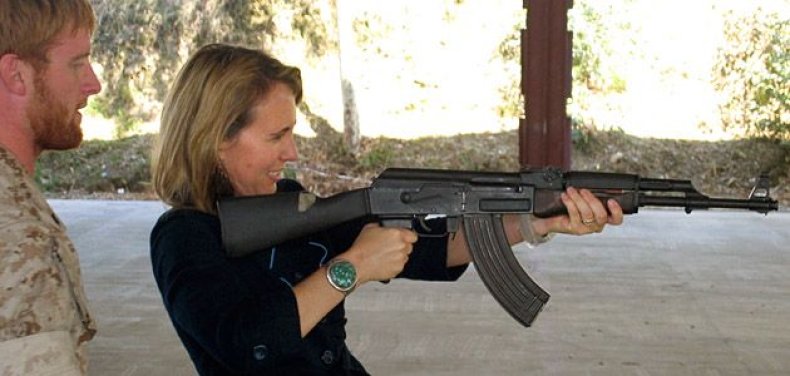 Democratic House candidate, Arizona's Eighth District
Gabrielle Giffords owns a Glock handgun, and as a two-term Democratic congresswoman representing a swing district in Arizona's rugged southeast, she may have needed to stress that. Still, the NRA only gives her a tepid D+ rating. In a tough election cycle that has seen Democrats bracing for a backlash from rural voters, every photo op counts, including this earlier one, featured on Giffords's Flickr page. Giffords managed to pull off a victory against a tough candidate, but as the GOP began its tenure as House majority party, she was shot in Tucson by an allegedly disturbed young man who apparently had no trouble getting weapons in the state, and who killed six people in the same incident. Giffords remains in critical condition.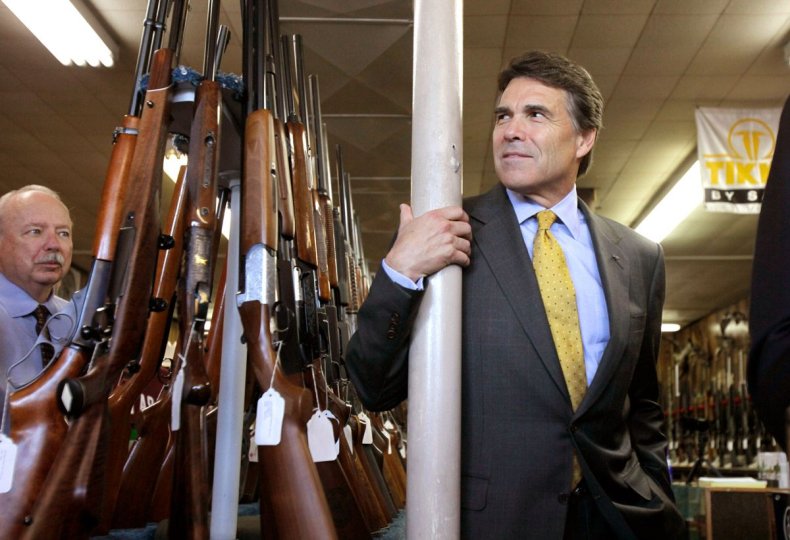 GOP gubernatorial candidate, Texas
Anyone who holds the Texas governorship for a decade knows his way around a gun, or at least a gun photo op. Earlier this year, facing a primary threat from Sen. Kay Bailey Hutchison, Perry hit on the winning strategy of painting her as an imperious Washington carpetbagger and himself as more Texan than hold-'em poker. Cue a deluge of Perry photos at gun shops, often flaunting his black cowboy boots. He even threatened Texan secession. Now clear of Hutchison, Perry has moderated his rhetoric—it's not easy running as a two-time incumbent anywhere in America during this election cycle, but Perry is still favored to mow down Democrat Bill White in Tuesday's general election.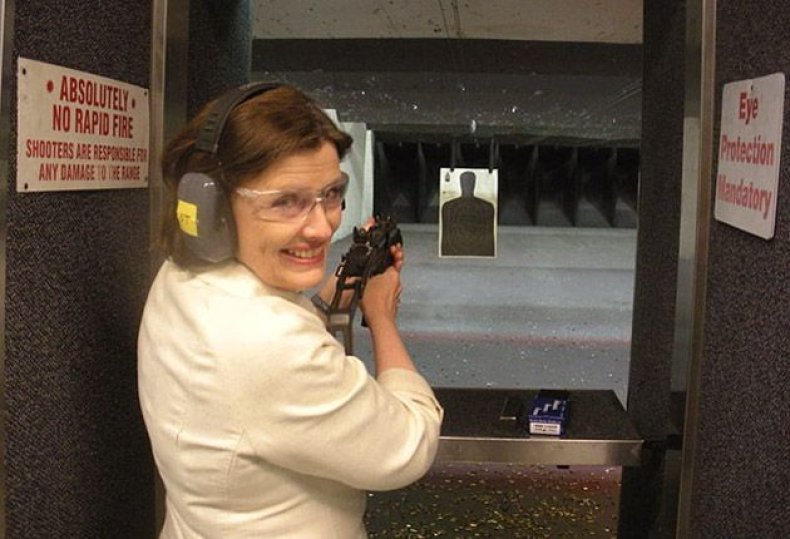 GOP House candidate, Tennessee's Sixth District
Remember the scene in American Beauty in which Annette Bening attends target practice, sporting an eerie fixed smile as she fires one bullet after another? It's unclear whether Lou Ann Zelenik is going for a similar effect in this photo, but she's certainly resplendent in glossy pink lipstick. Supported by the Tea Party in Tennessee's Sixth District, Zelenik campaigned on putting America "back on a constitutional path." In the end, she missed her target, losing in the GOP primary by 335 votes to Diane Black.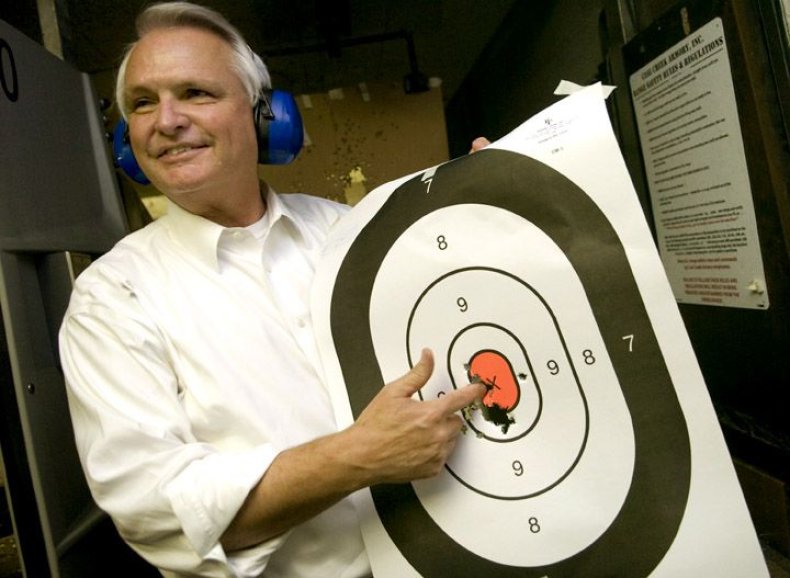 GOP gubernatorial candidate, Tennessee
Ron Ramsey is gung-ho about the Second Amendment, as seen here at a campaign stop at Coal Creek Armory in Knoxville. Trailing in the polls against Bill Haslam in the GOP gubernatorial primary earlier this year, Ramsey proudly touted his A+ rating from the NRA, making a play for the votes of the hundreds of thousands of Tennesseans who carry gun permits. Too bad that Haslam, a latecomer to the NRA after having been a member of New York City Mayor Michael Bloomberg's Mayors Against Illegal Guns coalition, still beat Ramsey comfortably.
GOP House candidate, Arizona's Second District
Not one for subtlety, Charles Black helped to organize an event celebrating the right to bear arms, taking the stage wearing a holstered weapon. "Finally they're starting to realize that the Second Amendment does exist," he told the audience. Though he did not explain who "they" were, his message was certainly clear. Still, Black was drubbed in the primary, receiving just 19 percent of the vote.
GOP House candidate, South Carolina's Fourth District
In this homemade spot filmed in her front hallway, Jeffrey could be a dainty suburban mom welcoming the neighbors over for a round of bridge—except that she's cheerfully slinging an AK-47. "Ladies and gentlemen, the topic tonight? The Second Amendment," she announces with a smile. Jeffrey insists that the amendment's purpose is to "ensure that our limited government stays limited and that we would be able to enforce those limitations if need be." She ended up flopping in the GOP primary.
GOP candidate for Alabama agriculture commissioner
He rides slowly into the shot atop a horse, face shaded by a wide-brimmed cowboy hat. The music is stirring, the sky a brilliant blue. Is this a promo for a new Western? No, just another man running for agriculture commissioner. "Here we are," Peterson bellows, "losin' three family farms a day, illegals bused in by the thousands, and Alabama's unemployment's at an all-time high." And so the lecture continues until he whips out a .30-30 Winchester rifle. "We're Republicans! We should be better than that!" Alas, since Peterson lost in the primary, we'll never know whether he would have been.