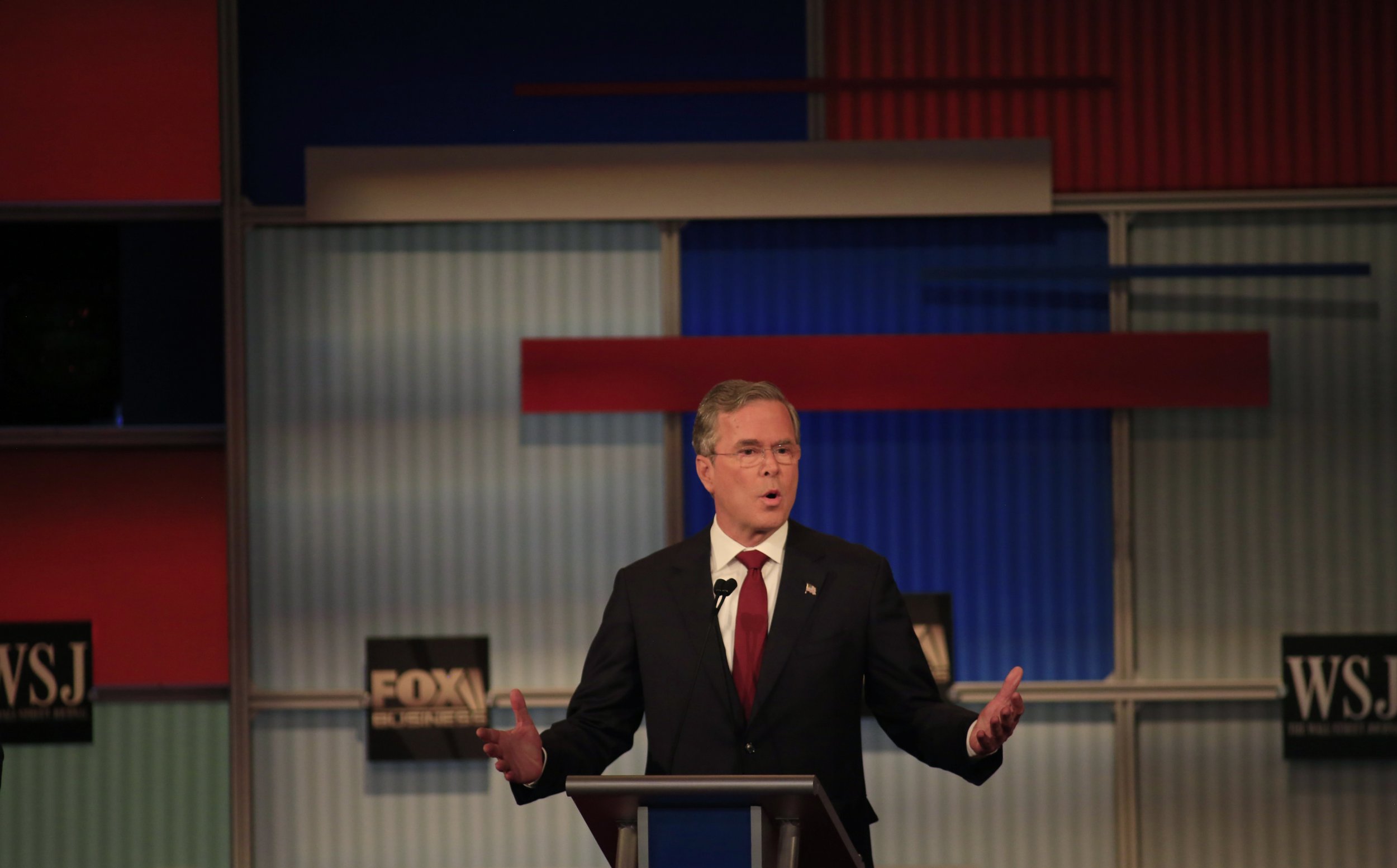 Donald Trump has made illegal immigration his signature issue, but mainstream Republicans continue to bristle at his suggestion that the U.S. should deport millions of undocumented immigrants currently living in the United States. At the fourth Republican debate on Tuesday, hosted by Fox Business Network, Trump argued with Ohio Governor John Kasich and former Florida Governor Jeb Bush about amnesty.
Trump cited Dwight Eisenhower's immigration policies as an example of successful deportation efforts, even throwing in an "I like Ike." The suggestion sounded compassionate—Eisenhower, as Trump said, is generally considered a "nice guy"—but could have harsh implications for the undocumented today.
Eisenhower's policies involved packing undocumented Mexican immigrants into trucks and driving them south in what was was known as "Operation Wetback." Historians have questioned both the efficacy and the ethics of the 1950s policy—some have called it dehumanizing and there are documented cases of the deportations resulting in deaths from heat stroke—but Republican voters at the debate in Milwaukee responded positively to Trump's statements. "If we don't have borders, we won't have a country," he said. "We don't have a choice."
At the debate, calls for immigration reform and amnesty from GOP candidates John Kasich and Jeb Bush received some applause, particularly when Bush said deportations would tear families apart.
Before the start of Tuesday's debate, Trump attacked Marco Rubio on Twitter in a string of posts accusing the latter of being "weak" on immigration.
At the debate, Rubio didn't get a chance to chime in on immigration, but Senator Ted Cruz joined Trump in decrying amnesty. Cruz said that undocumented immigrants hurt American workers. "If Republicans join Democrats as the party of amnesty, we will lose," he said.
This isn't the first time Trump has expressed his interest in Eisenhower's approach to immigration, and Trump's hardline stance has already earned the GOP some negative press—later in the debate, Ted Cruz said it was "offensive" that Republicans are referred to as "anti-immigration." Even Jeb Bush lamented the way the immigration narrative has played out this campaign season.
"They're doing high fives in the Clinton campaign when they hear this," Bush said.