Is 'Candy' Based on a True Story?
Hulu's new show Candy tells the shocking story of how a housewife became an ax-wielding murderer.
Starring Jessica Biel as Candy Montgomery, the show's plot is so surprising that some viewers may be wondering how true it really is.
Well, to answer that question here is everything you need to know about Candy, and the case that inspired it.
Is 'Candy' Based on a True Story?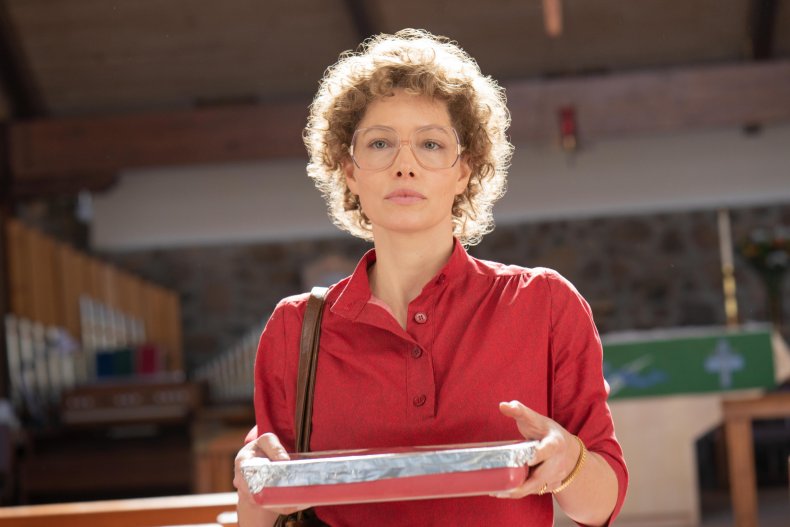 Candy is, in fact, based on a real case from 1980 which saw Candy Montgomery, a wife from Wylie, Texas, kill her friend Betty Gore (Melanie Lynskey) with an ax on Friday, June 13.
Montgomery struck Gore 41 times with the weapon, with 40 of the blows taking place while the victim's heart was still beating.
The suburban housewife met Gore at the Methodist Church of Lucas, and she went on to begin an affair with her future victim's husband Allan (played by Pablo Schreiber) in 1978.
Montgomery and her husband Pat had a "comfortable" marriage, but it left the housewife feeling bored, per Texas Monthly, whose articles are the basis for HBO's retelling of events Love and Death.
Montgomery decided she wanted to have an affair and she approached Allan after a game of volleyball, the publication reported, and at first Gore's husband refused but on her 29th birthday he called her to say he hoped they could talk about it over lunch.
After several months of planning and debating whether or not to have the affair they decided to do just that, and they promised they would stop if either of them started to have feelings for the other.
Montgomery tried to end the affair after two-and-a-half months but Allan persuaded her against it. Allan later suggested they take a break in June 1979 when Gore was seven months pregnant with their second child.
Montgomery felt that the affair "was becoming a hassle" and so she wasn't too hard-up by the decision to take a break, but when Allan suggested months later they end things she was upset, per Texas Monthly.
Eventually the affair did end between them and things appeared to be looking up for both their marriages, but June 13, 1980 changed all that.
On June 13, Allan went away for a business trip in Minnesota and called his house phone several times over the course of the day, the publication said.
Each time his wife didn't answer Allan became more and more worried, eventually asking neighbors to visit the house to check if she was alright.
Allan also called Montgomery at the time, who reassured him that his daughter Alisa was with her and was safe. In Candy, Gore's eldest daughter is named Christina, it is not clear why her name was changed for the purpose of the story.
His neighbors forced their way into the home and discovered Allan and Betty's baby Bethany in her crib, where she had clearly been for a while as her voice was hoarse when she cried and she was covered in her own excrement.
After getting the baby out of the house, the neighbors discovered Gore's body in the utility room. They told Allan that they believed she had been shot, but the police investigation later revealed she had been struck with an ax 41 times.
These events, the investigation into Gore's murder and the trial against Montgomery are all the focus of Candy, and the story is, shockingly, very true.
Montgomery later claimed that her attack on Gore was in self-defense and in the trial she shared what had happened, a reconstructed version of events which had been revealed to her through hypnosis sessions with psychiatrist Dr. Fred Fason.
She claimed that Betty was the one who first tried to kill her with the ax after confronting her about her affair with Allan, and Montgomery said she attacked her friend only as a means to defend herself.
Following the end of her testimony, Montgomery admitted that she did kill Gore but that it was not intentional, and after the closing statements from attorneys on both sides of the case the jury found her not guilty.
Candy airs every day from Monday, May 9 to Friday, May 13 on Hulu.