How the 'Candyman' 1992 Cast Compares With the 2021 Lineup
Candyman is back, haunting more people if they dare to speak his name into a mirror five times. In the new movie produced and written by Jordan Peele, and directed by Nia DaCosta, Candyman's legend is expanded to touch even more people, with new villains brought to the fore.
However, these villains are those trying to kill the legend of Candyman, with gentrification, racism and prejudice at the heart of their wickedness.
In the new film, which is a sequel to the 1992 movie of the same name, the narrative continues with Anthony McCoy (played by Yahya Abdul-Mateen II) who is now an artist living in the gentrified area close to what used to be Cabrini-Green.
For a new art project, he investigates the urban legend of Candyman after hearing a story from his partner's brother, Troy (Nathan Stewart-Jarrett) which resonates with him.
This story is that of Helen Lyle (Virginia Madsen) who apparently became possessed by the Candyman and committed murders, including trying to burn a baby in a fire.
Those familiar with the 1992 movie will know this is not the true story, as Helen's story is the focus of the original film and it is in fact the Candyman who brings about her hellish fate.
There is some crossover with these two films in terms of the cast, while the story continues in a very direct way.
Ahead are some spoilers for Candyman.
The Cast of 1992 'Candyman' Vs. 2021 'Candyman'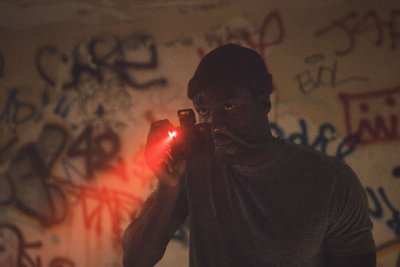 In the 1992 movie, Tony Todd plays Candyman, who is in fact Daniel Robitaille, a 19th-century painter who is brutally murdered for his interracial relationship with one of his subjects.
It is Robitaille's ghost who appears to Helen, played by Virginia Madsen, and her friend and colleague Bernadette, played by Kasi Lemmons.
On their quest for information at the Cabrini-Green housing project, they meet Anne-Marie McCoy, played by Vanessa Estelle Williams, and her baby son Anthony.
Other supporting characters include Helen's husband Trevor (Xander Berkeley), the young Cabrini-Green kid Jake (DeJuan Guy), the police officer who arrests Helen (Gilbert Lewis) and her psychiatrist, Dr. Burke (Stanley DeSantis).
In the 2021 movie, the cast is led by Yahya Abdul-Mateen II, who plays Anthony McCoy, the son of Anne-Marie who is all grown up.
He is now an artist, living with his curator girlfriend Brianna, played by Teyonah Parris.
He has no idea of what has gone before in Cabrini-Green and hears Helen's story for the first time from Brianna's brother Troy, played by Nathan Stewart-Jarrett and Troy's partner Grady, played by Kyle Kaminsky.
Throughout the film, more people die after Candyman's name is invoked, and Anthony hears about another Candyman, Sherman Fields, played by Michael Hargrove, who was killed by police despite being an innocent man.
This is the version of Candyman we meet throughout the movie, as he terrorizes the neighborhood having been turned into one of the Candyman hive, which is first introduced to Anthony by laundromat owner William Burke, played by Colman Domingo.
Burke becomes Anthony's entry into the legend, while other supporting players include Rebecca Spence as art critic Finley Stephens, Brian King as Clive Privler, an art gallery owner.
There are returning cast members in this film, such as Todd, who appears in cameo form as Daniel Robitaille when the Candyman hive is revealed, while Williams returns as Anthony's mother, explaining his connection to the legend.
Also, Madsen's voice is used in the film when her story is retold, as well as when Anthony listens to her tapes to learn about the legend.
Candyman is out in movie theaters now