'Candyman' Soundtrack: Every Song Featured in the 2021 Movie
The original Candyman released, in 1992, had an iconic soundtrack from composer Philip Glass, including the Candyman's theme "Music Box." In the 2021 remake, the soundtrack has been composed by Robert Aiki Aubrey Lowe, who took inspiration from the first movie as well as its Chicago setting.
Alongside the instrumental music are also some well-known tracks, including a number reinterpreted for the film.
Lowe has discussed how he recorded sounds from Cabrini-Green, Chicago, where the movie is set, adding texture to the soundtrack and creating a soundscape.
He said in press notes for the film: "When I first moved to Chicago in my early twenties, I lived very close to Cabrini-Green, so there was already a relationship there.
"Once I got the call from producer Ian Cooper about doing the score, I did go back and watch the original film and again listen to the Philip Glass score.
"I went to the row houses in Cabrini-Green taking ambient recordings of the location. I went inside certain buildings to get the natural sound of the empty spaces as well as the insects, the wind, the helicopters going overhead.
"It was important and necessary for me to be able to incorporate actual ambient sound from the locations as textural elements into the score."
However, there are some recognizable songs in the movie outside of the soundtrack.
The Candyman Soundtrack Explained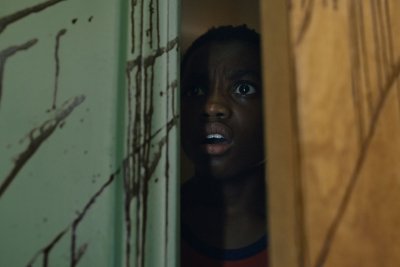 As might be expected, the opening track is "The Candy Man" from Sammy Davis Jr., though the sunrise and rainbows do not speak to the story which follows.
Various songs show up in the movie, and one of the most iconic is "Music Box" by Philip Glass.
For fans of the first film, this one-minute track is instantly recognizable as being the Candyman theme from the 1992 movie.
It plays as Troy (played by Nathan Stewart-Jarrett) is reciting a story of Cabrini-Green, which also happens to be the plot of the first movie.
However, the urban legend has turned Helen Lyle (Virginia Madsen) into the monster, rather than the truth of the story.
Other prominent tracks are "Shameika" by Fiona Apple and "Lonely" by Jamila Woods, featuring Lorine Chia.
Here is a full list of tracks that appear in the film.
"The Candy Man"—performed by Sammy Davis Jr.
"Gotta See Change"—performed by L. Young
"Sticky"—performed by Ravyn Lenae
"Music Box"—written by Philip Glass
"Like The Moon"—performed by The Adults
"Shameika"—performed by Fiona Apple
"Kadia Blues"—performed by Orchestre Paillote
"Lonely"—performed by Jamila Woods feat. Lorine Chia
"Resurrection"—performed by Death
Outside of these songs, there are around 30 tracks composed by Lowe to make up the soundtrack album, which also includes a "Music Box" reprise and three bonus tracks, focused on Cabrini-Green.
Candyman is out in movie theaters now