Where to Buy Limited-Edition Cannabis-Infused Hot Chocolate for Christmas
You can now buy cannabis-infused hot chocolate in time for the holiday season. The hot chocolate is made by Kiva, the company behind cannabis-infused turkey gravy, and is from available today, December 9.
The hot chocolate is made with rich cacao and each pouch is infused with 5 milligrams of tetrahydrocannabinol (THC). It will sell for $5 a pouch and will be available at dispensaries in California. To make the drink, simply add the powdered chocolate to hot water and stir.
Kiva claims the drink is absorbed by endocannabinoid receptors with an onset time of up to 15 minutes.
If you prefer to eat your chocolate, Kiva Confections has also released a recipe for cannabis-infused dipping chocolate to enjoy with cookies and marshmallows over the holiday season. Melting Kiva's cannabis-infused chocolate bars with regular chocolate can produce enough dipping chocolate for 20-25 servings each containing approximately 2.5mg of THC.
Kiva recommends that people new to cannabis should keep the levels of THC low, at around 2.5mg.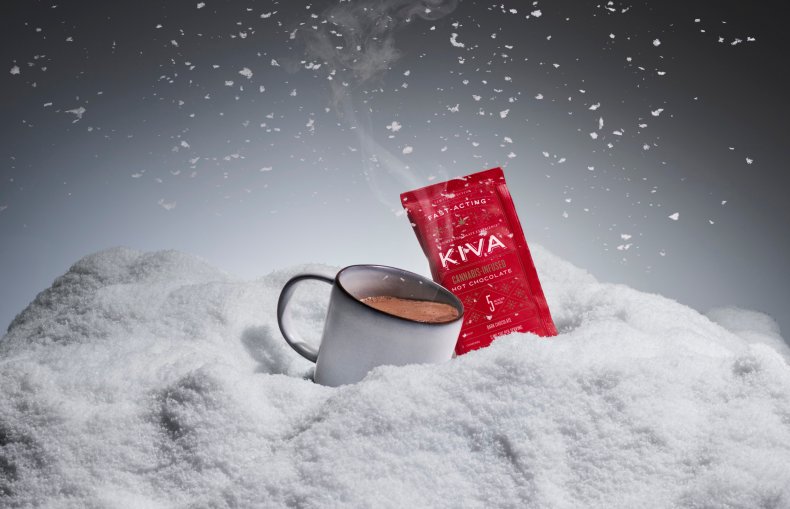 What are cannabinoid receptors?
Cannabinoid receptors are attached to the body's endocannabinoid system (ECS), and according to Professor Jie Wu, they have been studied for their therapeutic potential in physiological conditions, such as in energy balance, appetite stimulation, blood pressure, pain modulation, embryogenesis, nausea and vomiting control, memory, learning, and immune response.
They could potentially be therapeutic in pathological conditions such as Parkinson's disease, Huntington's disease, Alzheimer's disease, and multiple sclerosis.
What is the difference between CBD and THC?
According to National Institute on Drug Abuse, cannabinoids are naturally produced in the body. They interact with the ECS and help regulate bodily functions.
THC is the active ingredient in the Cannabis sativa plant. It activates the ECS by attaching to the cannabinoid receptors interfering with the function of the natural cannabinoids.
THC is what produces the feeling of being "high," but according to Live Science, over time THC can change how the ECS functions and can cause long-term effects.
Where is cannabis legal?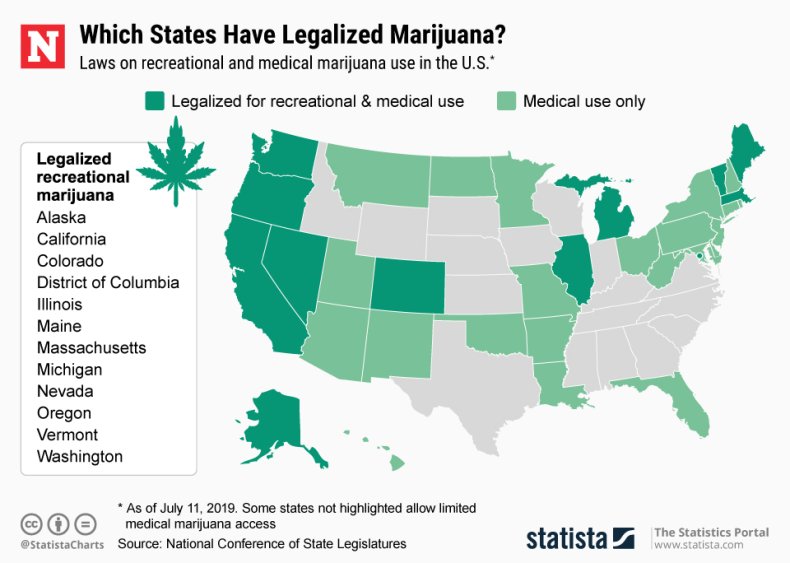 As illustrated in the graphic above, provided by Statista, medical marijuana is currently legal in: Alaska; Arizona; Arkansas; California; Colorado; Delaware; Florida Hawaii; Illinois; Louisiana; Maine; Maryland; Massachusetts; Michigan; Minnesota; Missouri; Montana; Nevada; New Hampshire; New Jersey; New Mexico; New York; North Dakota; Ohio; Oklahoma; Pennsylvania; Rhode Island; Utah; Vermont; Washington; Washington, D.C.; and West Virginia.
Recreational marijuana use is legal in Alaska; California; Colorado; Illinois; Maine; Massachusetts; Michigan; Nevada; Oregon; Vermont; and Washington, D.C.
Medical and recreational use of marijuana is also legal in Canada.