Cannabis-infused turkey gravy is now available, in time for Thanksgiving 2019. The gravy, created by Kiva Confections, will be available for a limited time over the holiday season.
Kiva Confections said: "This cheeky take on a normally mundane holiday staple features a groundbreaking, fast-acting technology that allows for faster THC absorption.
"Awkward family dinner conversation? In just under 15 minutes you'll start feeling the effects, so you can sit back, relax, and let the holiday cheer wash over you."
The gravy comes as a powder that contains 10mg of THC and is made with turkey stock, salt, onion, and garlic. It should be whisked with one cup of water in a saucepan, brought to a boil and stirred. The cannabis-infused gravy is available to purchase at Sweet Flower (Los Angeles) and Grass Roots (San Francisco) locations and costs $5.
According to Kiva, the gravy was made with technology that allows the cannabinoids to take effect within two to 15 minutes. The nano molecules are small enough to be absorbed into the body's cannabinoid receptors, which allows cannabinoids to take effect much more quickly than typical edibles.
Additionally, Kiva Confectioners announced that it will be launching cannabis-infused hot cocoa in December, which will use the same technology as the gravy for fast absorption.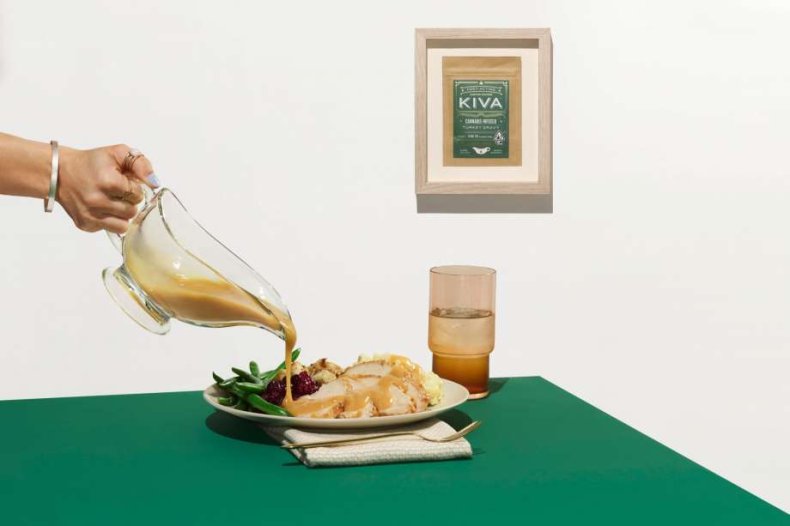 What are cannabinoid receptors?
Cannabinoid receptors are attached to the body's endocannabinoid system [ECS], which according to Medium, "promotes homeostasis affecting everything from sleep, appetite, pain, inflammation, memory, mood, and even reproduction."
"So in basic terms, the ECS helps modulate the regulation of homeostasis across all major body systems ensuring that all systems work in concert with one another."
What is the difference between CBD and THC?
Cannabinoids are naturally produced in the body and interact with the ECS to help regulate bodily functions. Tetrahydrocannabinol (THC) is the active ingredient in the Cannabis sativa plant and affects the ECS by interfering with the function of the natural cannabinoids.
THC is what produces the feeling of being "high" but over time can change how the ECS functions and can cause long-term effects, according to Live Science.
Where is cannabis legal?
Medical marijuana is currently legal in Alaska, Arizona, Arkansas, California, Colorado, Delaware, Florida Hawaii, Illinois, Louisiana, Maine, Maryland, Massachusetts, Michigan, Minnesota, Missouri, Montana, Nevada, New Hampshire, New Jersey, New Mexico, New York, North Dakota, Ohio, Oklahoma, Pennsylvania, Rhode Island, Utah, Vermont, Washington, Washington D.C., and West Virginia.
Recreational marijuana use is legal in Alaska, California, Colorado, Illinois, Maine, Massachusetts, Michigan, Nevada, Oregon, Vermont, and Washington D.C. Medical and recreational use of marijuana is also legal in Canada.