Cannabis Use Disorder is Rising in U.S. States Where Weed is Legal
Rates of cannabis use disorder have risen in U.S. states where the drug has been legalized, including among children and teenagers, according to a study.
The authors of the research published in the journal JAMA Psychiatry argued that while the policies have provided "important social benefits, particularly around issues of equity in criminal justice," the climb in conditions like cannabis use disorder are "a potential public health concern."
To uncover the effects of the changes, researchers looked at surveys completed by 505,796 people between 2008 to 2016. Of the total participants who filled in The National Survey on Drug Use and Health in those years, just over half were female, 77 percent were aged 26 or above, 65 percent were white, 11.9 percent were black, 15.36 percent Hispanic, and 7.3 of another race or ethnicity.
The team looked at data on states where cannabis had been legalized by 2016—Colorado,Washington, Alaska, and Oregon— and noted if and how often respondents used marijuana in the past month, and whether they had cannabis use disorder before and after the laws were enacted.
Cannabis use disorder is where a person's use of the drug negatively affects their life over the course of 12 months. They might struggle to cut down, use so much it makes it hard to work or fulfil responsibilities in the home, and spend a lot of time taking the drug and recovering from its effects.
In adults aged 26 or older, the number who said they had used cannabis in the past month rose by 23 percent when compared with states where recreational use isn't allowed. Problematic cannabis use rose by 37 percent, from 0.90 percent to 1.23 percent, after recreational marijuana legalization.
The number of respondents aged between 12 to 17-years-old who had cannabis use disorder rose "slightly" by 25 percent compared with those in the same group in other states, from 2.18 percent to 2.72 percent, the authors wrote.
But among participants aged between 18 to 25-years-old, the rates of cannabis use in the past month, frequency and cannabis use disorder didn't change.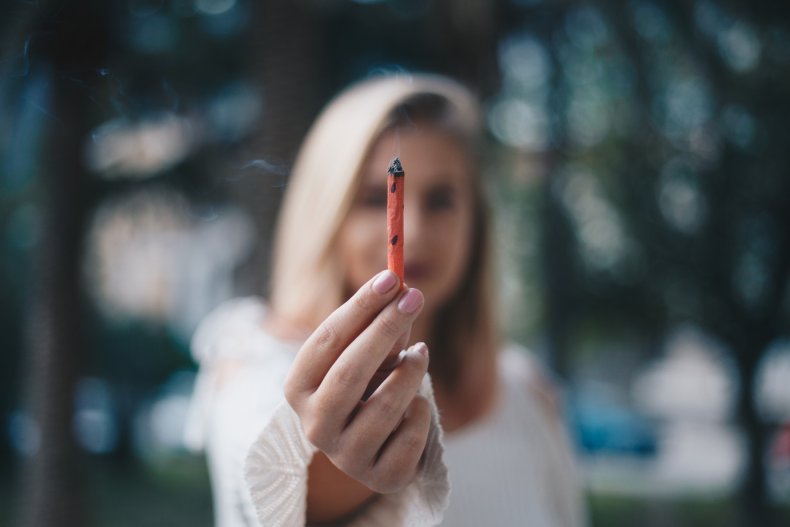 Marijuana for recreational use has been legalized in 11 states and the District of Columbia. Using weed occasionally is not thought to cause substantial problems, the authors said. But long-term, heavy use is linked to physical and psychological problems, as well as lower educational attainment, decline in social class, unemployment, and motor vehicle crashes, they wrote.
Senior author Dr. Silvia S. Martins, associate professor of epidemiology at Columbia University Mailman School of Public Health, commented: "Cannabis use disorder in adolescence is associated with long-term adverse health, economic and social consequences.
"Given our findings on problematic use across age groups, legalization efforts should coincide with prevention and treatment. The general public should be informed about both benefits and potential harms of marijuana products to make informed decisions," Martins said.
Ian Hamilton, an expert in drug use and mental health at the Department of Health Sciences at the U.K.'s University of York who did not work on the study, told Newsweek: "Although the researchers found that regular use increased by only a few percent following the policy change this could equate to a large proportion of the population given the popularity of cannabis. Even a small percentage increase in regular cannabis users can increase the risk of developing problems like cannabis dependence which services would be unlikely to have the capacity to support."
This graphic, provided by Statista, shows the U.S. states where recreational marijuana has been legalized.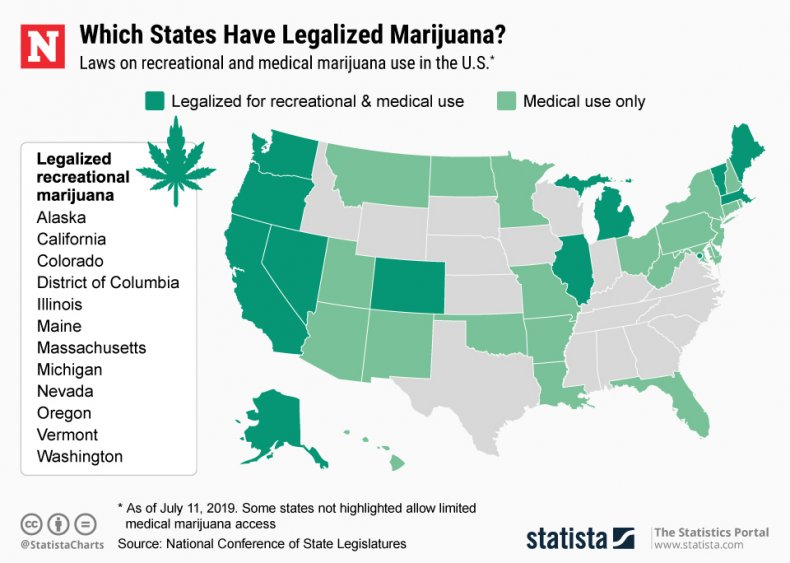 However, he pointed out it is difficult to draw firm conclusions from observational studies such as this one. The researchers weren't, for instance, able to collect any data about the strength or potency of the cannabis used, "so it might be that some people were using low potency cannabis frequently which wouldn't create the same degree of risk as those using high potency cannabis regularly," Hamilton argued.
Hamilton urged people to be cautious of believing assertions made by suppliers and manufacturers related to cannabis, such as unevidenced claims about health benefits, and even basic information on strength.
"Although cannabis is less harmful than many other drugs it is not completely risk free, part of the problem is we are still unable to predict who is at risk of developing problems until they are exposed to the drug, by which time it is often too late," Hamilton said.
But he said the results also don't mean cannabis shouldn't be legalized, rather "that for the small proportion of users who develop problems support services need to be adequately funded and available, something other states and countries should factor in when thinking of changing their cannabis policies."