A new poll reveals that Americans are divided on whether they prefer fresh or canned cranberry sauce as the Thanksgiving holiday quickly approaches.
An Economist/YouGov poll released Wednesday found that about one-third of Americans do not eat the sweet and tangy Thanksgiving condiment. However, those who normally do eat cranberry sauce cannot agree on what type is best. Although 32 percent of respondents preferred canned cranberry sauce, 27 percent favored sauce "made from scratch" and 37 percent liked either type.
A clear preference for canned sauce was seen among women, with 37 percent favoring canned, 29 percent preferring fresh and 33 percent liking either type. Men who had a preference were split nearly evenly—26 percent said they preferred canned sauce and 25 percent favored fresh, while a 41 percent plurality had no preference. Black respondents had the strongest preference for particular type of sauce, with 49 percent favoring the canned version. White men who graduated from college were the biggest fans of fresh sauce at 40 percent.
Although 63 percent of all respondents said that they liked cranberry sauce, affinity for the food differed significantly by age. Cranberry sauce was not disliked by a majority of any demographic group but Millennials came the closest—45 percent said that they could not stand the condiment. At the other end of the age spectrum, an overwhelming 80 percent majority of respondents age 65 and older said that they liked cranberry sauce.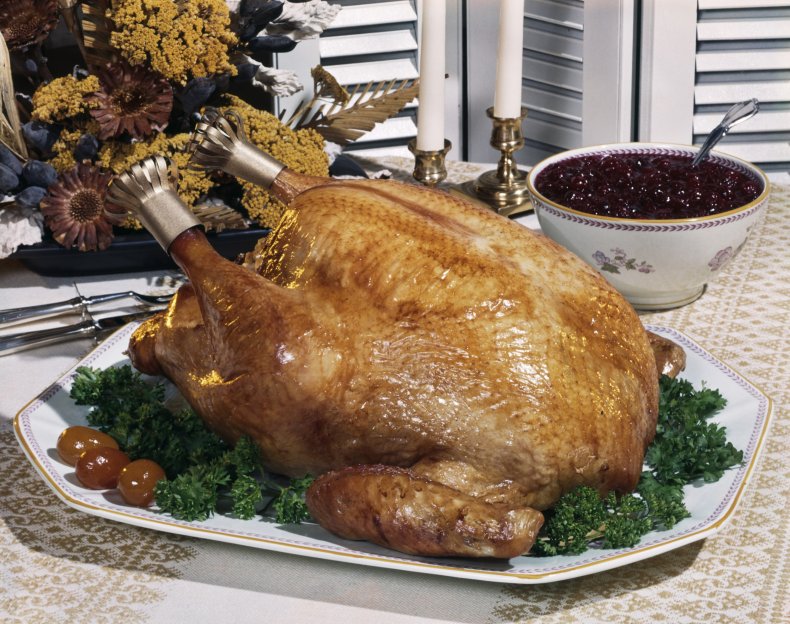 Fresh and canned cranberry sauces differ significantly by texture. While fresh cranberry sauce usually includes whole berries, the canned variety comes in either a fully jellied form or as a sauce that includes whole berries. A 2019 poll from Instacart and The Harris Poll found that 46 percent of Americans dubbed canned cranberry sauce "disgusting," while 29 percent still ate it out of tradition despite a secret dislike for the sauce.
A survey based on Instacart grocery delivery orders taken during November 2020 suggested that preferences for canned or fresh cranberry sauce varied heavily depending on region. Canned sauce was preferred in the Northeast and most of the South, while fresh sauce was generally favored in the West and the Midwest.
Wednesday's poll also queried respondents on a number of other Thanksgiving food debates. A 39 percent plurality favored white turkey meat over dark meat, with 19 percent preferring dark meat and 31 percent having no preference. A 32 percent plurality said that marshmallows should be left out of sweet potato dishes, while 21 percent said they should be included and 20 percent expressed no preference.
The poll was conducted online among a random sample of 1,500 U.S. adults between November 14 and November 16. It has a margin of error of 3 percent.