Women in Film: Cannes Film Festival Criticized for 'Disturbing' Representation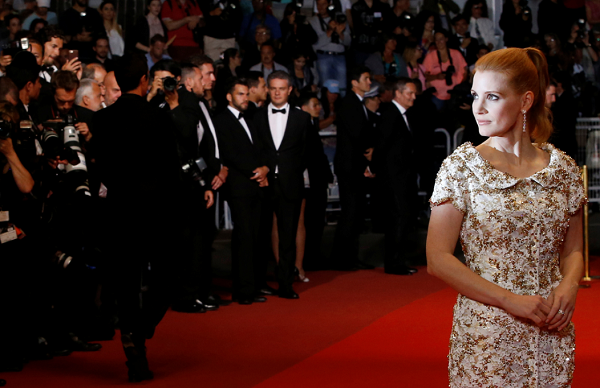 Updated | Sofia Coppola's best director win at the 2017 Cannes Film Festival over the weekend was a historic moment—the title hadn't been won by a woman in more than 55 years—but progress at the big-screen soiree, which takes place in southern France every year, has still been too slow for many of the women involved.
Jessica Chastain, who served as a jury member during the festival this year, said during a press conference Sunday she was "disturbed" by the limited female perspective showcased in many of the films, according to The Hollywood Reporter. Chastain said film organizers continued to drop the ball by not including movies that provided more depth to female characters—something she suggested could have been achieved with more female storytelling. Some 15 percent of the movies included in the 2017 competitionslate featured work produced by women, according to an Indie Wire report.
"I do believe that if you have female storytelling, you also have more authentic female characters," Chastain said. "This is the first time I've watched 20 films in 10 days, and I love movies. And the one thing I took away from this experience is how the world views women from the female characters that I saw represented. It was quite disturbing to me, to be honest."
Chastain, who appeared in the Cannes-released film Happy Ends, said the portrayal of complex female characters in movies could use some improvement.
"There are some exceptions, I will say, but for the most part, I was surprised with the representation of female characters onscreen," Chastain said. "I do hope that when we include more female storytellers, we will have more of the women that I recognize in my day-to-day life. Ones that are proactive, have their own agencies, don't just react to the men around them. They have their own point of view."
Effectively showcasing a woman's perspective could be one of the reasons Coppola snagged the best director award for her work on the movie The Beguiled, in which Nicole Kidman stars as the lead actress alongside Colin Farrell. The movie's theme encompasses emotions and ideas based on a woman's experience as a schoolmistress, portrayed by Kidman, who tries to keep the girls in her class safe during the Civil War.
Kidman told Indie Wire Friday the essence of the movie was feminine and the story "had to be directed by a woman." She agreed with Chastain's call for more women representation on the big screen.
"Still only about 4 percent of women directed the major motion pictures of 2016," Kidman said. "That there says it all. I think that's an important thing to say and keep saying. Luckily, we had [film director] Jane Campion and Sofia here. We, as women, have to support female directors, that's a given now. Everyone is saying it's so different now—but it isn't. Listen to the statistics."
Coppola was the first woman to secure the best director title at Cannes since Russian director Yuliya Solntseva won for Chronicle of Flaming Years in 1961. The festival's most esteemed award, the Palme d'Or, hasn't been accepted by a woman since 1993, when Jane Campion won for her work on The Piano. Campion is the only woman in Cannes Film Festival's 70-year history to win the Palme, and even then she had to share the award with Farewell My Concubine director Chen Kaige.
A recent study by the Center for the Study of Women in Television at San Diego State University found female characters accounted for only 32 percent of speaking roles in movies in 2016, down from 33 percent in 2015. On the brighter side, women made up 37 percent of the main characters in films released in 2016, up 3 percent compared with 2015's 34 percent.
Correction: An earlier version of this story misspelled Sofia Coppola's first name.