Anyone who's ever dealt with a mouse infestation could tell you how the traps can be just as pesky as the mice themselves. Fortunately, modern mousetraps aren't nearly as dangerous as this cannon mousetrap from 1862:
YouTuber Shawn Woods posts videos every Monday showing off a unique or vintage mousetrap. In a video posted in February, Woods displayed his 1862 cannon mousetrap replica and demonstrated for viewers how it worked.
In the video, Woods says that even though his cannon trap wasn't made in 1862, the trap does work similarly to a Civil War-era rifle, complete with gun powder and lead bullets. "Even though our mousetrap's a replica, I do have an original Civil War rifle from 1862, and the technology is pretty much the same," Woods said.
After demonstrating how Civil War rifles operate, Woods walks viewers through how to set up the Tom & Jerry-esque trap. He shows how a trigger-pin is used to load the trap, and after removing the safety pin, a mouse can lift the lever to set off the trap. Woods explains how the trap works with just a cap in place, and then with gun powder, and then a lead bullet.
He demonstrates how a mouse would fare if the trap was simply loaded with gun powder by testing the trap on a squeaky mouse toy. When the toy's pushed in front of the trap, the cannon fires at it, burning it. A real mouse certainly wouldn't have done well. "He's pretty charred. Now the air here smells like burnt plastic and black powder, which is pretty stinky with the sulphur," he said. "There wasn't even a bullet in the barrel, but the fire coming out sure charred the mouse."
The clip continues with Woods taking the trap outside and capturing just what the trap could do if a bullet was loaded into it. Placing a soda bottle in front of the trap and using a stick to set it off, the trap destroys the bottle placed in front of it. "There's no doubt it would be devastating to any mouse or rat, getting shot by the trap," he says in the video.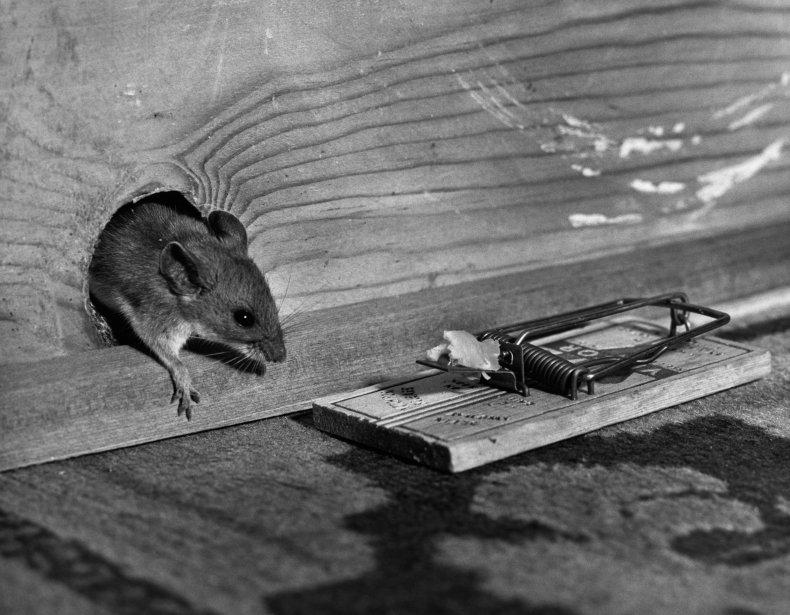 Viewers can also see Woods test the trap on live animals—it's only loaded with a cap, though, for safety and legal reasons. In the clip, a rat and skunk are both startled by the trap's loud bang, but both animals quickly return for the bait.
Woods also mentions that mice were good at maneuvering around the trap, to avoid setting it off. "It was easy for the rats to set off the trigger,' he says, "but it's not a mouse killer."