'Can't Get it Again': Rand Paul Says Service Industry Should Hire COVID Survivors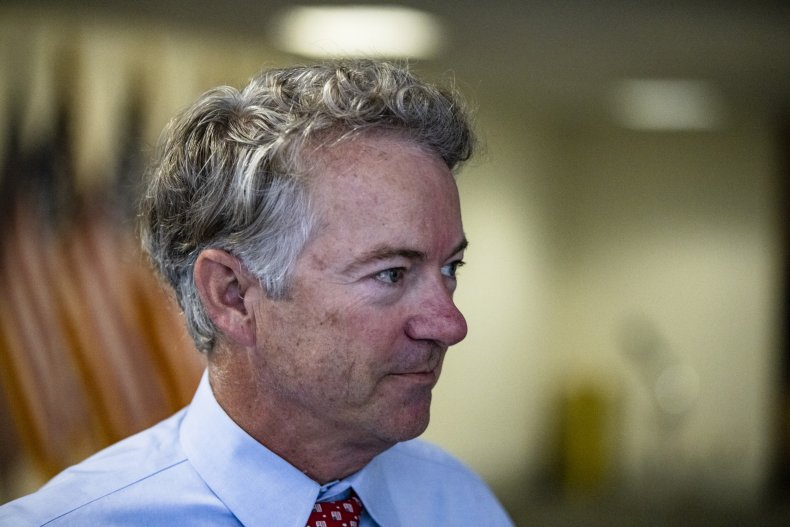 Sen. Rand Paul (R-Ky.) believes that restaurants and cruise ships should focus hiring on those who have already been infected with COVID-19 because they "can't get it again."
Paul made the remarks during a campaign rally for GOP House candidate Nick Freitas in Virginia on Sunday. He said that COVID-19 survivors would be ideal to serve with vulnerable populations because he believes they would have "immunity," citing his own diagnosis and recovery from the virus in March.
"I'll say one thing about immunity: I've had it, I can't get it again. I can't give it to you, I can't get it," Paul said. "If they would admit that there's immunity, what could we do for our restaurants? If I owned a restaurant, I'd have a whole wing for senior citizens, or for anybody who is worried about getting sick, and I would say all my servers have already had it."
"If I had a cruise ship, I'd hire everybody... no exceptions, everybody would have had the infection that works on the boat," he continued. "There's all kinds of ways we can use immunity to our advantage but nobody's admitting it."
Paul added that he is frequently asked by reporters why he believes he is immune. While apparently referring to a case study published in the medical journal The Lancet on October 12 that showed a Nevada man had been infected with the virus twice, he dismissed the notion that COVID-19 patients can get infected more than once.
"They have the evidence of one person out of eight million people who they think had it twice... that sounds like the exception to the rule, not the rule," Paul said before admitting that he does not know if he is "immune forever."
Confirmed reinfections do appear to be rare, with only a few others reported around the world in addition to the Nevada case, but it is not clear now long immunity lasts. Studies have shown that potentially virus-neutralizing antibodies diminish significantly in the months after recovery, although "memory" T-cells are another important component of immunity.
The Centers for Disease Control and Prevention has issued guidance saying that while cases have been "infrequent" so far, "we expect to see more cases of reinfection" as the pandemic continues and that "the probability of SARS-CoV-2 reinfection is expected to increase with time after recovery from initial infection due to waning immunity and possibly genetic drift."
Regardless, large groups of vulnerable people gathering in environments that they believe are safe due to the immunity of the staff serving them could still pass the infection among themselves even if staff are immune, especially if they do not use preventative measures like physical distancing or wearing face masks. Paul insisted that cloth face masks "don't work" during the event, despite research showing that they are effective in reducing transmission.
The senator also defended President Donald Trump from criticism for saying the virus will "go away" on its own. Trump has repeated the claim since the virus first emerged, suggesting in February that it could be gone by April and claiming that it was in the process of disappearing multiple times over the summer. In October, the president said it was "disappearing" or "ending" at least twice, while new cases reached an all-time high in the U.S. during the same month.
"The president has said the virus will go away," Paul said. "They mock him and make fun of him. The virus will go away. Every virus that's ever come has come and gone. Could it come back? Yes."
Newsweek reached out to Paul's office for comment.