'Can't Imagine Such a Desecration': Widow Angered Over Memorial Plans at Surfside Site
As the search efforts at the Champlain Towers South switch from rescue to recovery three weeks after the building suffered a partial collapse in Surfside, Fla., officials have begun suggesting that a permanent memorial be built to honor the victims and families of the tragedy.
But some, who are still waiting for rescuers to pull their loved ones from the rubble, are troubled by the plans to build a memorial at the site of the collapse.
"I can't even imagine such a desecration," Soirya Cohen, whose husband Brad still remains missing, told WPLG. "Imagine if that was your spouse, your parent or your grandparent and to make money, they built on top of it."
Cohen's brother-in-law has been identified but her husband's body has yet to be found. Officials announced on Monday that they believe his ring and car have been found.
The widow said it would go against her husband's wishes to see a memorial created in the place where his body could remain. She said he strictly followed the Jewish law and that respect for the dead is deeply rooted in their beliefs.
"The halachic about proper burial and cemeteries, it certainly should apply to him," Cohen said. "I'm asking people to respect that and respect the families and the people who have already suffered so much and not to add to our pain."
"It's almost like a mourning process or a Shiva process that goes on and on and on, but yet you didn't have the funeral," Cohen added. "I'm not even 100 percent sure he is going to be found because they looked in his apartment and they only found his brother."
On Tuesday, officials said they were considering building a memorial on the site of the disaster given the gravity of the collapse. The death toll currently stands at 95 and authorities estimate that the final count will land between 95 and 99.
"We started to talk about the fact that we definitely need a memorial," Miami-Dade County Mayor Daniella Levine Cava told reporters on Tuesday. "Exactly where it will be is going to be determined."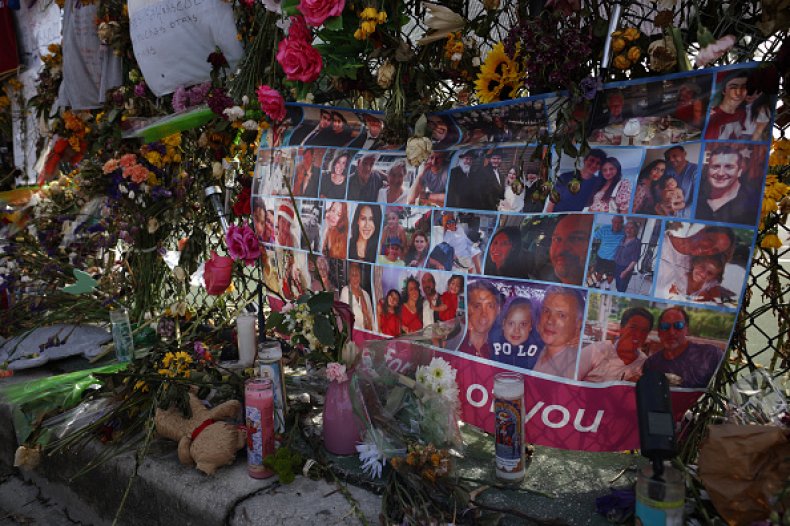 A Change.org petition has collected more than 1,200 signatures calling for a memorial to be built where the 13-story building once stood.
"This was a mass casualty and each and (every one) of those missing and deceased should be remembered," the petition reads.
Others, like Surfside Mayor Charles Burkett, have suggested that another apartment be built in its place so that survivors can return to live in the beachfront spot once again.
"Some of the families want to go back and live there again," he said. "They want the building rebuilt on a portion of the site. They acknowledge that a percentage of that site is a holy site."
After concerns were raised over an incoming tropical storm and potential threats posed by the remaining structure, the rest of the building was demolished on July 4.
Burkett said officials will look for guidance from the families impacted by the disaster as to how a memorial should be created.
"I think what should be on that site is what the family members decide," Vice Mayor Tina Paul added.
Cohen said that if her husband's body is never found, the area where the condo once stood should be considered a holy site where nothing should be built on.
Currently, a memorial fence has been set up to honor those lost in the collapse. Known as the "Wall of Hope," the fence is covered in pictures of the victims and those that are still unaccounted for.
Newsweek reached out to Levine Cava for comment but did not hear back before publication.