'Can't Stop Me': GOP Lawmakers Refuse to Pass Capitol Metal Detectors After Pro-Trump Riot
A host of Republican members of the U.S. House or Representatives on Tuesday evening angrily refused to go through metal detectors that had been installed outside the chamber as a security measure.
Security measures were upgraded to include metal detectors on Tuesday due to the breach of the building last week, which was instigated by an angry mob of extremists supporting President Donald Trump's false claims that the presidential election was "stolen." Multiple GOP members reacted to the new measures with outrage and demanded that they be exempted from the rules, which applied to all who entered the House chamber.
GOP Representatives Louie Gohmert (Texas), Steve Stivers (Ohio), Lauren Boebert (Colo.), Van Taylor (Texas), Debbie Lesko (Ariz.) and Larry Bucshon (Ind.) were among those who refused to comply with the screening or vocally protested its implementation, according to NBC News.
Gohmert said "You can't stop me; I'm on my way to a vote" as he walked by Capitol Police, according to HuffPost. At least 10 other Republicans walked around the detectors.
Boebert, an enthusiastic gun rights advocate known for her past support of the pro-Trump QAnon conspiracy theory, had previously boasted that she planned to regularly carry her handgun around the Capitol after being sworn in as a new member on January 3. Although members of Congress and aides are legally allowed to carry weapons on Capitol grounds, House rules prohibit them being taken inside the chamber.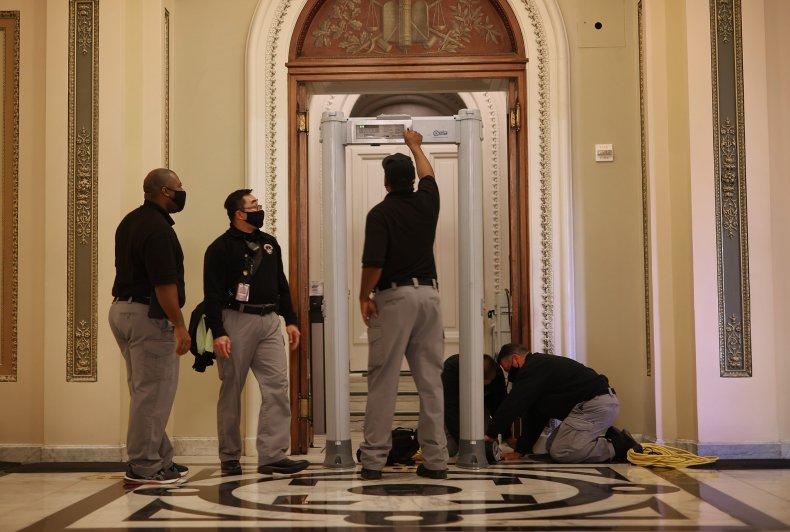 Boebert has recently been under fire for tweeting that Speaker of the House Nancy Pelosi (D-Calif.) was no longer in the House chamber while the Capitol insurrection was happening. On Tuesday, she tweeted that Pelosi was pulling "another political stunt" by allowing the metal detectors, which were placed directly outside the chamber and not outside the grounds. Boebert was eventually allowed inside the chamber after a short confrontation with police during the screening process.
"I am legally permitted to carry my firearm in Washington, D.C. and within the Capitol complex," Boebert tweeted. "Metal detectors outside of the House would not have stopped the violence we saw last week — it's just another political stunt by Speaker Pelosi."
Lesko also blamed Pelosi for members "being wanded like criminals" in a dramatic tweet that complained "we now live in Pelosi's communist America!" Other Republicans who took particular issue with the security measure included Rep. Steve Womack (Ark.) and Rep. Markwayne Mullin (Okla.), who loudly protested "I was physically restrained" at Capitol Police following the screening, according to CNN. Rep. Rodney Davis (Ill.) told the outlet that the detectors represented "political correctness run amok."
"The metal detector policy for the House floor is unnecessary, unconstitutional, and endangers members," Rep. Chip Roy (R-Texas), who took a "social media sabbatical" after most platforms banned Trump over fears he could incite further violence, said in a statement. "I did not comply tonight. I will not comply in the future."
Newsweek reached out to the House Office of the Sergeant at Arms for comment.