Before Cape Cod Shark Attack, Victim Told Aunt, 'Sharks Don't Bite Me, I'm Superman'
Before he was fatally attacked on Saturday, Arthur Medici told his aunt that sharks wouldn't bite him, the Boston Herald reported.
Although Marisa Medici said she frequently asked her nephew to avoid the Cape Cod waters, he did not heed her requests out of his love for the ocean.
"Always I asked him, 'Don't go. Please, don't go.' He'd say, 'Aunt, they're not going to bite me. The sharks don't bite me. I'm Superman!'" she said. "When it happened, I couldn't believe it was him, that it happened to us. There's no words. No words."
Medici died after the shark bit both his legs, severing his femoralarteries, his aunt said, according to BBC News. The 26-year-old was attacked off Newcomb Hollow Beach. BBC News reported the incident was Massachusetts's first fatal shark attack since 1936.
"He was screaming and then I saw, like, a shark tail," Isaac Rocha, whom Medici was teaching to boogie-board, told CBS News. "And I swam to him as fast as I could i,n that moment. I dragged him back to the shore and I got a boogie board strap and I kind of tied it around his thigh to try to stop the bleeding."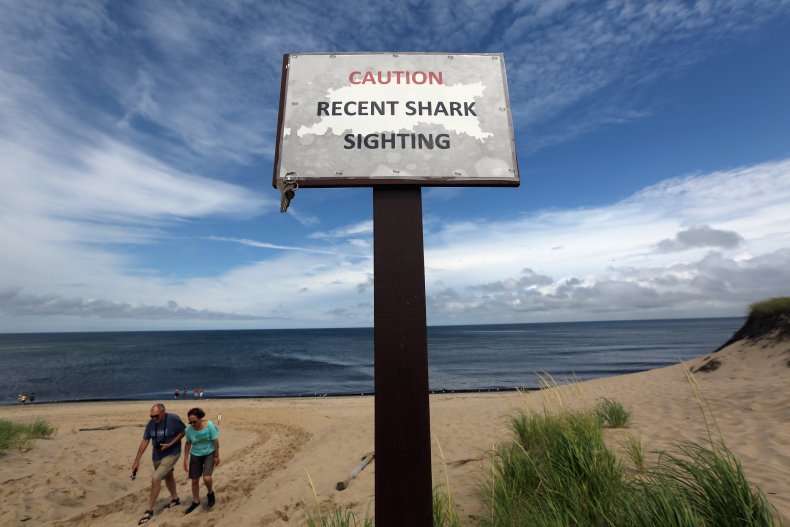 The town of Wellfleet issued a statement on Saturday night expressing condolences to Medici's family and friends.
"We share the grief and pain you feel. We are grateful to the family, friends, beach staff, public and first responders who worked so valiantly to save his life," Select Board Chair Janet Reinhart and Town Administrator Dan Hoort said in the statement, according to New England Cable News. "Everyone who lives in and visits Wellfleet is part of the Wellfleet community. Today we lost a member of our community, and we grieve his passing."
A GoFundMe page for Medici's family had raised more than $29,000 by Monday afternoon. Some of the funds will be used to fly the 26-year-old's body to his native Brazil, BBC News reported.
Last month, a shark attacked a man just miles from where Medici's fatal encounter occurred. Gary Sharpless was bitten in the first shark attack to take place in Cape Cod since 2012. The 61-year-old was still recuperating in a Boston hospital, according to NBC News.
National Geographic reportedthat there is a one in 3,700,000 chance of dying from a shark attack. Fifty-three unprovoked shark attacks occurred last year in the U.S., New England Cable News reported, citing International Shark Attack File. None of the attacks were fatal.