Capital Gazette Publishes 'Damn Paper' Day After Deadly Shooting With 'Speechless' Opinion Page
Journalists at the Capital Gazette in Maryland managed to put out a newspaper as promised the morning after five members of its staff died in a mass shooting.
Four journalists and one sales assistant were killed as a gunman opened fire at the publication's offices in Annapolis on Thursday afternoon.
In the aftermath of the massacre, the team vowed via the paper's official Twitter account that it would be "putting out a damn paper," echoing the remarks of Capital Gazette reporter Chase Cook who said hours after the shooting that a "damn paper" would be published.
Capital Gazette sports reporter Bob Hough tweeted that he "almost [feels] guilty" spending hours putting a sports section together with fellow journalist Mike Morea.
The front page of the paper's Friday edition read: "5 shot dead at The Capital," along with photos of the five victims—assistant managing editor Rob Hiaasen, editorial page editor Gerald Fischman, features reporter Wendi Winters, reporter John McNamara and sales assistant Rebecca Smith.
The paper also decided to temporarily scrap its usual opinion section as "today we are speechless."
"This page is intentionally left blank today to commemorate victims of Thursday's shootings at our office," the page reads.
"Tomorrow this page will return to its steady purpose of offering our readers informed opinion about the world around them, that they might be better citizens."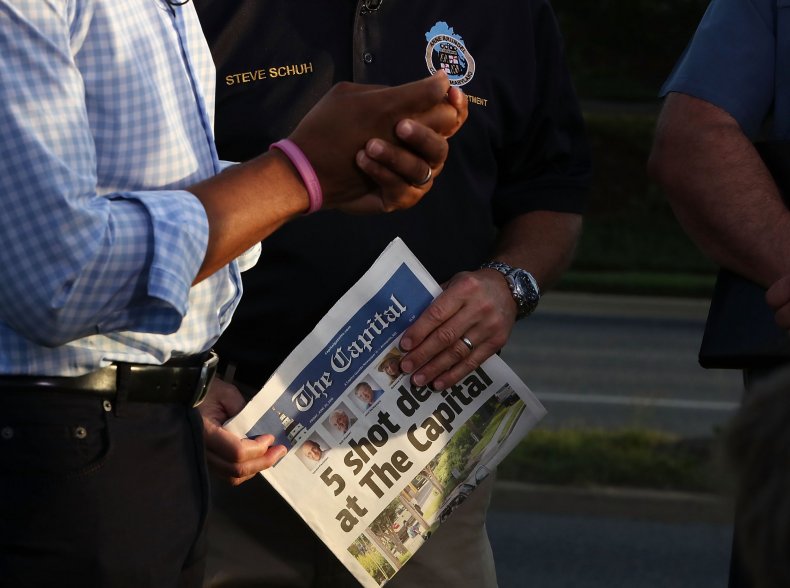 The page once again lists the five victims of the shooting.
In the wake of the shooting, Capital editor Jimmy DeButts tweeted that he was "devastated & heartbroken" at the attack but praised the entire staff at the paper and the role of journalists as a whole.
"There are no 40 hour weeks, no big paydays—just a passion for telling stories from our community," he wrote.
"We are there in times of tragedy. We do our best to share the stories of people, those who make our community better. Please understand, we do all this to serve our community. We try to expose corruption.
"We fight to get access to public records & bring to light the inner workings of government despite major hurdles put in our way. The reporters & editors put their all into finding the truth. That is our mission. Will always be."
Suspect Jarrod Ramos has been charged with five counts of first-degree murder, according to court records, reported CNN.
According to the The Baltimore Sun, which owns Capital Gazette, Ramos had a "long-standing grudge" against the newspaper following a defamation lawsuit he filed regarding a July 2011 story about him pleading guilty to harassment which he considered innaccurate.