Capital Gazette Reporter: 'Thanks for Your Prayers, but I Couldn't Give a F*** About Them if There's Nothing Else'
Writers at the Capital Gazette have said "thoughts and prayers" are not enough after a gunman stormed their newsroom in Annapolis, Maryland, Thursday killing five people and leaving two others injured.
"I'm going to need more than a couple days of news coverage and some thoughts and prayers," Capital Gazette staff writer Selene San Felice told Anderson Cooper on CNN's AC360 on Thursday night—not long after taking cover under a desk and writing what she feared might be "goodbye" messages to her family and friends.
"Our whole lives have been shattered, and so, thank you for your prayers, but I couldn't give a f*** about them if there's nothing else," she said.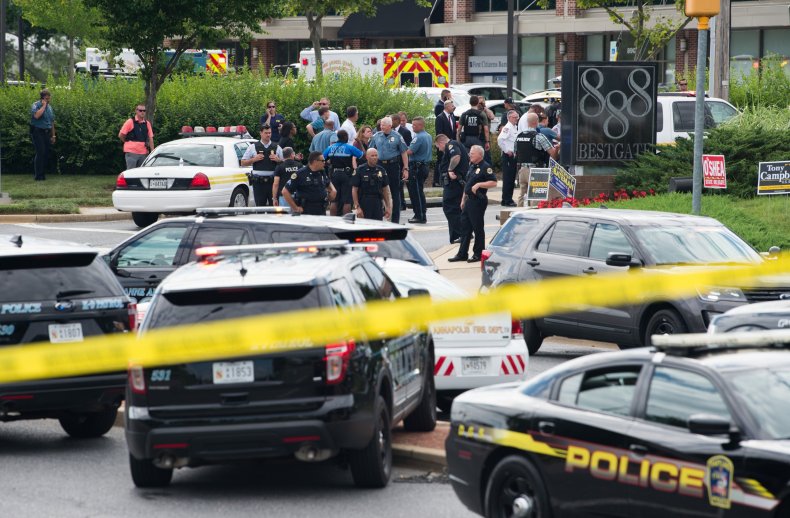 While expletives are usually bleeped out on the show, CNN made the decision to air San Felice's comments uncensored.
The journalist said she had "heard that President Trump sent his prayers" but said that while she wasn't "trying to make this political, we need more than prayers."
"I appreciate the prayers. I was praying the entire time I was under that desk. I want your prayers, but I want something else," San Felice said.
Both President Donald Trump and first lady Melania Trump offered their condolences on Twitter.
The president tweeted: "Prior to departing Wisconsin, I was briefed on the shooting at Capital Gazette in Annapolis, Maryland. My thoughts and prayers are with the victims and their families."
The first lady tweeted: "I send thoughts & prayers for comfort to the friends, family & colleagues of those killed & injured."
San Felice told Cooper she had heard a "loud bang" while working at her desk and was trying to leave when she saw her co-worker, John McNamara, being fatally shot.
Along with McNamara, journalists Gerald Fischman, Rob Hiaasen, Rebecca Smith and Wendi Winters were also killed.
Read more: Remembering Capital Gazette shooting victims: Editor Rob Hiaasen among five killed
The suspect in the shooting has been identified as Jarrod Ramos, according to The Baltimore Sun, which owns the Capital.
Ramos, 38, was said to have a "longstanding dispute" with the paper, having filed a defamation suit against the Capital in 2012. The lawsuit was later dismissed and public records reviewed by Newsweek showed it was one of several claims launched over a few years by the suspect.
Fellow Gazette staff writer Phil Davis, who also survived the shooting, questioned on AC360 how "thoughts and prayers" could be all there is to offer after the harrowing experience.
"I was praying when he started reloading that shotgun that there weren't going to be more bodies," Davis said. "And you know what? If we're at a position in our society where all we can offer each other is prayers, then where are we? Where are we as a society where people die and that's the end of that story?"
Police have not yet released an official motive in the Gazette shooting and say their investigation is ongoing. They did confirm that the newspaper had received previous threats, however, which had "indicated violence."
A GoFundMe page to support victims' families and survivors of the shooting has been set up by journalist Madi Alexander in the wake of the attack. As of early Friday morning, the page has raised more than $56,800.
"Please give what you can to help the Capital Gazette newsroom and their journalists," the page said. "Our hearts break for our colleagues in Annapolis and we want to do whatever we possibly can to help them pay for medical bills, newsroom repairs, and anything else that might arise from this terrible shooting."
Gun control
The gun control debate took center stage this year after the Parkland school shooting that claimed the lives of 17 students and teachers on February 14.
Mass demonstrations have been followed by a number of changes, including the U.S. Department of Justice moving to ban bump stocks, firearm accessories used to simulate automatic fire.
The Florida Legislature also recently voted to pass the Marjory Stoneman Douglas High School Public Safety Act, a gun control bill named after the school where the shooting took place, which aims to place limits on access to firearms and allow some school employees to be armed.
The bill looks to ban bump stocks, impose a three-day waiting period on firearm sales and raise the minimum age to purchase firearms from 18 to 21. It also includes a boost in funding for mental health services.
A recent analysis of the number of guns in circulation across 230 countries found that as many as 857 million firearms were in the possession of civilians.
The 2018 Small Arms Survey found the figure to be 32 percent higher than a previous estimate in 2006.
The survey found that 40 percent of the global total—as many as 393 million guns—are owned by people in the U.S., as illustrated by Statista.