Capital Gazette Staff Sends Trump a Message: We Won't Forget Being Called Enemy of the People
Staff at the Capital Gazette took a sly dig at President Donald Trump's oft-expressed attitude toward the press after the fatal shooting at the newspaper that left five people dead and others injured.
In a letter released by the Annapolis newspaper on Sunday, staff members thanked readers for their support following the attack but also said they could not forget President Trump singling out the media as "the enemy of the people."
"Here's what else we won't forget: Death threats and emails from people we don't know celebrating our loss, or the people who called for one of our reporters to get fired because she got angry and cursed on national television after witnessing her friends getting shot."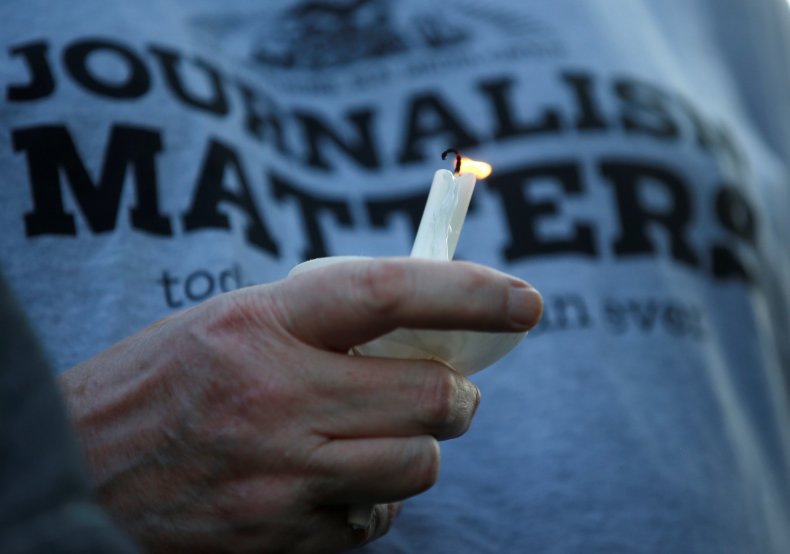 "We won't forget being called an enemy of the people. No, we won't forget that. Because exposing evil, shining light on wrongs and fighting injustice is what we do" the letter read.
In one of many rants about the state of the U.S. media, President Trump branded the "fake news media" the enemy of the American people, citing The New York Times, CNN and NBC News in a 2017 tweet that described the press as "sick," with an updated version adding other news outlets and removing the word sick from the message, The New York Times reported.
But following the fatal Capital Gazette shooting, the president's tone appeared to have changed.
Speaking about the shooting, Trump said last week: "This attack shocked the conscience of our nation and filled our hearts with grief. Journalists, like all Americans, should be free from the fear of being violently attacked while doing their job," CNN reported.
But the president dodged questions about his own language surrounding the press. Jim Acosta, CNN's chief White House correspondent, asked Trump at the press conference: "Mr. President, will you stop calling the press the enemy of the people?" The question went unanswered.