Social media users blasted the restaurant The Capital Grille after former Atlanta Mayor Keisha Lance Bottoms said she was allegedly turned away for wearing leggings.
Bottoms, who served as mayor from 2018 to 2022, tweeted about the incident at the Perimeter Mall Friday afternoon.
"Odd that a restaurant in a mall parking lot turns away customers in 'mall' attire," she tweeted. "Asked if I could sit in the bar area and was told, 'No.'. Rules are the rules, just wonder if the woman who came in immediately after me, who I did not see come back out, was also denied service."
Social media users criticized the restaurant for turning away Bottoms, adding that they and others have been allowed to eat in the restaurant while wearing leggings and other casual clothing, despite the restaurant having a dress code banning "gym attire" and sweatpants.
Some accused the restaurant of being selective of when it enforces the dress code.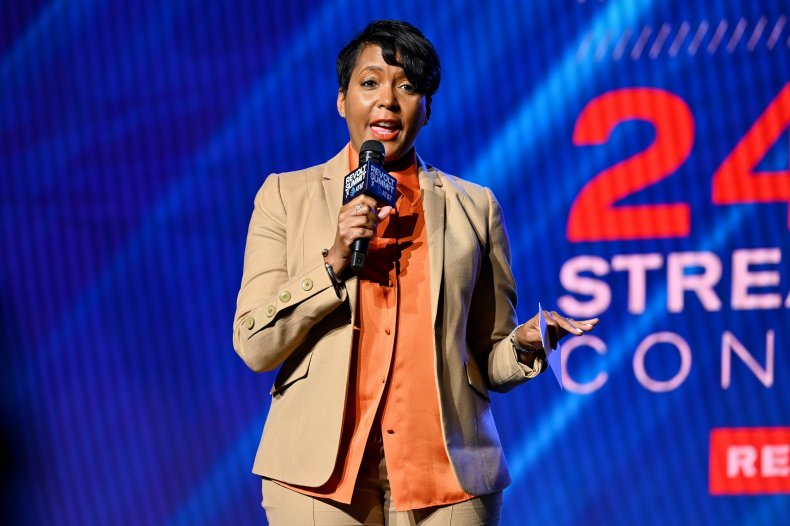 "I've gone on a bike ride w my husband and kids and decided to eat. We were right next to the Capital Grille so I went in and asked if we could eat (we were in sweats/workout clothes) and they said yes, of course. It's not the leggings that's the issue here," wrote Twitter user @legallynotpam.
Twitter user @JanScholl wrote: "Interesting. The last time I was in Capital Grille, I sat across the aisle from a man in sweat pants and gym shoes. It was late lunchtime, maybe 2pm. It was Grant Hill and his wife Tamia. Hmmm."
Some suggested the incident could be an example of racism.
"The way yall playing in these comments. I literally have gone in capital grille with folks wearing leggings and jogging suits and NOBODY was turned away. She literally said someone else had leggins on and didn't come out. We all know it was because she was black, selective af," tweeted user @verbosity99.
The restaurant explains its dress code policy on its website by stating: "For the comfort of all guests and to better deliver on our promise of a refined atmosphere, proper dress is required. Thank you for not wearing: gym attire, sweatpants, tank tops, hats, clothing with offensive language or images, exposed undergarments."
Some defended the restaurant for enforcing the dress code, however. Carolyn Hall Fisher, who serves as Georgia's first vice chair of the GOP, tweeted: "One does not go to the Capital Grille in leggings."
"I respect you, but the Capital Grille is a really nice restaurant with a dress code. Leggings are simply not appropriate for some restaurants," wrote @VeachChristi.
The former mayor's tweet went viral Saturday morning, receiving more than 2,500 comments and causing the restaurant to trend on Twitter.
Newsweek reached out to The Capital Grille and former Mayor Bottoms for comment.