Capital One Financial Corp. has reached an agreement to pay $190 million to settle a class-action lawsuit that was filed after a hacker accessed personal information belonging to 100 million U.S. customers.
The settlement will cover 98 million Americans if the court approves the agreement, according to Bloomberg.
"We are pleased to have reached an agreement that will resolve the consumer class litigation in the U.S.," Capital One told the financial news outlet on Thursday.
Capital One and Amazon Web Services (AWS), the company's cloud provider, asked Judge Anthony Trenga to put a hold on proceedings while the court assesses the agreement to settle the lawsuit.
"While Capital One and AWS deny all liability, in the interest of avoiding the time, expense and uncertainty of continued litigation, plaintiffs and Capital One have executed a term sheet containing the essential terms of a class settlement that, if approved by this court, will fully resolve all claims brought by plaintiffs against Capital One and AWS in this multidistrict litigation," the court filing read, according to Bloomberg.
In July 2019, Capital One said that around 140,000 Social Security numbers and 80,000 linked bank account numbers that belonged to Capital One credit card customers were illegally accessed.
The stolen data was hosted on Amazon Web Services, which is a part of Amazon. The tech giant denied at the time that its security was breached.
Over two dozen lawsuits were filed against Capital One after the data breach, according to Law.com.
The alleged hacker, Paige A. Thompson, a former Amazon cloud employee, was eventually arrested for breaching Capital One's cloud-computing systems.
Newsweek contacted Capital One for comments but didn't receive a response in time for publishing.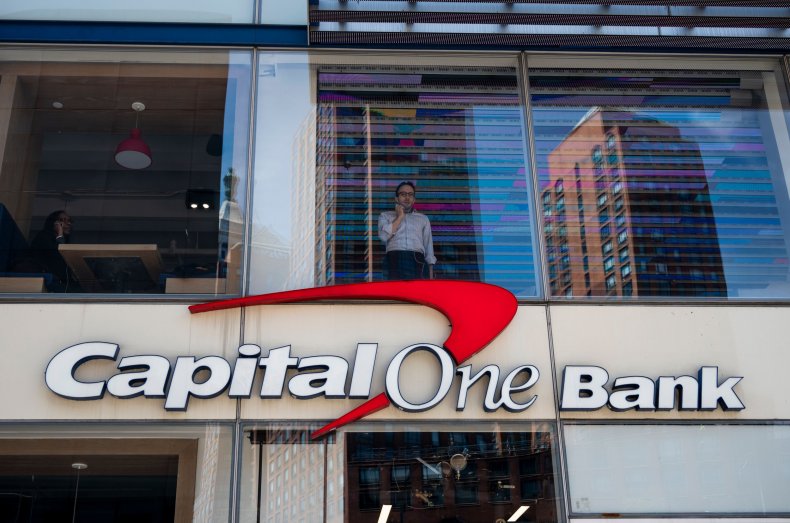 "The key facts in this case have not changed since we announced the event in coordination with federal authorities more than two years ago: the hacker was arrested and the stolen data was simultaneously recovered before it could be disseminated or used for fraudulent purposes," Capital One told Bloomberg on Thursday.
A number of data breach incidents in which personal customer information was illegally accessed have been reported this year. In August, T-Mobile experienced a cyberattack in which hackers accessed personal data, including Social Security numbers, that belonged to at least 47 million customers.
Those who have been impacted by the breach filed a class-action lawsuit demanding the telecommunications company to stop storing "personal identifying information on a cloud-based database."