Capitalism Must Prioritize the Dignity of Labor | Opinion
Six months ago, the year 2020 and a new decade rang in with the roar of an economy 10 years on the rise, buoyed higher by corporate tax cuts, low interest rates and record government spending. Yet hushed from the party of the decade, America's boardrooms and its corridors of power was the voice of American workers, whose seat at the table had been taken away.
For those who believed that including workers would obstruct such booming growth, the economy came crashing down on them before workers ever had the chance to speak. Today, the United States closes its second quarter expecting its worst GDP contraction in history, with trillions of lost earnings and tens of millions out of work. The sound is loud, but it's also a wakeup call. It calls for the reset of a decade and a new movement that shares its gains with American workers in an economic recovery that, this time, is equitable, sustainable and inclusive.
In 10 years, American workers had yet to recover from the Great Recession in the face of largely stagnant wages, increasing costs and a diminished share of GDP, while the top 1 percent more than doubled its wealth. It was a quiet crisis, muffled by the labor of those same workers, fueling 10 years of economic growth, higher productivity and outsized stock gains reaped by shareholders. At a time when the majority of U.S. stock is owned by America's richest 1 percent, the growth of the past 10 years had become a triumph of the rich rather than an opportunity for all.
For its part, government silenced workers out of the gate, directing Great Recession relief to banks and large corporations over workers and small businesses. In a world where 85 percent of financial capital recirculates within the financial system, instead of flowing to households, businesses or even real capital, the decade's monetary policies of easy money and low taxes on capital gains only fueled the roar.
And so for those at the top, the party raged on—the faint alarms and feigned outrage below them lost in the sound, if not for much longer.
On New Year's Eve, something else brewed, which would lay bare an economy that favors the rich and ignores the worker: on December 31, 2019, the World Health Organization identified the COVID-19 virus in the city of Wuhan, China. And with that, the decade and party were over.
COVID-19 has since exposed the real American economy, and those at the top can no longer glide over the sound of those below. For its decade of buybacks, bull-runs, low taxes and debt, many in corporate America revealed balance sheets and cash reserves as fragile as the household budgets and savings accounts of the 39 percent of Americans who would not be able to come up with $400 in cash in the event of an emergency.
Now the emergency has come.
That the National Bureau of Economic Research announced the recession this month during a week when all three major stock indices reached new highs was no less surprising than the wealth that the stock market continues accruing for the top 1 percent. The message is actually consistent: In times of economic recession, recovery and growth alike, America is divided between workers most vulnerable to suffer from lost wages and investors best positioned to benefit from managed wealth. Engineered for the instant gratification of quarterly profits, short-term horizons and narrow markets, it's a near-sighted system on a long winding road, blind to social costs or inequities.
And yet again, government policy favors business over workers. As the Fed buys corporate bonds in sprees and loans $500 billion in long-term guarantees to big business, workers and the unemployed are left to piece together small checks and short-term benefits—some of which expire in July.
On its current course of stock rallies, corporate relief, joblessness and hardship, the recession will further concentrate wealth at the top. Its reversal requires government to put forth new policies that bring workers' voices back into the fold.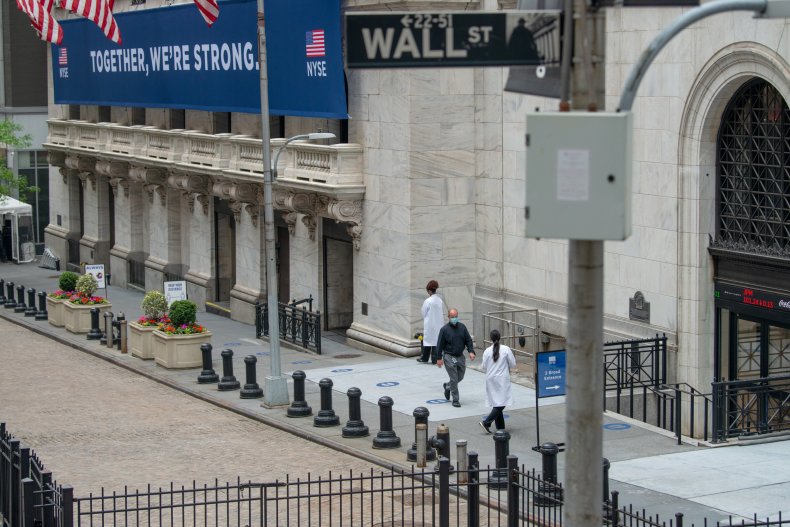 Fortunately, it's a voice with growing range, beyond traditional union organization and bastions of labor where workers can freely organize, protest and bargain. It's also reverberating down the halls of Congress and both sides of the aisle. On the Left, Senator Elizabeth Warren's (D-MA) accountable capitalism calls for modernizing the boards of large corporations with worker representation and Senator Bernie Sanders' (I-VT) democratic socialism champions new forms of sectoral bargaining for independent contractors. Conservatives are starting to also come on board, with Senator Marco Rubio's (R-FL) "common good capitalism" calling for employers to share increasing gains with workers, instead of stockholders, and Senator Rand Paul's (R-KY) libertarianism endorsing public benefit corporations as a means of shifting shareholder value to workers and other stakeholders.
It also comes in surround sound, from manufacturing juggernaut Germany, where worker voice has helped corporations co-determine their speed of COVID-19 recovery, to the social capitalism of Sweden, where sectoral bargaining gives voice to workers in broad-based gig economy fields. These aren't just global models, but also ones with a history and future in the United States, where automakers once reserved board positions for their workers and where a sectoral wage board helped New York City fast-food workers attain a $15 minimum wage this year.
Just six months into this decade, America has a newfound opportunity to achieve that reset toward a more Inclusive Capitalism. As the recession exacerbates inequalities, police violence underscore systemic racism and an election deepens political divides, conditions are converging at a crossroads. And Americans insist it's time to change direction: Nearly nine in 10 of those polled last month by nonprofit Just Capital agree not only is the country in a time of crisis, but that now is the time to reset capitalism as we know it.
When the Democratic and Republican Parties hold their conventions later this summer, that overwhelming opinion should weigh as carrot and stick to recenter both parties' platforms from corporations and the rich to workers and the unemployed by addressing the inequalities of the last decade and proposing inclusive policies for a new one. Regardless of political party, the next presidential term, Congress and fiscal year could then start with momentum for a recovery and decade that shares its gains with worker wages, benefits and opportunity instead of only corporate bonuses, stocks and buybacks.
The decade might be off to a bad start, but if reset early, this time it could include everyone.
Michael Clyne is executive director of the Coalition for Inclusive Capitalism.
The views expressed in this article are the writer's own.