Disturbing footage showing the Capitol Hill mob dragging a police officer down a set of steps and beating him with an American flag has gone viral.
Five people including a police officer died after Donald Trump supporters stormed the building in Washington, D.C. on Wednesday. What began as a "Stop the Steal" demonstration, during which Trump addressed the crowds and continued to push his unfounded claims of election fraud, turned into a violent siege on Capitol Hill.
In several separate videos circulating on social media, rioters can be seen attacking officers, who were trying to block an archway that leads into the building. The crowd used flagpoles and hockey sticks in their attack on the officers and threw missiles into the archway.
In the clips—some of which have been watched more than two million times—one officer covers his head with his hands on the ground as members of the mob attack him.
Another officer is then dragged out face-down by his foot. He is then pulled down the steps as rioters shout and hit him with the poles of American and Trump flags.
The officer eventually manages to stand but rioters continue to push him and hit at his helmet. One man can even be seen grabbing hold of the officer although it is unclear whether he is trying to help him or restrain him.
A man then jumps up out of the crowd and punches him in the face, hitting his visor and the officer ends up falling down amid the packed crowd. During the mayhem, the crowd starts chanting "U.S.A., U.S.A."
Although there is speculation on the identity of the officer on social media, it has not been confirmed. Newsweek has contacted Capitol Hill Police and Washington, D.C.'s Metropolitan Police Department.
Capitol Hill Police said that one of its officers, Brian Sicknick, 42, died of injuries sustained during the siege. Sicknick was hit in the head with a fire extinguisher during a struggle, two law enforcement officials told AP.
The agency reported that a video had been circulating YouTube which showed a protester hurling a fire extinguisher at an officer although it is not clear if this was Sicknick.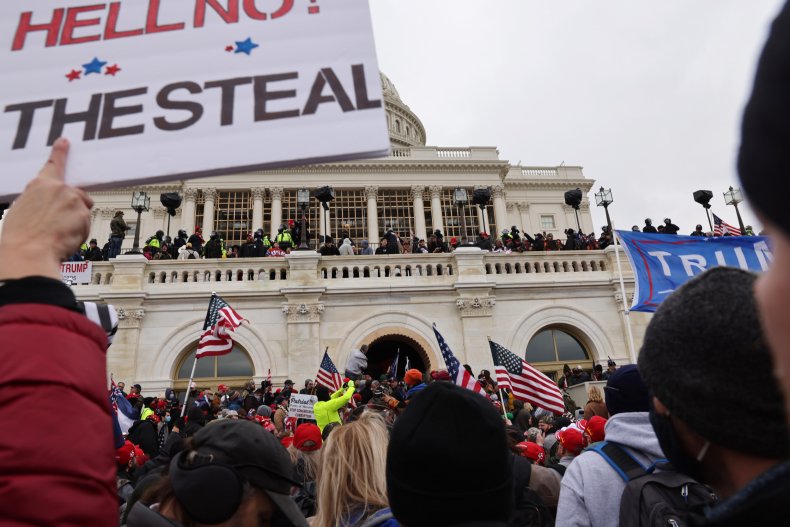 Sicknick, who joined the Capitol police in 2008 and most recently served in the department's first responder unit, died at about 9:30 p.m. on January 7 "due to injuries sustained while on duty," according to a police statement.
"Officer Sicknick was responding to the riots on Wednesday, January 6, 2021, at the U.S. Capitol and was injured while physically engaging with protesters. He returned to his division office and collapsed. He was taken to a local hospital where he succumbed to his injuries.
"The death of Officer Sicknick will be investigated by the Metropolitan Police Department's Homicide Branch, the U.S. Capitol Police and our federal partners," the statement said.
Another viral video appeared to show police allowing crowds to breach barricades, causing outrage on social media. But the person who shot the clip—Marcus DiPaola, a freelance journalist working at TikTok—told Newsweek officers only backed away after being threatened while being vastly outnumbered.
The D.C. National Guard was later called to help law enforcement take back control of the area. The FBI has begun an investigation and is appealing for the public's help in identifying those involved.